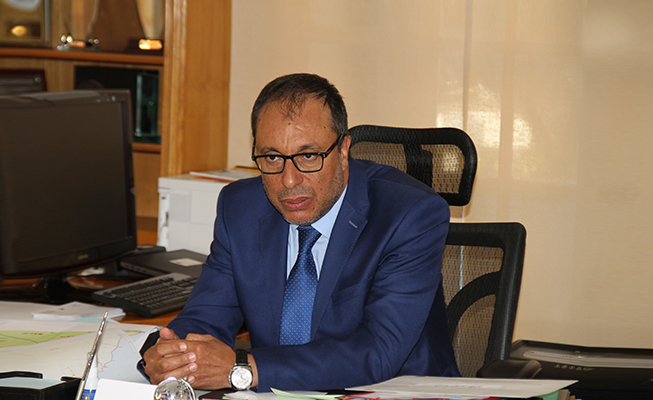 Mar 2020

An exclusive interview with Mr. Abdelkader Amara, the Minister of Equipment, Transport, Logistics and Water of Morroco

Prisma Reports (PR): How would you evaluate Morocco's economic performance over the last 3 years, and what should we expect from 2017 not long after the economy was affected by the drought?

M. Mohamed Boussaid (MMB): The big economic hubs are doing well, with the exception of last year when Morocco experienced one of the most severe droughts of the last 30 years. The shock was such that it affected the country's overall growth. But when we talk about growth, we should separate agriculture-derived GDP from non-agriculture derived GDP. The agricultural sector has been progressing very well for the past 3-4 years, growing 3.5% per year on average. To support the growth of the agricultural sector, Morocco is implementing a strategy that is already seeing considerable results, the Green Morocco Plan. The rural world today represents about 40% of the population, with agriculture as the main activity. However, agricultural production has remained more or less dependent on rainfall. Since the launch of the Green Morocco Plan, there has been a real transformation of the agricultural sector, especially in terms of productivity. We seek to develop solutions to reduce our dependence on rainfall. For example, Morocco had 300,000 hectares of olive groves at the beginning of the Green Morocco Plan, compared to a little more than one million today. This year, with a return to normal grain production, we expect a growth of 4.6%, compared to 1.2% in 2016. Since the beginning of this year, we have noticed that all of the sectors of the economy are performing well, with a clear improvement in exports. This is partly explained by Europe's improving economy. The only sector still facing difficulties is the construction sector. Although macroeconomic indicators are positive, we are working to ensure that deficits are kept under control, that debt levels are sustainable, and that public funds are properly managed.
PR: The Moroccan banking system continues to reinforce its role as a catalyzer for the country's development through its significant contribution to the financing of the economy. This year, the Central Bank of Morocco was voted the best in Africa by the American magazine Global Finance (earning an A grade, only awarded to 3 African countries previously). How do you evaluate the performance of the Moroccan financial and banking sector?
Morocco has had a strong, well-managed banking sector for decades, which today contributes to the country's development. This sector is very profitable and plays in the big leagues. Indeed, the expansion of Moroccan banks across sub-Saharan Africa is remarkable. Moroccan banks share their know-how with other African countries that are today faced with the problems Morocco faced in the past – banking system inclusion, financial literacy, financing of the economy, etc. If the banking system is this mature in Morocco, it is because the Central Bank knew how to regulate the banking system. We must also take into account all the legislative work that was executed, including major reforms designed to modernize the system and diversify it.
PR:The month of September saw the introduction of Islamic finance in Morocco. Attijariwafa and CIH are among the institutions that are launching what is known here as "participative finance". What are the ambitions of Morocco in this field that is valued at more than $2 trillion worldwide?
MMS: It is not only Islamic finance; Morocco is also positioning itself in green finance little by little, as part of the national strategy for a green economy. As for participative finance, we have chosen to take our time to work thoroughly on the legislation. The Central Bank has so far granted six licenses. We have chosen to rely on existing Moroccan banks to launch this product; some of these banks have partnered with internationally renowned institutions, mainly from the Gulf. We are on the eve of launching sukuks, and we estimate that, by the end of 2017, this sub-sector will see strong growth. We believe that these types of products can encourage new forms of savings and offer other financing opportunities for households that may be reluctant to work with conventional banks.
PR: In many ways, historically, culturally and economically, Morocco has become one of the main hubs of the Mediterranean. What are the three most important sectors in which Morocco is investing today and will continue to develop over the next 5 years to consolidate its strategic position?
MMS: Today, Morocco is focusing on priority sectors for which we have competitive advantages. Agriculture is one that employs many Moroccans and plays a vital role in sustainable development. The other key area is industry. Our business model is changing because we believe that, to attain emerging market status, industry must account for 23% of the economy by 2020, up from its current 14% share of GDP. This is precisely what the Industrial Acceleration Plan seeks to achieve. Morocco benefits from its geographical position, free trade agreements with 55 countries and 1/5 of the world's consumers. Someone who invests in Morocco has the opportunity to reach up to 1.5 billion people, which represents a considerable advantage. Our approach is new, too, because we have adopted an ecosystem-focused approach. The Renault Group is a good example, as its establishment in Morocco has led to the creation of an ecosystem of automotive components. Peugeot-Citroën, one of the leading car manufacturers, also chose Morocco for its new African production site, settling in Kenitra. This model works wonderfully well, and the country aims to produce more than one million vehicles by 2020. We are the leading automobile producer in Africa. What applies to the automotive sector applies to other industrial sectors, such as aeronautics. This ecosystem-focused approach centered on leading multinationals, against the backdrop of an improving business climate, makes Morocco a real industrial and export platform. The Chinese are particularly interested in our country – we designed the Tangier Tech project taking into account their specific needs.
PR: Quelle est la situation du tourisme américain au Maroc ? Que pourrait entreprendre le Maroc pour attirer davantage d'Américains ? Le retour de Hilton au Maroc marque-t-il le retour des grands établissements américains ?
MMS: Tout comme pour la Chine, le marché américain présente un très grand potentiel. Il faut que le Maroc soit davantage présent dans cette immense nation américaine, à l'Ouest comme à L'Est, pour y promouvoir notre culture, notre patrimoine et notre artisanat. Le nombre d'Américains que nous accueillons, même s'il est important, reste relatif quand on sait à quel point les Américains sillonnent le monde. Pour accélérer la cadence, nous avons notamment beaucoup porté nos efforts sur le renforcement des connexions aériennes entre les Etats-Unis et les principales destinations marocaines, et cherchons à faire revenir au Maroc des compagnies aériennes d'outre-Atlantique. En effet, plusieurs transporteurs emblématiques américains étaient opérationnels dans le temps, tels TWA ou Panam.
PR: In 2017, the United States celebrates the 240th anniversary of the official recognition of its independence by Morocco, its oldest ally. Last year, the two countries celebrated the 10th anniversary of their Free Trade Agreement. How do you think this historic alliance could be strengthened, and in which sectors would American companies find the most opportunities?
MMS: The United States and Morocco share the desire to strengthen their economic relations. Since the free trade agreement was signed between the two countries, trade has developed very well, although in favor of America. The signing of the second part of the Compact program two years ago between our two nations, worth nearly $500 million, reinforced our relationship. Our political and economic partnership with the United States works extremely well.
PR: Open question: what economic advantages do Morocco offer that you would like to promote internationally? Today, what would you like our readers and potential investors to remember from Morocco?
MMS: Morocco has major strengths that allow it to position itself appropriately in the global value chain. Despite the current global trend of protectionism, we cannot go in the opposite direction of history. We must continue to open ourselves to the world, and work internally on reforms that improve the business environment. In recent years, Morocco has gained about 20 places in the Ease of Doing Business ranking of the World Bank, and this is just the beginning.