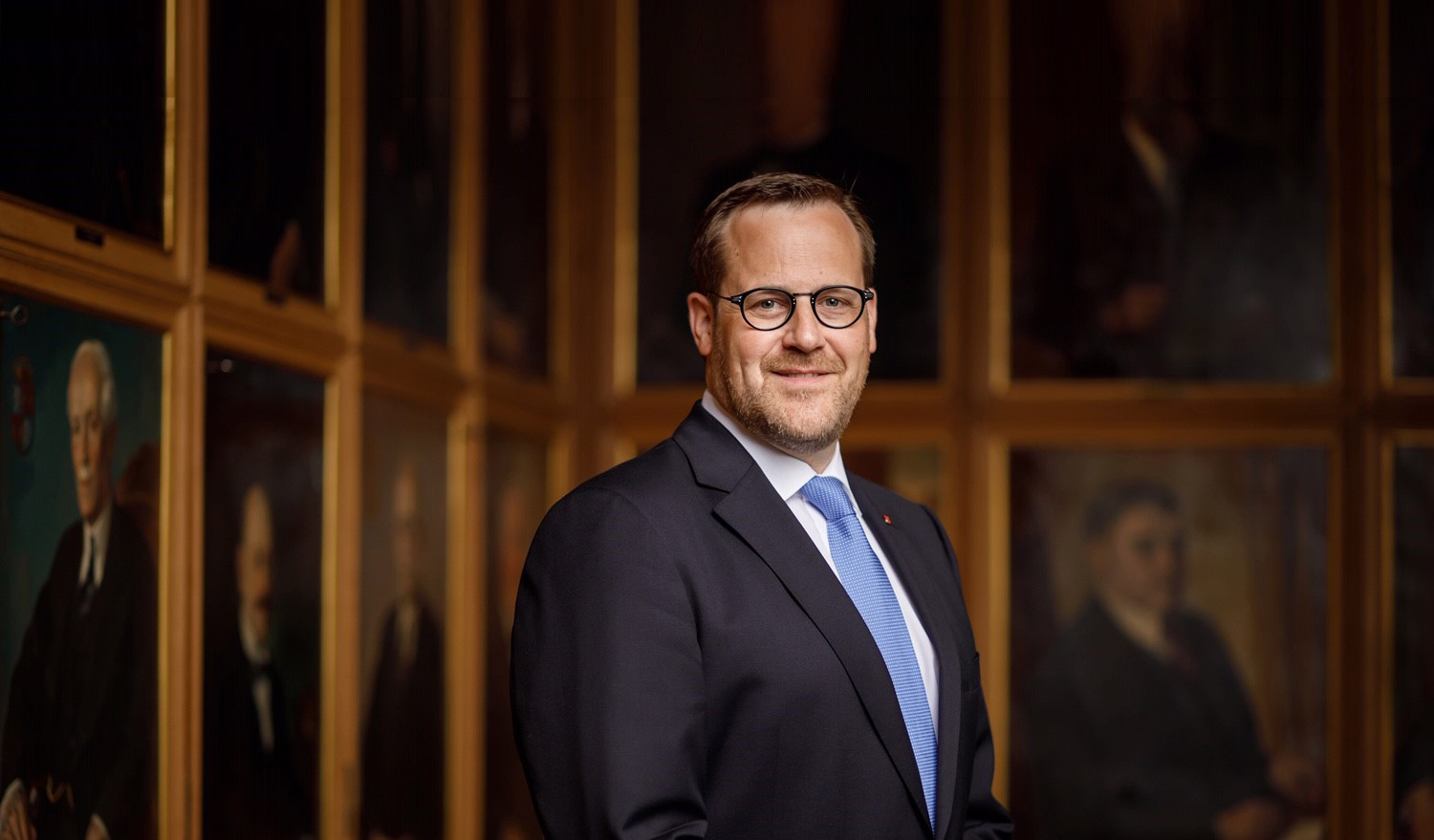 Mar 2020

Canton Schwyz: A Swiss Economic Powerhouse
Kaspar Michel, Governor of the Council and Director of Finance for Canton Schwyz, explains why an increasing number of international business people, companies and tourists are turning their attention to Schwyz, one of Switzerland's most dynamic regions.
Prisma Reports (PR): The canton (administrative region) of Schwyz is one of the economic powerhouses of Switzerland, boasting an excellent economic environment. It is has an AAA Standard & Poor's rating and advantageous tax rates. On top of this, it also attracts people bcause of its high quality of life. Could you provide some context for Schwyz's leading and dynamic position in relation to other cantons and Europe more generally?
Kaspar Michel (KM): Our best asset is our location. Schwyz is part of the greater Zürich area and it only takes twenty minutes to get here from the city of Zürich. We are blessed with beautiful scenery, with mountains and exciting landscapes, and on top of that, we have the advantage of a very low tax rate, both for corporations and for private individuals. We have an available workforce of nearly one million people.
The canton is characterized by its "modesty", which perhaps makes it stand out from the other cantons. In fact, forty years ago, we were a farming canton, with some old industries such as Victorinox, the Swiss army knife manufacturer; a timber sector; a number of small companies with three or four employees; and a few foreign businesses. With this modesty also comes accessibility, meaning that anybody can come to the government at any time to discuss and solve their issues. We are pragmatic and modest.
Very early on, we adopted a strategy of low taxation which, combined with our excellent location and significant land availability, enabled the canton's tremendous growth and evolution. Our political focus has always been on lowering our tax rate and this has given us an advantageous and stable position within both Switzerland and Europe more generally.
A large proportion of the money Schwyz generates comes from individuals. We have never had inheritance taxes, for instance, which has brought us to the attention of international citizens. Looking at the flow of people coming here, we've had an influx of people from Scandinavia, Britain and Russia, as well as from Germany. Our small canton is also now host to big companies, such as BASF and Estée Lauder in Lachen. Klaus Michael Kühne — who lives around here — came with his global transport and logistics company, Kühne + Nagel, in the 1970s. He was attracted by our location and because he wanted to leave Germany as an individual due to the tax burden. Now he also reaps the advantage for his whole company. As the various industries grow in Schwyz, they act like a magnet, bringing in more and more companies and people.
(PR): Where do you see the most potential for growth and innovation in the near future?
(KM): Our strategy is threefold. Firstly, we want to keep developing the financial sector in Pfäffikon, where we think it fits very well. Secondly, we want to further grow our health-tech cluster, which already has about 250 members and numerous connections to other health-tech clusters throughout Europe. Thirdly, we want to develop more commercial areas in the canton, both for large industrial and smaller companies, which will give us more weight and credibility as a canton. We want to achieve a good balance between these three strategies in the coming years. Our economic growth also relies on the level of education that the canton offers and our public school offers excellent standards. We are striving to provide good schools, including good international schools, because if we want to keep attracting managers from London and Oslo, we need to have high-quality international schools.
(PR): Alongside Schwyz's industrial strengths, it has an accommodating framework for business. Yet competition remains fierce between the cantons to attract both domestic and international companies. What are the comparative advantages that Schwyz offers to companies and individual investors looking to establish themselves here?
(KM): Our core competitive advantages are our accessibility, our location, and proximity to Zürich and Zug, and the closeness between business executives, who often know each other on a personal basis. Let us also not forget the beauty of the canton: people who come here are also seeking a high quality of life. We are in the middle of the Alps and twenty-minutes away from Zurich, so we have the best of both worlds.
(PR): As Schwyz continues to grow and attract more companies, you may have to make some choices regarding the canton's financing goals and strategies. What are your current priorities in terms of budget and what are your strategies for the future?
(KM): Our priority is to remain stable. The canton of Schwyz has zero debts, which is extraordinary. We have equity of $200 million and will be decreasing our taxes further, after discussion with parliament, in order to remain competitive. Having perfect financial conditions is essential. The Kantonalbank of Schwyz is also in perfect shape, which gives the canton a stable economic position.
So, our challenges aren't about cutting taxes and providing better financial conditions, but rather relate to renovating and building additional offices and facilities for companies to come here. To enable this, we have a lot of regulations regarding logistics and infrastructure.
(PR): Some cantons are putting emphasis on one or the other trending sector, such as Zug's crypto-valley and Luzern's health-tech initiatives. What are the most dynamic industries in Schwyz that are most likely to attract investment?
(KM): Health-tech is our most dynamic industry and a key focus for our economic promotion agency. We have a huge area of land to build this cluster between Küssnacht and Schwyz, and this is going well so far. Blockchain technology and the "crypto-valley" are also very interesting — Zug talks a lot about it, but we also have it. With 13 companies involved in blockchain technology already, we are keeping up but we talk less about it.
(PR): How do you promote these innovative and attractive sectors on an international level?
(KM): We do this with modest resources that include our bureau for economic promotion, which makes international visits to showcase the canton. We also have a close relationship with the "Big 5" consulting firms, who are proposing Schwyz as a solution to some of their clients. In a small branding initiative, we are calling Schwyz the "Region Y," which nowhere else has done before.
One thing is to bring companies to the canton; another is to keep them here. So, we put a lot of emphasis on maintaining good relationships with entities based here by talking to them and visiting them, for example. Schwyz is not Zürich: here we know each other, and share accessibility and a personal relationship. The door is always open.
(PR): Let's talk a bit about tourism. Schwyz may not be the first place tourists think of when exploring Switzerland. Yet it has a strong offering in terms of nature, culture and gastronomy. How are you trying to appeal to international tourists and showcase Schwyz's outdoor opportunities, as well as its cultural heritage?
(KM): We have one of the oldest tourism industries in Switzerland. For the past 200 years, tourists have been going over our Rigi mountain, which is shaped like a balcony, as well as visiting Brunnen by the lake of Luzern, where Ludwig II, Queen Victoria, and Goethe spent their vacations. The canton has two parts: one which is connected to Luzern, the lake and the Alps; and the other which is connected to the lake of Zürich and the region of Zürich. We get a lot of tourists who go to Zurich and want to spend a day in the Alps. Culture is an important part of their experience. They visit the mountains, then they go to the Schwyzer museums, where they can find 1291's founding document of Switzerland. A recent innovative addition that also contributes to tourism is the Stoosbahn mountain lift. Technologically incredible, the lift launched just a year ago and was made by the famous Garaventa company, which was founded by people from Schwyz.
(PR): "Switzerland is not on the radar of some people internationally regarding innovation, and that is a challenge for the marketing of the country," admitted Raymond Cron from Swiss Innovation. What are you doing in order to actively promote and brand the canton of Schwyz to bolster the Swiss "innovation nation" image?
(KM): The government works together with the companies who are based here. I mentioned our two clusters — it's our challenge to bring more work spaces into the country. We want to remain stable and keep taxes low — prerequisites for promoting innovation. There is some debate around Switzerland's new Tax Package 17 (SV-17), and there are some upcoming reforms that will set up further advantages.
In Switzerland, there are seven cantons that contribute financially to the others. With Zug, we are one of the cantons that gives money to the others. So, indirectly, we promote the economic wellbeing of the confederation, which encourages innovation.
(PR): As a leading figure in the canton for eight years now — at the helm of the finance department and overseeing Schwyz's development — what do you personally see as your biggest achievements so far, and what would you most like to accomplish during your political career?
(KM): When I was elected in 2010, the situation was not very good and the biggest challenge I had was to stabilize the finances. The canton has grown a lot since then in terms of population — now we have 156,000 inhabitants, compared to 100,000 when I was still in school. Building capital and eliminating debts was the main challenge for me, which included difficult steps such as changing taxes.
Since June, I have been the president of the government, which is an added responsibility. I have to lead discussions and my goal is to take on this new challenge to the fullest extent. Let's wait and see what comes afterwards.
(PR): What would be your final message to our readers?
(KM): Whoever comes to stay in Schwyz as an individual or as a company will find a very stable and safe canton with good conditions, excellent schools and a healthy society. We have an open society with a liberal government that is open to innovation and investment. Schwyz has a strong workforce and a population that loves to work. We love our canton and that gets transmitted to those that take the opportunity to visit us or establish themselves here.