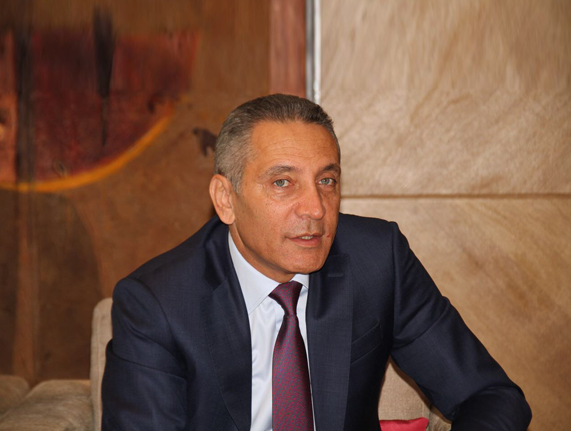 Mar 2020

Exclusive interview with Mr. Moulay Hafid Elalamy, the Minister of Industry, Investment, Trade and Digital Economy, Morocco

Prisma Reports (PR): Introduction by Mr. Moulay Hafid Elalamy on international markets and the role of Morocco In global trade flows.

M. Moulay Hafid Elalamy (MHE): The onset of globalization incited the export of foreign products to countries that were not accustomed to it. In Canada, for example, companies were exclusively focused on the Canadian market. In recent years, we have begun to see them expand all over the world, in Africa, in Europe, etc. Thirty years ago, this was unimaginable, except for a few companies like Bombardier, who, due to the nature of their business were obliged to export their production; the rest of their business was done in Canada, or at best, in the United States, a neighboring country. We have seen that businesses have become increasingly global. Economic relationships formed between countries are becoming more and more oriented towards the businesses that use these newly created channels. Morocco, with 60 free trade agreements, has positioned itself as a prospective platform for global investment. In recent years, we have seen a lot of Americans arrive and set up shop in Morocco, which was rather rare in the past because opportunities in the American market were abundant. But the effect of China's growth on global markets has forced businesses to look to new horizons. The relationship between Morocco and the United States is very special. Morocco was the first country to recognize the independence of the United States of America. Since then, there has never been any political tension between the two countries.
PR: Last year, in Casablanca, you told an audience of industrialists to "seize the moment" and take advantage of favorable market conditions amid an "avalanche of opportunities". How would you describe the Moroccan business climate today?
MHE: The business climate encompasses a lot of things. Businesses thrive or suffer depending on the business they are in. A complete transformation of the Moroccan economy and its industrial sector has taken place in recent years. It is the result of many things: first, the stability of Morocco – it is a fundamental element. No business will take place when there is political or social risk. According to the world's seven major security-focused think tanks, Morocco is as safe as the United States, and ahead of many European countries – there is also a very close cooperation between the Moroccan and American authorities in this respect. The King of Morocco has made the fight against terrorism a priority. In addition, there are important business opportunities. These are the result of successive strategies that were put in place in Morocco, as in the industrial sector, where Morocco has gradually created a strong industrial ecosystem. We began assembling cars more than 30 years ago. At that time, there was already a desire to develop the industrial sector. This sector developed in Morocco thanks to Renault. Successive governments, with a vision of creating a deep- rooted industry, then undertook the tedious work of further developing the sector. Morocco had the foresight to build crucial infrastructure that acts today as the backbone of the economy. At the time, it was necessary to use our own funds to build, as Morocco is not a country with significant energy resources.
After that, Morocco actively searched for companies that would act as motors of development: Bombardier in aeronautics, Renault in automobile, among many others. Morocco then created ecosystems that revolve around each of these catalysts. The idea was to have coherence and synergy in each sector. This has yielded encouraging results, as the industrial sector is now really on the rise. For years, we had to solicit companies, but now, it is the companies who come to us every day. We sign contracts every week that bring huge investments. In Frankfurt, we met 320 players in the automotive sector and in 48 hours we reached an agreement with two of the world's market leaders. Today, Morocco is no longer a source of cheap labor, but a reliable source of well-trained engineers, with a competitive logistical structure, with the support of the State and a high level of protection for investments – an American can own 100% of a Moroccan company, and repatriate 100% of his dividends and 100% of his revenue, every year. Beyond that, there was an alignment of the stars. China, the great industrialist, decided to change its economic model and become not only the world's biggest producer of the world but also the world biggest consumer. To achieve that, China increased its minimum wage from 100 to 700 dollars, then 1500 dollars in 2020 according to projections. This approach created opportunities for several countries including the United States. The relocation of so many businesses to China is now being questioned due to a decrease in competitiveness.
Morocco is dedicated to globalization and scrupulously complies with WTO guidelines. Morocco has taken advantage of this void created by China. The Chinese themselves have sought to be more competitive and decided to set up shop in Morocco. Zara, the world's leading textile company, produces more than 40% of its global production in Morocco. We have dozens of American companies who have settled in Morocco, some of them in extremely technical fields. For example, in the field of aeronautics and composite materials, we find companies located in Morocco that are leaders in their field. Boeing, to be competitive, cannot produce everything in the United States. All of these big companies now outsource to Morocco, rather than China, as they did in the past. These players are very tough because their game is a global one. It is within the framework of globalization that Morocco is positioning itself; we believe we have the capability, and that shows every day. We can offer better competitiveness to our American, European, Japanese and other partners. The largest private employer in Morocco is Sumitomo, a Japanese company.
PR: After a slightly tumultuous 2016, 2017 will be a year of economic recovery – balancing of public accounts, the return of investment, and the establishment of a new industrial development strategy. What can you tell us about the Program to Support the Acceleration of Industrialization in Morocco (PAAIM), which aims to increase the contribution of industry to GDP from 14 to 23 percent, and create 500,000 jobs by 2020?
MHE: The Program to Support the Acceleration of Industrialization was launched in April 2014. At the time, I set two main objectives: half a million new jobs and an increase of industry's contribution to GDP from 14 to 23 percent. We have since created 468,000 jobs. It's incredible. What made us shift from the creation of 75,000 jobs over 10 years to 468,000 over 3 years? The reason is very simple: it is the establishment of a network of ecosystems. The industrial sector now contributes 18% to GDP, and that is just the beginning. We are just starting to reap the benefits. You must know that everything is going well here. Before, I had to work hard to find investors; today I have trouble responding to all of the requests. We are overwhelmed by the number of investors coming to us! We had several agencies working to promote investment in Morocco. We redesigned this system and drew a new roadmap. The new agency, the Moroccan Investments and Export Development Agency (AMDIE), must become the driving force behind the country's promotion.
PR: With the Digital Morocco 2020 strategy and the recent creation of the Digital Development Agency (ADN), the Kingdom of Morocco is clearly indicating its ambitions in the field of technology. How is technology impacting the socio-economic context of Morocco?
MHE: I am a computer engineer by training, and I have taught in the field. Technology is totally transforming the world, relationships, even the way human beings function. What the arrival of the computer did to the acceleration of new ways of working is nothing compared to the transformation that we are experiencing today. Take the case of the 3D printing factory project we are working on with Thales – wherever you are in the world, you can order an object to be printed. Thanks to 3D printing, parts that we could not produce are now possible to make, and quickly. The advantage of technology is that it reduces social and geographical inequality. With augmented reality, for example, you can learn in a factory how to mount parts and perform the work of an expert. People do not yet realize how the world is changing.
PR: What are the advantages of Morocco, the gateway to Africa, that you would like to promote on the international scene?
MHE: Morocco is an option to analyze in depth for any company seeking to optimize its production. It's undeniable that the Kingdom offers many advantages. As I mentioned earlier, our country offers a unique environment of stability and security, clearly a determining factor for companies looking at where to do business. The strategies deployed in each sector allow investors to see where the country is going long term. In the industrial sector, the 2014-2020 Industrial Acceleration Plan has enabled the establishment of a high- performance industrial sector that meets investors' expectations. Emerging sub- sectors offer attractive opportunities for leading international companies. Morocco has a highly skilled workforce that addresses the precise needs of investors. In terms of infrastructure, we have developed a world-class network of motorways, railways, ports, airports, electrical equipment and so on. In short, we have built an entire transport system in a thoughtful and coherent way under the leadership of His Majesty King Mohammed VI, which allows us to achieve our greatest ambitions. I invite investors, whether in the industrial sector or otherwise, not to miss out on this opportunity.
The changes taking place globally are creating a new world order – a new order of power, but also a new order when it comes to sourcing goods. It is pertinent to take a closer look at the case of Africa because the continent will have more than two billion consumers in 2050. For years, we have been talking about the rise of Africa as a major global consumer, which still hasn't materialized. What has happened is quite peculiar because some abandoned Africa very early on and now regret it. Today, Africa is really taking off. Many countries have discovered oil, for example, giving birth to a new middle class. This continent therefore deserves attention. You can fit three quarters of the world into the landmass that is the African continent – Russia, India, China, the United States, and more. The future breadbasket and principal water reserve of the world will be Africa. The fight of tomorrow will be neither energy nor money, but food; and this continent will be able to feed the whole world. The stakes are high.