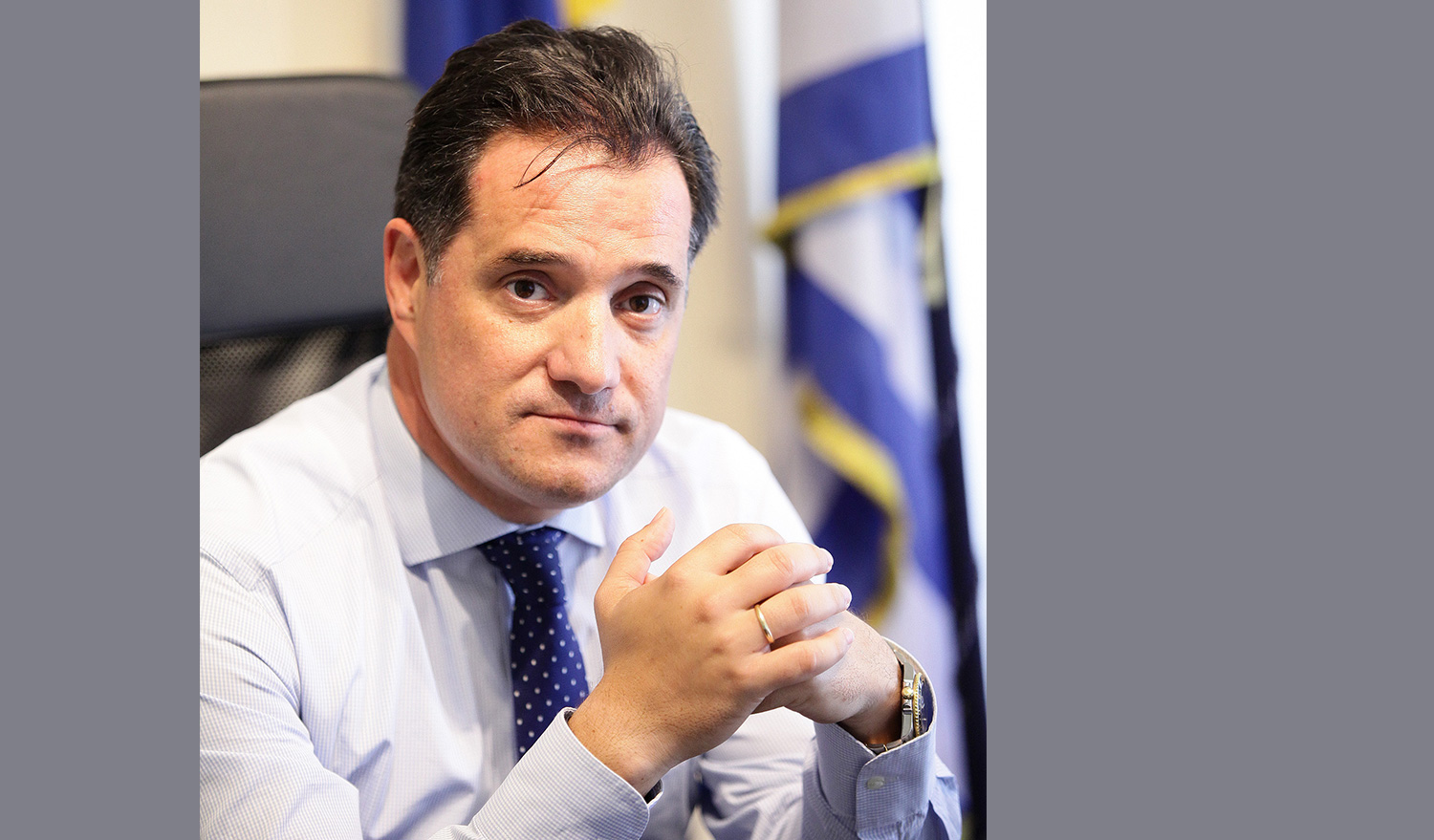 Dec 2019

GREECE: Interview with Adonis Georgiadis, Minister of Development and Investments

Prisma Reports (PR): You have recently stated that "Greece will be a totally new country for business." How are you and the new government planning to make this a reality?

Adonis Georgiadis (AG):We have a unique opportunity in our hands that has never happened in our recent history. Prime Minister Kyriakos Mitsotakis has led our party to win all the elections that have taken place recently in our country: from the municipal elections to the regional and European elections, the parliament as well as the bar and medical associations. Because of that, for the next four years we have the most stable political system in the European Union (EU). Mitsotakis was not elected on the basis of promises that he cannot keep. He was elected because he made very clear that he wanted a mandate that will speed up the privatization program, that will cut red tape, that will lower taxes, that will decrease the size of the state in order to make available the funds so as to be able to cut taxes. His mandate is strong and clear and we have already begun working on the aforementioned programs. We have only been working in the ministry towards the goals of our government for a very short time. If you ask the different stakeholders who do business in Greece, they already feel the difference. We have a clear mandate to transform our country into the most business-friendly economy of the EU.

(PR): The government has already succeeded in implementing some tax cuts in its short time in office. What else has been accomplished?

(AG): I will give you one clear example. We have taken full responsibility from here on to make sure the Hellenikon project [a large urban development scheme] goes forward. The investors themselves have said that in the last few weeks they have seen more progress being made on the project than in the last two years. We are moving very fast on this front.

(PR): What can you tell the global investor community about the scope and timeline of the €8 billion [$8.75 billion] Hellenikon project?

(AG): The global investor community is going to see real progress in 2019 and the launch of investments. All the common ministerial decisions — which have to be issued in order for the state to have the license and make it legally viable for investors to proceed — will be issued before the end of the year. At present, the stakeholders of the project are very happy because we have "fixed" all the problems that the Hellenikon project has suffered from in the past. The master plan is ready and the casino tender will be ready by the end of September. We are certain that the 2019 will be the year that the Hellenikon project takes off.

(PR): What is your vision for Greece's investment climate and what have you marked as your top priorities?

(AG):I want Greece to be a country where businessmen interested in investing are able to do so, with the assurance of a trouble-free business environment. A country where it is easy to set up a company and, at the same time, easy to close down and leave if deemed necessary. A country where the bureaucrats are there not to create problems but to help solve them. In short, our vision is to make life easy for investors.

(PR): When it comes to successfully attracting foreign direct investment, what can Greece offer investors that its competitors cannot?

(AG):First of all, Greece is now a very stable country. We are in the eurozone. Because of the former global crisis, our economy was depressed for almost a decade. Now, prices of property and other assets are far lower than they were ten years ago. If investors look for opportunities in Greece, they will find attractive prices with great potential for substantial profit. In Greece, we have a highly educated workforce, a stable currency and, with the help of the new legislation we are working on, Greece will become very business friendly. The economy is currently shifting and, because of that, it is the perfect opportunity for investors to buy low now and eventually they will be able to sell high.

(PR): You spoke earlier about Greece's privatization program. Would you care to highlight any opportunities within it that could be of most interest to US investors?

(AG): We have big tenders for ports in the country that could be interesting for US investors. The country has huge areas dedicated to the logistics sector. In recent years, Greece has improved in this area through Cosco's investment in Pireaus port and that has made logistics a sector in which we can really move forward. The privatization of Thessaloniki port is also under way and new railways will give easy access to the Balkans and Central Europe through Greece. Logistics is a field that is very important to us. Tourism is also a key economic sector in Greece and there are currently some very large investments in tourism development. One that comes to mind is in Crete, which is an investment of over €600 million [$659 million]. There are other investments in other regions of Greece of similar scale. Tourism, logistics and the privatization of state assets are all opportunities that could be of interest to US investors. Because of the good relations we have with the US and Israel, there is a big opportunity right now to privatize all the shipyards we have in Greece. Because of the geopolitics of the region, we consider this industry to have huge potential. In the energy sector, we have some tenders already under way and many more will be launched in the near future, particularly in oil and gas exploration. There are also tenders for renewable energy, including solar and wind. Because of Greece's geostrategic location, energy is a sector that is very important to our country. There are several pipelines that pass through Greece and contribute to the security of supply for Europe. Gas that is coming from Israel and Cyprus to go to Central Europe will help create a second road of energy supply. Europe is working to diversify its sources of gas — as you know, it is best "not to put all your eggs in one basket."

What can you tell us about the Digital Map project, whereby a virtual platform showcases to investors the precise location of properties, land and other investment opportunities being offered?

(AG):This project was born in our ministry. We will have a pilot launch of it before the end of 2019 that will include Greece's top five cities. Our goal is that in two years the digital map will cover the whole of Greece. The main idea behind the project is to combine the databases of the state, ministries, governmental agencies, municipalities and regions in one platform. In this way, if an investor is interested in buying property in Greece, they can click just one button and within seconds they will learn everything they need to know, including how to get a permit and how quick the process will be; what the archaeological legislation is for that specific site; what you can or cannot build; how many square meters are permitted; how close you can get to the sea and so on. Everything will be in one place, so the investor has all the necessary information and is assisted in their decision making. This project was originally discussed with the president of the Technical Chamber of Greece, Giorgos Stasinos, who presented the project to me, and my ministry collaborated with him to make it happen. The project is funded by the ministry, which will implement it.

(PR): How do you assess the potential for closer collaboration with the US in the field of education?

(AG): We are very much in favor of closer collaborations with US universities. We are trying to make our own universities much more open and would like them to offer more programs in English. We would also like to see a bigger exchange of students, as it is mainly our students going abroad at the moment. Unfortunately, we are not yet ready to change the constitution in order to allow for private universities in Greece. However, we have found some legal solutions that will enable us to allow for private universities before being able to change the constitution. It is a field that we care about and we would like to boost collaborations with both public and private universities. Related to this, we have a plan to build a hub for start-ups and new technologies here in Greece — one that will be completed in less than two years. Universities will also be a part of this project. The idea is to create an environment where young university students can create or be involved in start-ups and also to bring on board existing private sector companies to complete the start-up ecosystem and stimulate entrepreneurship among our young people. We have found the location for this project. It has not yet been announced by the Prime Minister but it is near Athens and will have good access. Universities will be present and my ministry will be funding its development. Similar hubs have been created in other parts of Europe, such as Portugal. Greece is a very beautiful country to live in — this will attract entrepreneurs. Additionally, we will give incentives such as tax breaks to help attract investors and entrepreneurs. We want people to aspire to using Greece as their base, where they will be supported by us to promote their businesses internationally from here.

(PR): What are the types of incentives that investors can find in Greece?

(AG): We are going to announce new incentives in legislation during this year that will include tax breaks and incentives for creating jobs, among other things. We are not going to reinvent the wheel here, we are going to follow best practices which have been successful in other countries.

(PR): Are there any other major projects that you would like to highlight to US investors?

(AG): We spoke of Hellenikon and there are two big casino enterprises from the US that have come to Greece and will participate in the tender for the Hellenikon casino resort project. If all goes well, perhaps one of them will be selected. This project will create one of the biggest casinos in Europe but we want to promote all aspects of our tourism industry.

(PR): Do you have a final message to share with readers around the globe.

(AG): The message is simple and direct. We mean business. We will deliver. This is the right time to come and invest in Greece, and we await your arrival.