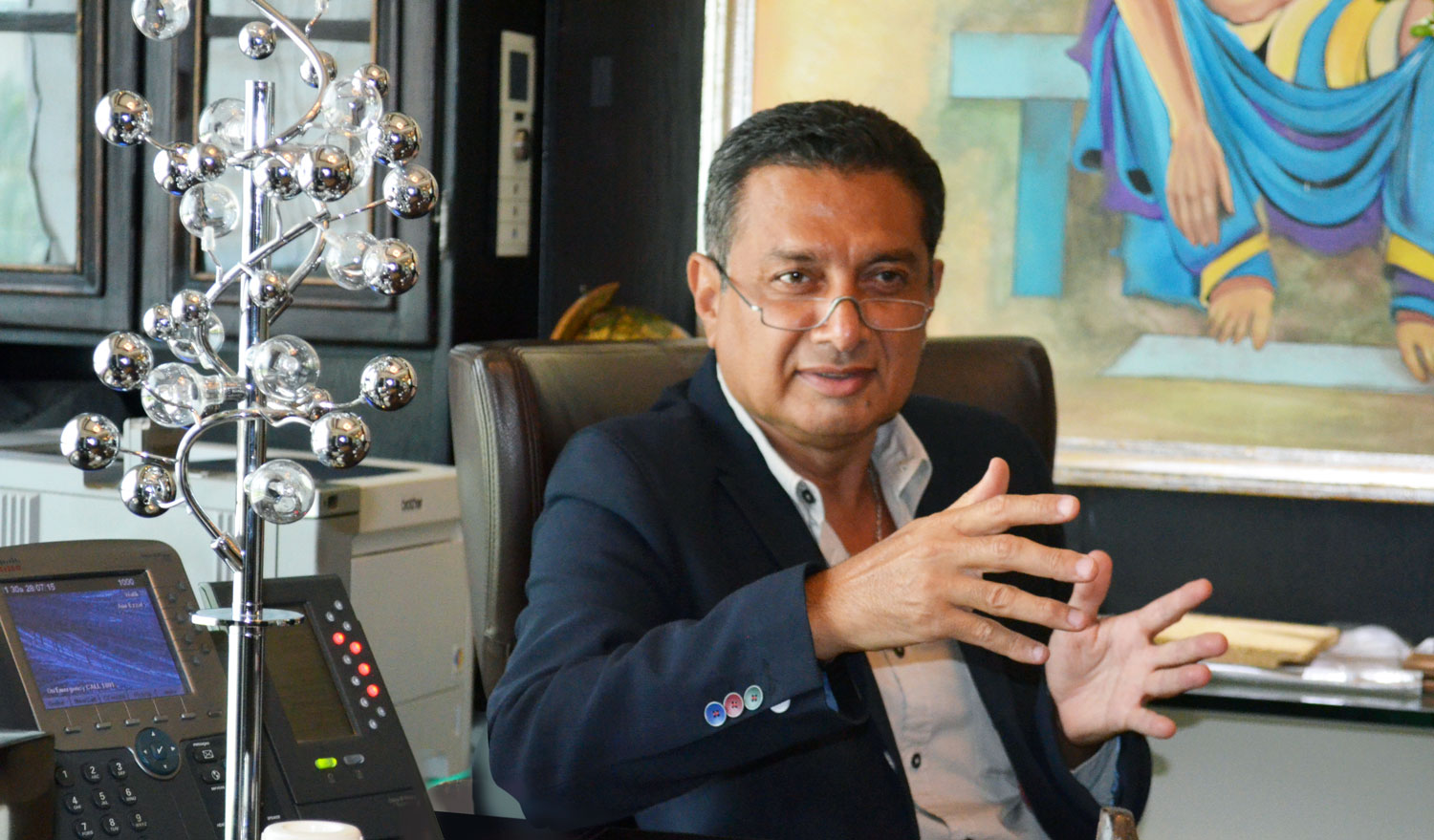 Mar 2020

Interview with Dr. Wafik Bardissi, Chairman and CEO of Minapharm Pharmaceuticals, Egypt
Dr. Wafik Bardissi is chairman and CEO of Egypt's Minapharm Pharmaceuticals, one of the leading pharmaceutical companies in the Middle East and North Africa (MENA) region. He provides an insight into how his company is driving the health-care industry in Egypt toward biotechnology and advanced therapy medicinal products.
PR: What are your thoughts on the current position of the Egyptian pharmaceutical sector?
Dr. Wafik Bardissi(WB): After the market disruptions that took place during 2017, mainly as a result of the devaluation of the Egyptian pound, I believe 2018 will witness more profound stability in sectors where companies are capable of adjusting to the new economics of the now-different industry dynamics. The pharmaceutical sector is gaining attention following the devaluation decision and the government has also allowed pharmaceutical companies to raise the selling prices of some of their products, which has helped to partially offset the rising cost of imported raw materials.
Demand for the sector's products is not expected to be effected by the decline in domestic Egyptian consumption, as medicine remains a vital product for which there will continue to be growing demand, especially with the country's new health insurance program that will extend health coverage to 100% of the population. However, the regulatory environment for pharmaceuticals remains opaque, especially regarding the future drug registration process and pricing strategy.
Traditionally, Egyptian pharmaceutical companies have focused on the domestic market, with little attention to exports or expansion outside Egypt. But there has been a change in recent years where we have seen some Egyptian pharmaceutical companies embarking on joint ventures in other regional markets, mainly in the Gulf, and giving more focus to exports, especially after our currency floatation, which made Egyptian medicine even more attractive.
PR: What have been some of Minapharm's key achievements over the years?
WB: Minapharm ranks among the leading pharmaceutical companies in Egypt and the Middle East. Its longstanding expertise covers a broad spectrum of medicines, ranging from small molecules to extremely complex bioengineered proteins. Minapharm partners with global leaders to manufacture and market branded products and first-to-launch galenic formulations that are customized to market needs. We produce more than 150 products in specialised lines for the fields of gastroenterology, cardiology, ophthalmology, orthopedics, urogynecology, dermatology and more.
With over half a century of experience and regional leadership in the pharmaceutical industry, Minapharm is constantly striving to provide innovative, quality medicines and services to patients in developing countries, so that they too can benefit from the latest advances in pharmaceutical and biopharmaceutical research technologies.
To achieve our mission — Innovation Made Affordable — and strategic goals, we exploit a robust research and development (R&D) platform combined with strategic multi-alliances, involving industry players at the forefront of the latest pharmaceutical technologies, and marketing and management techniques.
Capitalizing on the success of our pharmaceutical business, we embarked on a transition in the early 2000s towards complex high-value biologicals in the emerging markets by establishing Rhein-Minapharm, the first R&D and manufacturing biopharmaceutical facility in Egypt, Africa and the Middle East. We have embraced a culture of innovation and R&D that demands strategic and intelligent managerial decisions, with alternating attitudes to risk. Making innovation affordable requires higher levels of challenge and change. We have led a 15-year transformation to organizational intelligence, so every stakeholder understands innovation is incomplete until it contributes to an affordable product.
In 2010, Minapharm further consolidated its business model, to become a global provider of intelligent technologies to the biotech industry at large, by acquiring ProBioGen AG, a Berlin-based renowned contract development and manufacturing organization, and technology provider with a focus on cell-line engineering, process development and good manufacturing practice. All its services and technologies are embedded within a total quality management system, to assure compliance with international ISO, European Medicines Agency and US Food and Drug Administration standards.
Global advances in therapeutic approaches to unmet medical needs are shifting from small molecules to large complex molecules and advanced therapy medicinal products (ATMPs). While the focus in Egypt is still on small molecules, Minapharm recognized the shift early on and embarked on a transition to large complex molecules, ready to bridge to next-generation medicines.
PR: Does Minapharm have a role as a socially conscious enterprise?
WB: In addition to its efforts in the industry, Minapharm is a supporter of the Hospice Egypt project that supports terminally ill patients and their families. Worldwide, hospice services are mainly found in developed countries, but there is an immense need for these services in low and middle-income developing countries, such as Egypt. Minapharm is dedicated to helping Hospice Egypt alleviate the suffering of thousands of terminally ill patients and family members by leading the hospice movement in Egypt through the provision of mobile and stationary services.
PR: How does Minapharm's focus on R&D and supplying the full value chain help it stay at the forefront of the pharmaceutical industry?
WB: The establishment of our bioengineering R&D community, composed of Egyptian scientists and their German counterparts, is considered a milestone in Egypt's pharmaceutical history. It gives us a competitive advantage when it comes to pricing. We have developed, manufactured and launched several complex recombinant products, in one case leading to a six-fold reduction in comparison to the price of an imported competing product. Additionally, we are developing new immunotherapy products, which are normally very expensive, that we will be able to market at affordable prices as our chain of manufacture goes straight from cell to protein. We are able to supply the full value chain here in Egypt.
Minapharm continues to venture into the future of biotech by investing in new state-of-the-art facilities in Egypt as well as in Berlin, opening the door for synergistic projects to jointly develop and produce modern immunotherapies for Egypt, the MENA region, and beyond.
PR: Does Minapharm have plans for expansion?
WB: While synergy projects are constantly driving technology transfer between Cairo and Berlin, investments in two new facilities at both locations are aimed at pushing the independent businesses of each. Minapharm is giving its Berlin-based subsidiary, ProBioGen, free reign to expand its business and strengthen its solid customer base that already includes large pharmaceutical players from across the world. From a regional technology-driven manufacturer of affordable complex medicines, Minapharm has transformed to a global provider of intelligent technologies to the biotech industry at large.
Minapharm is also actively exploring export opportunities in surrounding markets. Some of our major target markets for 2018 are East and West African countries, such as Kenya and Nigeria. The Gulf Cooperation Council and Arab countries are also natural prime partners for Egyptian businesses, given the geographical proximity and socio-political ties, as well as economic and market familiarity, due to significant existing cross-border investments.
PR: As CEO of Minapharm, what is your vision for the company and how would like to see it grow?
WB: Minapharm has achieved its goal of establishing a sustainable pharmaceutical and life-science model based on innovation. Organizational intelligence and a hybrid research culture provide the means to produce innovative and affordable medicines and technologies with strong local presence and global outreach.
It is, therefore, not unlikely that you will see Minapharm implementing a radical, ongoing transformation of the global health-care industry, from yesterday's traditional chemical compounds to today's complex, genetically engineered medicines and tomorrow's ATMPs.
PR: What are the opportunities for international investors in the Egyptian pharmaceutical industry?
WB: : In the medium to long term, Egypt's health-care budget will not be able to withstand the continuous and immense pressure of importing finished pharmaceutical products. As a result, cooperation at a technology-transfer level with international businesses is needed to exploit the opportunities in Egypt and neighboring markets, and bring even more biotechnological success."