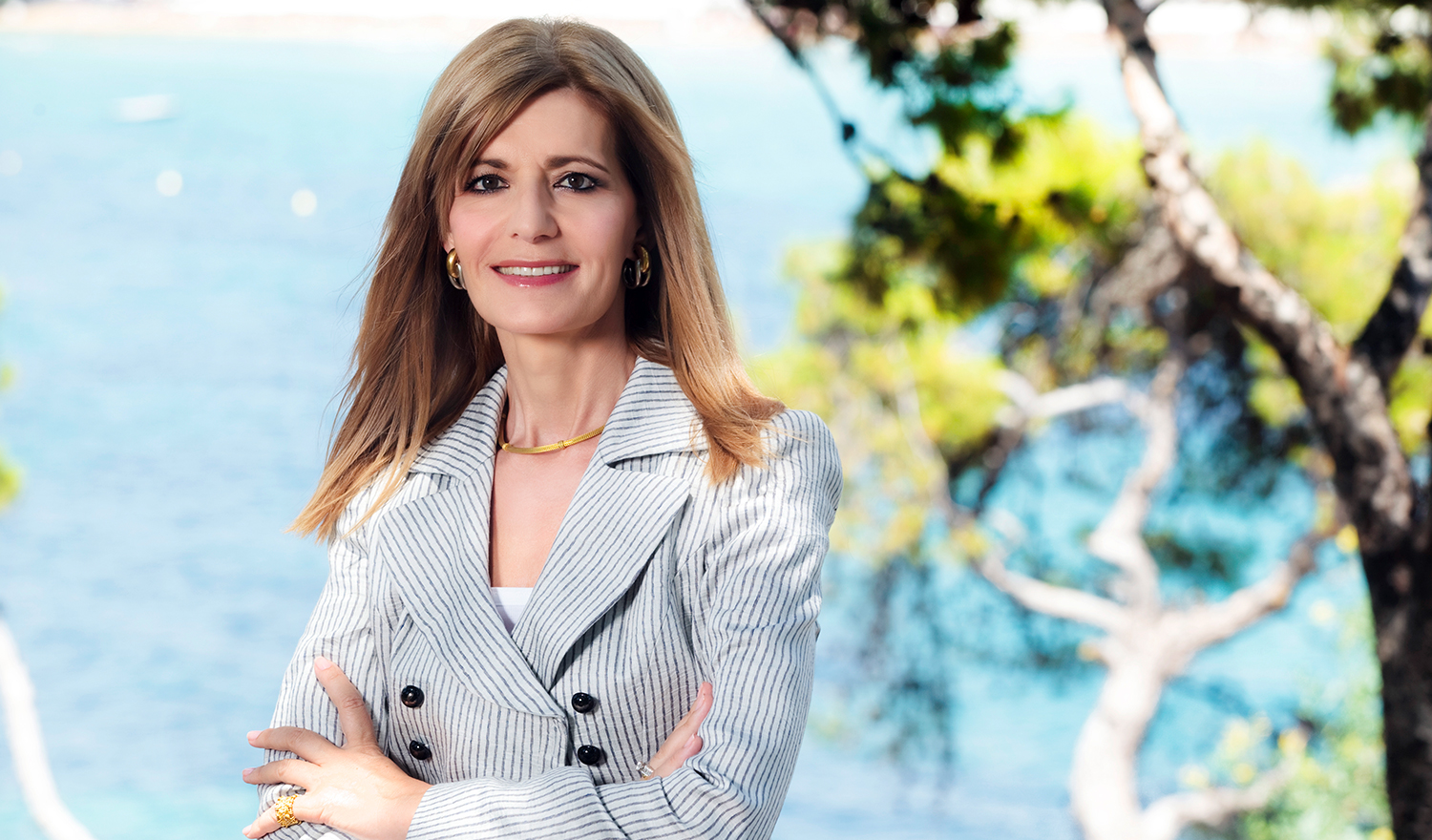 Dec 2019

Interview with Ms. Jenny Gyftea, President of AGRO.VI.M S.A

Prisma Reports: The agricultural sector in Greece remains an important sector of economic activity and employment for Greece, with exports of agricultural products accounting for one third of total exports. However, Greek agricultural output has declined from 17% of GDP in the early 90s to 4.1% today and agriculture in Greece remains based on small, family-owned dispersed units. As a company at the forefront of Greece's agribusiness, how would you evaluate the potential of the country's agriculture and in your opinion, what are the necessary key reforms to boost agricultural production in Greece and increase the sector's competitiveness and efficiency?

Jenny Gyftea: Traditionally, Greece's economy has been based on agriculture. The sector currently represents 4.1% of GDP while employing 11.9% of the labor force in 2019. According to World Bank data, the average value added by Greek agriculture as percentage of GDP from 1995 to 2018 was 4.31 percent with a minimum of 2.8 percent in 2009 and a maximum of 7.38 percent in 1995.  Hence, it is a sector of vital importance to our national economy.

However, sectoral reports indicate that Greek agricultural production has increased by less than 20 per cent during the past 25 years (compared to 220 per cent globally and 86 per cent in Europe) and relies heavily on European subsidies.  Moreover, the Greek food supply chain has a relatively small manufacturing component (adding approximately 40 per cent to the agricultural production versus 70 per cent in Western Europe), as most Greek agro-food products are consumed locally or exported in bulk form. This surely indicates lack of an effective national agricultural strategy and unless key reforms are introduced, the potential future outlook may not be so optimistic.

Further aggravating the situation, the catastrophic social and economic effects of the ten year Greek crisis and austerity measures since 2009, characterized by high unemployment and lack of bank liquidity, as well as the promise for government surplus of 3.5% of GDP until 2022 and 2.2% until 2060 will definitely have a muffle effect on national consumption, GDP increase rate, employment and savings, agricultural and industrial productivity, as well as technological advancement.

In view of the above, a significant increase in the sector's competitiveness and efficiency, which will strengthen international exporting dynamics, is an absolute must and should include policies and reforms such as:
Pursue the production and export of high-quality agricultural products. Increase national added value by tapping into the current global trend for healthy food, chemical and contaminant free
Improve branding and marketing strategies, as well as packaging to convey quality to international consumers. Build strong brands
Leverage on the authentic "Greek" Mediterranean diet through recent international studies on its beneficial effects to cognitive and physical health
Upgrading the whole production chain to become more efficient
Employ business-oriented operations for small individual farmers like agricultural cooperatives, to achieve economies of scale and overcome the limitation of small-sized farms
Support and strengthen Protected Designation of Origin (PDO) products and develop synergies with tourism. As an example, it is of critical importance to clarify to international consumers the difference between the certified KALAMATA PDO olive (Elia KALAMATAS PDO) and the KALAMATA olives they see in bulk at their local supermarkets originating from other countries
Establish an effective relationship between academic research and agricultural businesses, in order to effectively incorporate technological advancements and create quality and highly competitive products
Implement new technologies in Greek agriculture such as telecommunications, sensor technologies and microclimate monitoring, use of drones, to increase effectiveness of government pest and disease control practices. Improve cultivation techniques, processing methods through training of farmers, reduce inputs such as pesticides and fertilizers, introduce energy and water usage efficiencies etc.
Greek government should make an additional effort to create a "business friendly" environment by implementing policies to increase cash liquidity and lower interest rates, reduce bureaucracy, and establish a stable tax environment which in turn will encourage investment and increase productivity in the agricultural sector.
Finally, QUALITY should be set as a national priority, since it is the distinguishing factor that has kept Greek agricultural products in the global markets up to now. Greek agricultural products were never among the cheapest, but certainly were always authentic and of high quality. As far as olive oil is concerned, although we are the third largest producer worldwide, we cannot compete with Spain and Italy, and perhaps some recently emerging olive oil producing countries in terms of quantities since they employ intensive cultivation and harvesting techniques. We can only compete in terms of quality and this is where I believe our focus should be. The authorities and national bodies that effecting olive oil, as well as the Ministry of Agriculture must help the farmers maintain high quality and value. This is the future of Greece – to keep high quality and not to produce more products at a lower price.
Prisma Reports: Technology and innovation is having a huge impact in agriculture, making it more sustainable and efficient, producing bigger yields while using few resources. The output/value for production in Greece is still very low compared to other countries with innovative producers, such as The Netherlands or Israel. What are the challenges that lie ahead for Greece to implement such methods and increase the output/value like these hi-tech producers?
Jenny Gyftea:We believe that the key to sustainable agricultural growth is more efficient use of land, labour and other inputs to provide a qualitative and healthy product, whilst respecting the environment, natural flora and fauna (bees, birds, ants, aromatic flowers, etc.). As far as olive oil is concerned, we constantly train and consult our farmers and olive mill operators to be aware of these factors. Achieving significantly higher output/value production in Greek olive oil will require the introduction of intensive cultivars and mechanical harvesting techniques, perhaps even other olive varieties. Harvesting should begin when olives are fully matured to increase olive oil yield.
The Koroneiki olive variety currently used to produce over 90% of Greek olive oil, the unique characteristics of the Greek terrain and climatic conditions, as well as other significant factors previously analysed, contribute to the production of 75-85% extra virgin olive oil of high quality in Greece. So, adherence to tradition, authenticity, traceability and high quality is a one-way street for Greek olive oil and olives.
Global olive oil production is approximately 3.5 million tons with Spain producing close to half of that. While there is no indication of a significant increase in world consumption, continuous increase of global olive cultivars (in South America, Tunisia, Spain, Morocco etc.) may tip the current "balance" between supply and demand affecting all farmers, product price as well as quality.
Greek annual production of 200-300.000 tons of olive oil has no significant contribution in the world market.  Greeks consume most of the production locally (approximately 100.000 tons). Approximately 100.000 tons are exported in bulk and 45.000 tons branded, collectively contributing half billion euros per year to the Greek economy, a significant figure for a country trying to put the recent crisis and austerity behind.
The only competitive advantage Greek olive oil has in this newly emerging global reality is to remain authentic and of high nutritional and organoleptic quality.
Prisma Reports: Greek food has become a trademark for the country and one of the nation's success stories. Feta cheese, olive oil, ouzo, are some of the flagship top quality Greek products. AGRO.VI.M S.A. is at the forefront of this industry since 1964 as one of the leading olive oil processing companies and leading exporter in the country. Can you tell us more about your success story over the past 50 years and what was the initial vision on your founders back in 1964?
Jenny Gyftea:  My father Andreas Gyfteas started the business in 1964 and immediately established strong personal relationships with our local farmers in Messinia, which last even today. When my brother and I entered the business at the end of the 80s we decided to focus on exports, thinking at that time that exporting quality Greek agricultural products would help our growth better than the local market. Today AGRO.VI.M S.A. exports high quality, authentic Greek olive oil and olives to over 55 countries, from Japan to the US, Scandinavia and the Middle East. We bring approximately 6.000 Messinia farmers in touch with consumers and their families throughout the world by offering branded, multi awarded, certified, KALAMATA PDO OLIVES and PDO KALAMATA OLIVE OIL under our flagship brand ILIADA.
Our efforts started since day one of "KALAMATA" PDO registrations and we are considered pioneers in introducing PDO KALAMATA OLIVE OIL to international markets. At that time, Greece did not have the means for a joint branding effort, so we had to put ourselves upfront to act as ambassadors of our country and products. AGRO.VI.M S.A., our flagship brand ILIADA and our whole family have been synonymous to KALAMATA olive oil and olives across the world for decades. Greek olive oil was nowhere to be found in world markets when we started. It was through continuous investment, effort and perseverance, coupled with the quality products our local farmers produced, that we managed to build a loyal customer base throughout the world, who we respect, service with extreme care, and consider part of our own family.
Prisma Reports: How is AGRO.VI.M S.A. working to increase its productivity, expand its product range and improve its international competitiveness while remaining focused on quality? What types of investments in technology and innovation do you have in the pipeline to continue enhance your processing facilities?
Jenny Gyftea: With our operations located in the city of KALAMATA, the cornerstone of our success is definitely being very close to the local farming community.  As previously mentioned, we have maintained strong relations with the same group of farmers for so many years. This enables AGRO.VI.M S.A. to have direct access to the best olives and olive oils Greece has to offer.
But we do not stop there. We are in constant communication with the whole production chain, from farmer to olive mill to cooperatives in order to work together towards a common goal – deliver excellent KALAMATA olive oil and olives to the table of our customers throughout the world. Farmer and mill operator education, research in cooperation with local universities, constant in-house funded research, are the factors that lead to the development of new and exciting products. Multiple quality awards every single year verify the effectiveness of our efforts and differentiate us from the competition. Our in-house chemical and organoleptic laboratory analyses every batch of product received regardless of quantity, segregates, manages through a certified traceability system and stores thousands of tons of quality olive oil in controlled conditions to assure quality throughout the production year. It is strict adherence to certified quality and management systems that delivers control over processes and induces constant improvements.
In the 90s, we built our new processing facilities with state-of-the-art equipment. Ever since, we continuously invest in automation and control, recruit highly educated and experienced people and closely cooperate with specialists to constantly improve and remain a front runner. Currently we are completing a three-year equipment upgrade and renovation plan, we have purchased additional olive orchards in order to directly experiment with advanced farming techniques and expanded our plants land by 100.000 square meters for immediate expansion.  There are many new and exciting things in the pipeline!
Prisma Reports: Can you give us a couple of key facts and figures to understand the importance of your company on the market? How does it position? Tell us the size and scope of your production, your turnover, your growth?
Jenny Gyftea: AGRO.VI.M S.A. has an annual turnover fluctuating between €40 and €50 million, depending on crop season and olive oil producer's prices. Two years ago, we were at €48 million and this year we will be at around €40 million. Turnover is one measure of growth and success, but results are of the outmost importance, especially in the economic environment previously analysed for Greece. For year 2019, even though the 2018/19 crop was not so good, we expect to close at €4,0 million EBITDA. Our forecasted Sales and EBITDA for the next three years have been targeted to €60 million and €5,5 mil respectively, by gaining more placements in the retail and HO.RE.CA markets of USA, Russia and EU. During the last 10 years, AGRO.VI.M S.A. has tripled its turnover and listed in London Stock Exchange Group's report "1000 Companies to Inspire Europe -2018", highlighting the fastest growing and most inspiring SME across Europe.
Prisma Reports: You mentioned a couple of very interesting innovations. What would be some of the most innovative concepts that you are most proud of?
Jenny Gyftea: We constantly deliver new and innovative products and currently have approximately 200 SKU's in our portfolio. I am particularly proud of our 500ml PLATINUM ILIADA KALAMATA PDO olive oil line, packaged in a bold new round tin design, unheard of at that time since glass bottle was considered King.  We received the Gold Medal award at Los Angeles packaging materials design competition in 2009. Since then, we have set the standard for the Greek olive oil industry that many have followed.  Our PLATINUM LINE now has expanded to include 250ml extra virgin olive oil with chocolate, rose, vanilla, truffle, basil, chilly and orange flavours, again pleasantly surprising Chefs around the world.
Another innovation worth mentioning is our "ILIADA SINGLE ESTATE" gourmet extra virgin olive oil, with characteristic Koroneiki variety olive robust flavour and aromas and high polyphenols content (around 500mg/Kg). Each bottle which resembles fine whiskey is numbered and offered in limited quantities; the name of our exceptional farmer is listed on the front label and through QR Code, one can see his personal family story. The price is purposely surprisingly low for a high-end olive oil of this calliper, making it accessible to everyone. Once again AGRO.VI.M S.A. has set the standard and many Greek producers now pack in whisky bottles their own Single Estate.
Prisma Reports: Most of your production is exported – 95% of your products are sent to more than 55 countries. What are some of the key markets for you in the present? Who are your most demanding customers?
Jenny Gyftea: The USA is our number ONE market and current focal point. Central Europe including Austria and Switzerland follow next. For the last two countries we are truly the Ambassadors of Greek olive oil.  ILIADA olive oil and olives also have a very strong presence in Egypt, and one can easily find ILIADA products oil in the Middle East, Japan, China, Russia, Brazil and many other markets around the globe.
U.S. customers are definitely the most demanding since they research the product and know a lot about olive oil tasting, as well as its quality and health beneficial properties. I must admit that the U.S. consumer is well informed and appreciates quality food.
Prisma Reports: Greek Olive oil has recently been spared the tariffs rise that the Trump administration has applied to many European products and producing countries. How are you planning to seize this opportunity in full and how do you plan to exploit this new situation?
Jenny Gyftea: It is true that for the time being Greek olive oil has been spared, from retaliation tariffs set by the U.S. in response to a long-lasting dispute between ARIBUS and BOEING. Greece has nothing to do with the aerospace industry subsidies that triggered this EU-USA dispute. In fact the recent Greek financial crisis and austerity measures have left us severely under-industrialized. Our economy is slowly recovering from a severe "crisis period" and it is only fair that we have been spared. Being exempted from the U.S. additionaly imposed import tariffs, gives Greece an opportunity to strengthen its presence in the US. and compete in more even terms with other companies who sell blended or treated olive oils at low prices. Of course, the fact still remains that although some European countries like Spain has been disadvantaged, South America, North Africa and other Mediterranean basin countries are also rushing in to seize this opportunity.
AGRO.VI.M S.A. is extremely positive about the U.S. market which has been a strategic focal point during the past two years. The demand for quality olive oil is continuously increasing and we have established strong collaborations with U.S importers and distributers. People increasingly approach us in food shows and exhibitions looking for quality and authenticity first, and secondly for competitive pricing. If tariffs had been imposed on Greek olive oil as well, it would have definitely delivered a catastrophic blow. We are currently waiting for USTR's pending evaluation on the effectiveness of existing retaliation tariffs on the U.S. economy, which leaves open the possibility of changes which may affect more countries and respective products. AGRO.VI.M S.A. is actively participating in North American Olive Oil Association initiative to eliminate tariffs on olive oil.
Prisma Reports: What's your plan to become «the» olive oil in the US?
Jenny Gyftea:  Becoming "the" olive oil on the U.S. is a farfetched dream for any Greek company. However, with coordinated and intelligent efforts we are striving to become "the Greek" olive oil.  Our strategy involves closer and more engaged cooperation with our existing distributors, reaching out to U.S. Chefs who strongly support our products, generate additional "U.S. market specific" products, increase marketing and sales support activities through a permanent U.S. based AGRO.VI.M S.A. representative and retain readily available stocks in the U.S. A strategic cooperation for a U.S. based packaging plant is also a possibility since this market is very significant and promising for us and Number ONE on our list for 2020.
Prisma Reports: Branding as you know is quite key in the food industry, so is customer education. People are more knowledgeable and conscious about what goes into their food. What kind of strategies do you have in mind to educate customers to the benefits of olive oil and your product?
Jenny Gyftea: An educated customer is our best customer. The more demanding they are, the stricter quality regulations and checks imposed in the U.S., the stronger our brands become, since KALAMATA PDO extra virgin olive oil is synonymous to quality and maintaining good health. We are already conducting in-house seminars to educate our distributors salesforce on the key advantages and superiority of our 100% Greek, authentic, single varietal olive oil and arm them with verifiable arguments on why they should propose ILIADA instead of other brands and justify any price difference. We believe that Chefs cannot afford to compromise the quality of their dish by using lower quality olive oils and olives, and households should not compromise flavour and health benefits of their food.
We have also initiated a content generation program specifically for the U.S. and use recent medical studies and research findings in regards to olives and olive oil health benefits. We also concentrate on more effectively use social media and engage food writers and influencers to educate our U.S. customers. This requires a significant investment because of the diversity and size of the U.S. and high costs which has already been allocated in our three-year investment plan.
Prisma Reports: AGRO.VI.M S.A. is a family company carrying some values. You have had quite a journey inside the company. What have been some of your most inspiring moments or proudest achievements?
Jenny Gyftea:  It is a great pleasure to see our products placed next to the big brands over the past 20 years, especially since we come from the small city of KALAMATA in Greece. Aside from that, we are pleased to see our products distributed in the main markets throughout Europe and the US.
We are also very proud of all the awards we have won in international competitions and of the success of our products. We were awarded among the world's best olive oils in 2018 and were ranked in the top 50 best olive oils in the world – a list which included only a couple of Greek companies. Our Single Estate extra virgin olive oil among many other distinctions, won the U.S. Specialty Food Association Silver 2019 Sofi Award.
In the olive oil business, many small olive oil producers have super quality products, but they are limited by production and availability, thus placed in specialty markets and on-line stores. AGRO.VI.M S.A. is different in this respect. Our goal is to be available to consumers on the shelves of high-end mainstream supermarkets at affordable prices, a strategy we can fully support since we have the capacity, raw materials and the support of over 6000 Greek farmers, mills and cooperatives.
Prisma Reports: To conclude this interview, what is your final and direct message to the readers of Foreign Policy?
Jenny Gyftea:  Greece is a country of uncompromised QUALITY agricultural products, where authenticity, tradition and ethos are top priorities. AGRO.VI.M S.A. is proud to contribute to the quality of life by bringing the best of Greece to the markets of the world under our registered ILIADA brand.