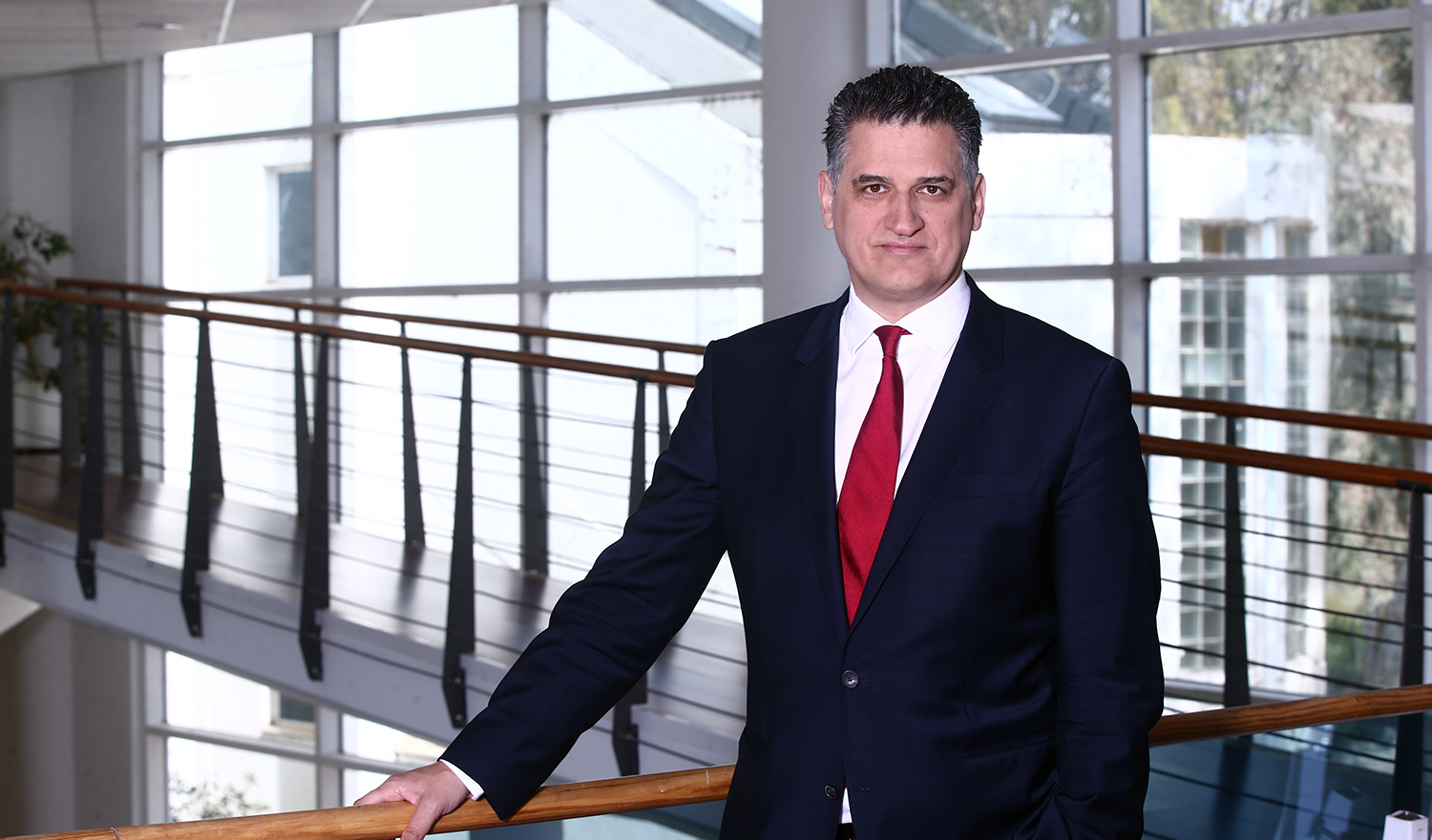 Dec 2019

Interview with Mr. Panos Papadopoulos, CEO & Vice-President – FORTHNET S.A.

Prisma Reports:  Accelerating the digital push is a priority for most developed nations, in order to stay ahead of the game. This is true especially for Greece as Minister Pierrakakis explained the country ranks 26th out of 28th in terms of digitalisation. Much efforts are needed to catch up. To start this interview, can you give us a rapid tour of Forthnet? How has the company contributed to modernize the Greek entertainment and media industries, and propelled Greece's ICT industry ?

Panos Papadopoulos:  Forthnet is the company that connected Greece to the internet. We were also the first company to provide pay-TV in Greece, and very much see ourselves as pioneers in the sector.

During the last 3 decades, we have played a significant role in the Greek economy, and in particular in the fixed telecom and pay-TV market. We have been working continuously to expand the penetration of pay-TV and broadband services. For example, back in 2008 Forthnet bought Nova, the first and sole pay-TV operator in Greece at that time. Nova shared the same DNA of innovation as Forthnet, making this merger a rational choice. We saw early enough that the trend was to combine telecommunication services with entertainment, providing high quality content to households and we were the first to introduce Telco and Pay TV bundled services in Greece, through our main commercial service, called Nova 3Play. A move that differentiated us from the competition, as we created a new market that proved to be the driver of our growth and pay TV's penetration in Greece and our shield against the domestic financial recession. We continue to focus on our strategy of providing innovative services, such as OTT TV everywhere service, bringing the future to Greek households' entertainment and communication.

Today the Greek market operates with four clear players, including Forthnet who, through the provision of fixed telecom services and pay-TV services, acts as a multiplier for the economy.

Prisma Reports: Under your leadership the company went through a major and successful organic restructuring process, including a share capital increase, the creation of bundled services products, "Nova 3Play" and more. Can you give us some facts and figures to illustrate the importance of the company on the market today, in terms of market share and subscriptions, but also growth or turnover?

Panos Papadopoulos: Even though we are the only player that does not still provide mobile services to the Greek market, Forthnet today serves more than 16% of the households in Greece, which  represents more than 600,000 unique households. Moreover, Forthnet has a leading position in the Greek multi play market with a strong, relevant to the local audience, premium Sports & Film TV product offering enabling it to command a >45% value share of the total Greek Pay TV market.

Furthermore, we count more than 40,000 small, medium and large enterprises within our clientele – mainly on the telecom and paid-TV side.

Last but not least, Forthnet has just been awarded with the licence to provide mobile services, and during Q2 2020 our company will launch mobile services. This will constitute a game changer for the company.

Prisma Reports: How would you characterize the Greek ICT market at present?  

Panos Papadopoulos:  At present Greece is still lagging behind when it comes to fast broadband penetration and pay-TV penetration. As June 2018 only 16% of Greek broadband connections are next generation. The European average penetration is over 50%. Moreover, pay TV penetration is still around 25%, while the average penetration in Europe is over 50%. Those two key indexes and KPIs need to be improved. As a company we are a key contributor and have a big role to play to achieve this.

The first thing to be addressed in my opinion is the fast-broadband penetration. This must be one of the country priority goals. As a consequence, it will improve all the other correlated ICT sectors, because without high-speed networks and high-speed connections we won't be able to develop our ICT sector much further. So the top priority in our list is to improve the fast-broad penetration in this country.

Prisma Reports: In the 90's Forthnet played an instrumental role as technology pioneer in Greece, having brought internet to the country back in the 90s, then pay TV. What is your vision for the coming years, how does Forthnet intend to continue to lead the digital revolution? How disruptive are your solutions?

Panos Papadopoulos:  'Multi-play' value propositions is key for our strategy : providing fixed telephone, internet services, pay-TV services, and then mobile services starting from 2020. Energy also aligns with the same strategy of 'multi-play', providing as much as relevant services as we can to the Greek households.

In terms of contributing to developing the second telecom access network, we have carried out several assessments and analyses of this project for which we have also prepared specific plans. It is based on FTTH technology, the only future-proof technology right now and is planned to deliver gigabit connections to the home.

Finally, from a strategic perspective, it is quite important for us to have a successful mobile launch during 2020, in order to enhance our products and service portfolio and to succeed in the Greek market.

Currently, there is no MVNO in Greece, while in other countries MVNOs have a market share ranging from 6% (Sweden) to  19% (Netherlands). Therefore, it's quite obvious that an opportunity for the MVNO model lays ahead in Greece

 

Prisma Reports: The brain drain is a major issue that needs to be tackled asap in Greece, if it wants to retain its human capital. About 1/2 million people have left the country since the crisis years. Yet the ICT sector is one that holds many hopes to reverse the brain drain. As a frontrunner in the ICT space, can you tell us about the potential the country hosts for developing a dynamic tech start-up eco-system? What do you view as key to stimulate local entrepreneurship and start-up development?

Panos Papadopoulos:  It's great timing  and there are opportunities. On the one hand, all KPIs such as GDP, employment rate, etc are on the rise. Macro-economically speaking, the Greek market is getting better. The most important challenge that enterprises and specially start-ups have been facing up to now was the funding. With the improvement of our macroeconomic variables, we can expect a better environment where funding initiatives and human capital will flourish. Greeks will find more opportunities on the market; new funding and new money will come in to implement new ideas and bring new scenarios on the table. This should in turn help reverse the brain drain.

Forthnet will be taking part of this explosion in the whole industry, and especially on the provision of broadband connections and fixed telephone services – which are "must" ingredients for every startup and enterprise. We will be getting benefits and profits from such services.

Prisma Reports:  What would you say to the Greek diaspora abroad considering a possible return?

Panos Papadopoulos:  Greece's macroeconomics fundamentals are getting better, and people's psychology is also showing strong signs of improvement, especially compared to the previous years. At the same time, there are strong upcoming new opportunities, given the low penetration of fast broadband and pay-TV for instance, or given the challenge that we have to penetrate the mobile market. All these are business opportunities in a country where the environment is getting better and better. All foreign investors should come to Greece and take a look at.

Prisma Reports:  American investors are a primary target for the current Government, who needs to raise investment by 11%-15% to sustain economic growth levels. How important is the US market, and American corporations to sustain development in your sector in particular? In the case of Forthnet, are you interested to work further with international partners or investors for your expansion?

Panos Papadopoulos: In the telecom industry, most tech and content suppliers are US-based. Most technology firms we have close cooperation and long-lasting relationships with are US-based. Most OTT pay TV operators with which we are competing on the provision of entertaining services is also US based. For the last 20 years, we have been partnering with most of the major Hollywood studios and US-based entertainment channels. This is something that we normally put on the table whenever we are discussing foreign and international partnerships. On the entertainment side of the business, we want to show that Greece is the absolute destination to discuss further collaborations.

Prisma Reports:  How can American investors take more advantage of Greece, and how can Greece trigger more American investment in the sector?

Panos Papadopoulos: Greece is right now the only European country with just one access telecom network. The only way to have an internet connection for households, enterprises and businesses, is through the old copper lines. We do not have a second access to another telecom network either fibre or cable – there is no such infrastructures in Greece. We believe that this opportunity can attract the attention for any US investor.

 

Prisma Reports : How would you evaluate the image of Greece and what's the perception of investors in the ICT sector in particular? What do you think are the big impediments for investors to come and join the party?

Panos Papadopoulos: Whether we like it or not we are not scoring quite high in the international ICT benchmark. If we want to improve our outlook as a country, we need to put in place basic infrastructure to allow fast telecom access for companies. We need to invest big time on a second  access telecom network. Those are basic infrastructure needs: if somebody is looking to build a startup in Greece or establish any type of business, faster and reliable telecom services are necessary. This can be done only by having an alternative telecommunication infrastructure like a fiber network which is not the case at the moment. It will be a major turning point which will transform the whole telecom sector, as well as the ranking and perception of Greece as a digital nation.

Prisma Reports : You have over 20 years of experience in the sector, and you are considered a top innovator in the industry, having revolutioned customer experience. What are your dreams for the company?  How do you envision the next couple of years for the company?

Panos Papadopoulos: The company has been in a difficult position during the last 3 to 5 years, in line with the country's macro-economic situation. We are facing many challenges on our balance sheet; this has also been a central issue for the country as a whole. That being said, we are more optimistic now, and we believe our balance sheet will soon be restructured.

My ambition for the next 3 to 5 years is for Forthnet to play a signifiant role as an industry pioneer and as a contributor to the digital transformation of the country.

Prisma Reports : What's your final message to our readers?

Panos Papadopoulos: Perfect timing for investing in Greece. There are opportunities to take advantage of!