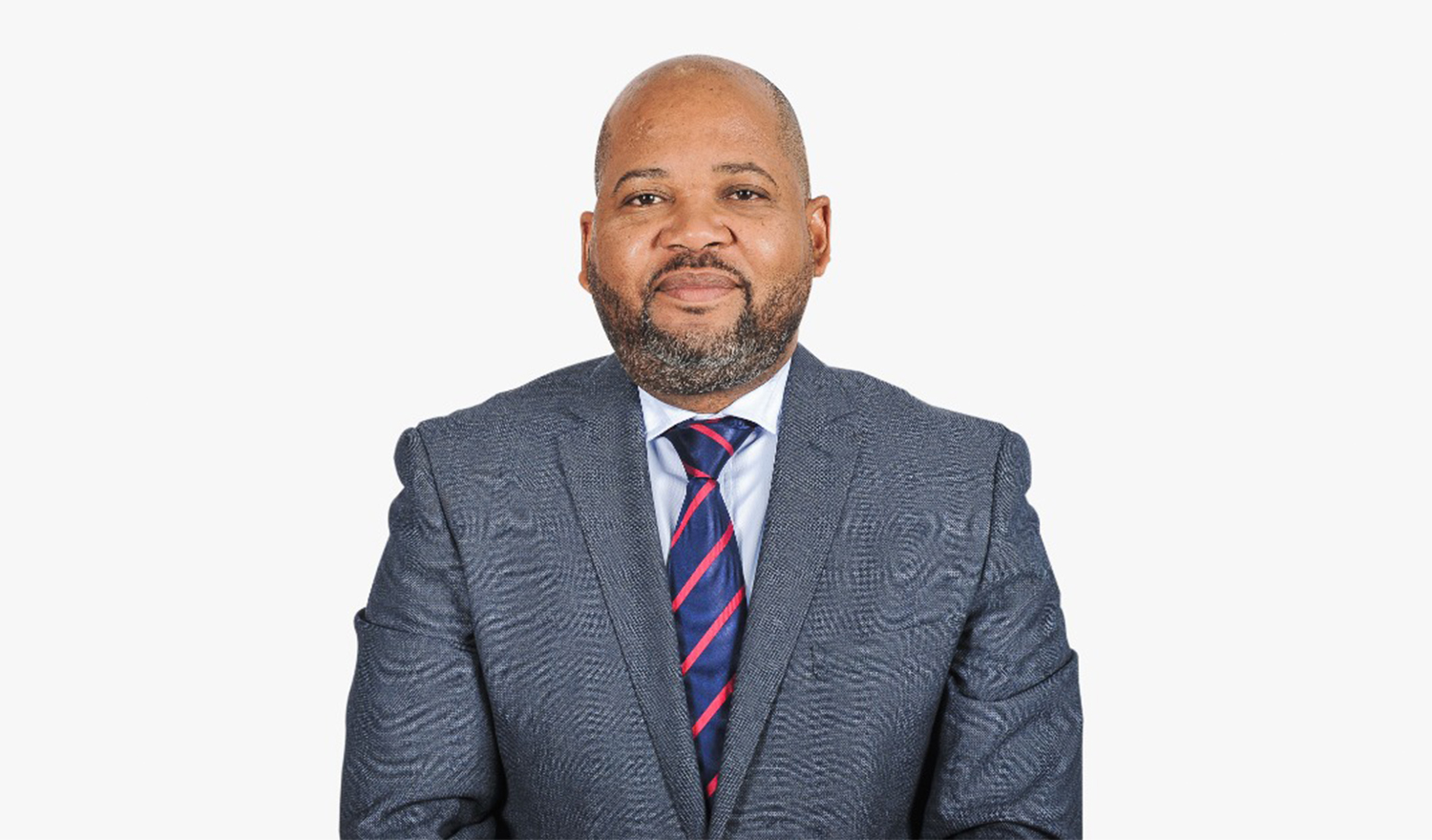 Sep 2022

Interview with Brent Eiseb, CEO, Namibia Diamond Trading Company (NDTC)

Prisma Reports (PR): How has Namibia's unique diamond industry evolved and what's the Namibia Diamond Trading Company's (NDTC's) role within it?

Brent Eiseb (BM): We've been recovering diamonds in Namibia for well over 100 years, during which time Namibia's diamond industry has contributed significantly, not just to shareholder value, but also in terms of infrastructure, capacity building and human capital development.

The industry itself has also evolved. Initially, before Namibia achieved independence, diamond recovery operations were wholly owned by De Beers and were centered around a town called Oranjemund in the south of the country — there are diamond deposits along the Orange River, with some being deposited in the ocean and then re-deposited onto the beaches along the Namibian coastline.

In 1994, Namdeb was established as a joint venture between De Beers and the government to take over the recovery of those diamonds, which was a game-changer from the country's perspective. That same 50:50 joint-venture model was then used to establish Debmarine for marine diamond recovery in the early 2000s and NDTC in 2007. Before then, NDTC was known as DTC Valuations and was 100%-owned by De Beers. Essentially, before the establishment of NDTC, diamonds recovered by Namdeb and Debmarine would go to DTC Valuations for sorting and valuation, and then 100% would be exported to London for sale.

In 2007, NDTC's mandate was broadened to include sorting, valuation and sales or distribution of all the diamonds mined by Namdeb and Debmarine. On top of that, we also facilitate downstream value-addition activities, commonly known as downstream beneficiation activities. The question then is how we execute that mandate. Basically, we receive every single carat that is recovered at our sorting facility located in Windhoek. We have about 85 highly skilled employees that work for NDTC at the moment, who undertake the sorting and valuation process using our in-house technology and who are able to determine the market value for Namibia's rough diamonds.

Determining the value is a really important process, because it's on the basis of that value that taxes, royalties and levies are then paid to the government. We have to make sure that the revenue we get from the diamonds as a country is based on a fair market value, so that we maximize the benefits we get from our diamonds. It's a really critical process. I'm proud of the team that we have at NDTC, because sorting and valuation skills aren't something you can gain at a university. We have comprehensive in-house training and employees that have 25-30 years of experience in sorting and valuation.

We have 13,000 different classifications for diamonds, and we sort and value them based on that. Once we've determined a value, government diamond valuators and representatives from De Beers confirm that NDTC has put a fair market value on the diamonds and then they are distributed.

How we distribute the diamonds is set by the Namibia Sorting, Valuing, Sales and Marketing Agreement between De Beers and the government of Namibia, the latest of which was signed in May 2016 and runs for another four years. In essence, NDTC distributes the rough diamonds in three ways. Firstly, 15% by value is sold to Namib Desert Diamonds, known as Namdia. Namdia is 100% owned by the government of Namibia and was created in 2016 in order to put a certain percentage of Namibia diamonds through a separate sales channel for price discovery purposes.

Our second distribution channel is NDTC sightholders. Approximately $430-million worth of Namibia's annual production is made available for value addition purposes in Namibia to support downstream beneficiation activities. The idea here was to create a sustainable and viable cutting and polishing industry in Namibia — an industry that is able to take rough diamonds from NDTC and turn them into polished diamonds. We currently have 11 NDTC sightholders or clients that we sell those diamonds to 10 times a year and they're required to manufacture or process those rough diamonds in Namibia, with the aim of creating sustainable employment for Namibians, plus skills transfer in cutting and polishing. Whatever remains from what we offer to NDTC sightholders is then sold to De Beers and then we would export that to Botswana for aggregation.

PR: One of NDTC's key objectives is to develop a sustainable downstream diamond industry in Namibia. What progress has been made toward this?

BE: We need to be very deliberate and intentional about what we want to achieve in the beneficiation space. Although we've come far over the last 15 years, we still need to clearly define what beneficiation means for Namibia and what success looks like from that perspective. Over the last 15 years, we've essentially defined beneficiation as cutting and polishing — but now that we've created a stable, viable and sustainable cutting and polishing industry, the logical question is what next?

The challenge that we have is clearly articulating what broader beneficiation looks like, because that will tell us what our next focus area should be and will open up opportunities in terms of what we need to do to succeed. For example, how do we strengthen areas such as jewelry design and jewelry manufacturing in Namibia? If you consider the value chain: rough diamonds are turned into polished diamonds, those polished diamonds are then sold to jewelry manufacturers and the jewelry is then sold to retailers.

It makes sense for Namibia to think about the next step, which is jewelry design and manufacturing. But for us to do that, we need to lay the foundation. For example, how do we bring jewelry design into the curriculum of vocational and technical colleges? We need to really think about how these skills can be developed. By achieving that, we will open up new opportunities, particularly for young, technically inclined people that are leaving school.

NDTC embarked on this route quite a few years back. We have an initiative in place called the Shining Light Awards — it's a jewelry design competition supported and run by De Beers in Namibia, South Africa and Botswana that was recently rolled out to Canada. The initiative enables Namibian designers to submit jewelry designs with the winning entries being manufactured into diamond jewelry.

We've also been looking at how we impart technical as well as commercial skills to designers. Essentially, what you want is for them to start thinking about having their own jewelry line and partnering with retailers to commercialize their designs. There's been a lot of work done over the last few years aimed at capacitating the winners of the competition, not just from a design perspective, but also from a business acumen and entrepreneurial standpoint.

We've realized that building this capacity takes time, however if we can work closely with Namibian design colleges and lay the foundation, the quality of designs will improve and you'll have a lot more young people going into that space. My view is that we're just scratching the surface of Namibian jewelry design and manufacturing. We need to work together with all key stakeholders to create the capabilities and make an impact.

PR: How are digital technologies coming into play in the diamond industry?

BE: NDTC's core business activities have traditionally been labor-based. Essentially, we employ young university and school leavers, and put them through an extensive training process to become sorters. However, over the years, we've also understood that there's a need to adapt with the times and this means adopting technology. Namibia is quite unique in the sense that, although we might not have the volumes in terms of carats that, say, Botswana has, we recover higher-value diamonds. We need to consider how we adopt and deploy technology within that context.

We already use quite a bit of technology and are looking at adopting more in the quest to further enhance our processes and drive efficiencies across the business. We're constantly looking at how to guarantee sorting accuracy in the shortest period of time, so that we can still create value and ensure that we deliver on our mandate. Over the last five to seven years, there's been faster adoption of technology within the business, particularly sorting technology developed in-house by De Beers. It requires us to look at our processes and business requirements, and then to find the appropriate solutions. We've been working on how we can adopt digitization across the entire business. For example, in our finance and human resources functions, we're constantly considering how we can we use technology as an enabler to improve those processes and to do them faster and more efficiently.

Due to the unique way our business operates, a large part of it, particularly the core parts, will still require human intervention. The challenge that we have is ensuring we clearly understand the employee's interface with the technology and the skills required to ensure its introduction is a success. That requires quite a bit of work. From a recruitment perspective, we need to think about recruiting data analysts, engineers and so on, but more importantly, we need to develop these skills among our current employees. We need to upskill employees in data analytics to the extent that they are not just able to read data, but they can understand, interpret and make decisions based on it. Those are skills that are becoming critical for most businesses. 


PR: The global diamond industry experienced a spectacular reversal of fortune in 2021, rebounding from COVID much faster than expected. How was the last two years for the Namibian diamond sector?

BE: The general positive trends that the global diamond industry saw also held true for the sector in Namibia. In 2020, when COVID kicked in, the first quarter was quite difficult for Namibia. The nature of our business means that we need to move product and people around. Logistically, it was very difficult to do that with the strict lockdowns that came into effect. We also had to prioritize the health and wellbeing of our employees and stakeholders, as we always do, which meant we had to make some significant changes to our practices and adapt very quickly to the situation.

We were able to do that by structuring our teams differently, changing working hours and so on. We also took different approaches toward interacting with our customers and how we present our products to customers — it required us to look holistically across the business. Once we adjusted our operating model, we were able to get our sorting, valuation and sales operations up and running again rapidly, allowing us to meet all of our contractual obligations and deadlines over the two years of pandemic.

There have been a number of positive announcements on the diamond recovery side in Namibia, with the commissioning of an additional vessel, which was announced in March this year, that our colleagues at Debmarine have been able to deliver effectively on. This vessel is going to add about half a million carats to Namibia's production on an annual basis, which is a significant increase. Also, in October last year, Namdeb announced that the life of its land-based mining operations will be extended by another 20 years. Based on previous business models, those operations would have closed by the end of this year and the extension to 2042 is very positive news.

On the customer side, it was certainly a robust couple of years for our business. This was primarily driven by consumer demand, particularly from the U.S. In 2021, the U.S. accounted for 52% of global diamond jewelry demand and there are a number of factors that contributed to that. Throughout the pandemic, the stock market performed relatively well, plus a number of stimulus packages were introduced, particularly in the U.S. Coupled with this is the fact that, with consumers not being able to travel, they had a lot more disposable income. So, 2021 was a record year for consumer demand in terms of diamond jewelry, polished diamonds and, ultimately, rough diamonds.

On the supply side, mining operations globally were impacted by COVID-19, particularly in 2020-2021, resulting in lower diamond production. Less rough-diamond production meant that polished-diamond manufacturing activities reduced, resulting in a scarcity in polished diamonds, driving prices up and bringing profitability back into the midstream. The demand for polished diamonds from the consumer meant that midstream companies were in a much better space, from a balance sheet perspective, and this was reflected across the whole value chain. It's been a phenomenal couple of years for the diamond industry.

In Namibia's national accounts, diamonds accounted for 7-8% of gross domestic product, whereas the mining sector as a whole accounted for 10%. That's a significant contribution to the Namibian economy! The last two years have certainly been very robust and positive for the industry.


PR: What's your outlook for the diamond industry over the next couple of years?

BE: We're seeing signs of headwinds and volatility in the second half of 2022. Inflationary pressure is beginning to take its toll globally and that's playing on consumers' minds, with many starting to reduce spending on luxury goods. On this basis, we anticipate that there will be a bit of volatility that will come through to our industry.

In addition, with travel opening up, we will start to see people spending more of their disposable income on other products and services, which will put a bit of pressure on the diamond industry. Having said that, all the major brands, particularly in the U.S., remain optimistic about consumer demand. They might not be selling in the same numbers that they did in 2021, because that was a record year, but the feedback they're giving us is that, even if they do 20% or 30% less, sales are still going to be stronger than in pre-COVID years. There seems to be a positive sentiment in terms of consumer demand in that space. On that basis, the industry remains cautiously optimistic about 2022 and 2023.

PR: How important is the U.S. market for NDTC?

BE: We don't do direct trading and business with U.S. companies, but the U.S. is a key market for us to monitor. What generally happens is that polished diamonds produced in Namibia eventually end up in the U.S., because of the size of the market. Within NDTC's portfolio of customers, we've got India-, U.S.-, Europe- and Israel-based sightholders — all of those customers will sell into the U.S. market and all have distribution offices in the U.S. It is, therefore, a really key market for us and we know that if the U.S. market does well, demand from our customers will be there.

 

PR: Namibian diamonds are known to be the finest high-quality gemstones in the world, with the highest average value per carat. In addition, Namibia is part of the Kimberley Process Certification Scheme for conflict-free diamonds that ensures thorough tracing of all its stones. What efforts are you putting in to create a distinct branding for Namibian diamonds?

BE: The opportunity is in positioning Namibian diamonds in the context of changing consumer requirements by relating the story about the good that diamonds do in Namibia. Increasingly, consumers want to ensure that the diamonds in a piece of jewelry that they would like to purchase have been recovered sustainably and that they have made a positive impact on the communities where they were recovered. This creates the perfect opportunity for us to talk about the good that Namibian diamonds do: if you think about the journey of Namibian diamonds and the impact that the industry has had on the development of the country's infrastructure and human capital, it's been significant.

Considering the tax levies, royalties and dividends that Namibian government derives from diamonds, our calculations are that, for every dollar generated from diamonds in Namibia, approximately 80 cents ends up in state coffers. Diamond mining companies are taxed at 55%. On top of that, there's a 10% royalty placed on mining companies and NDTC pays an export levy — every diamond exported from the country attracts an 1% export levy that ends up in state coffers. The government is also a shareholder in Namdeb Holdings and NDTC, and regularly receives dividends from these commercial entities. This clearly represents a significant amount of revenue that the government is able to use for infrastructure development, building schools, maintaining roads and so on. Diamonds have made a substantial contribution to the excellent infrastructure that you see as you travel across the country.

Secondly, in terms of human capital development, diamond companies have been at the forefront of providing scholarships, bursaries, internal training and development programs that have advanced not just technical skills, but also leadership skills. Some of the CEOs and key decision makers that are driving positive change in the wider Namibian economy today have come through the diamond industry — it's an industry that changes lives and creates opportunities for Namibian citizens. These are the immensely important stories that we need to tell.

From an environmental perspective, Namdeb and Debmarine recover diamonds in a sustainable manner that allows the environment to return to its original state within seven-10 years. There's a lot of work, both on onshore and offshore, that we do in the sustainable recovery space. The Namibian diamond industry's Building Forever five-year sustainability plan considers how we can leave a positive legacy to our planet and local communities. It considers what we need to do now to become carbon neutral by 2030, what we need to do over the next five years in terms of contributing to water conservation, because Namibia is an arid country, and so on.

We're also concerned with aspects such as health and wellbeing, both for employees and our communities. For example, Namdeb does a lot in its community as part of the Oranjemund Town Transformation Plan. NDTC will continue to look at health, livelihoods, equal opportunities and working together with other key stakeholders to create additional opportunities for employment. And it's not just about direct employment within the industry, it's also about generating employment and supporting livelihoods in catering, banking, transport services and the entire ecosystem that supports the diamond beneficiation space. We want to provide equal opportunities for all by engaging with our communities, creating facilities, capabilities and capacities — particularly to enable young people to get the skills they require to make a meaningful and lasting impact on the Namibian economy.