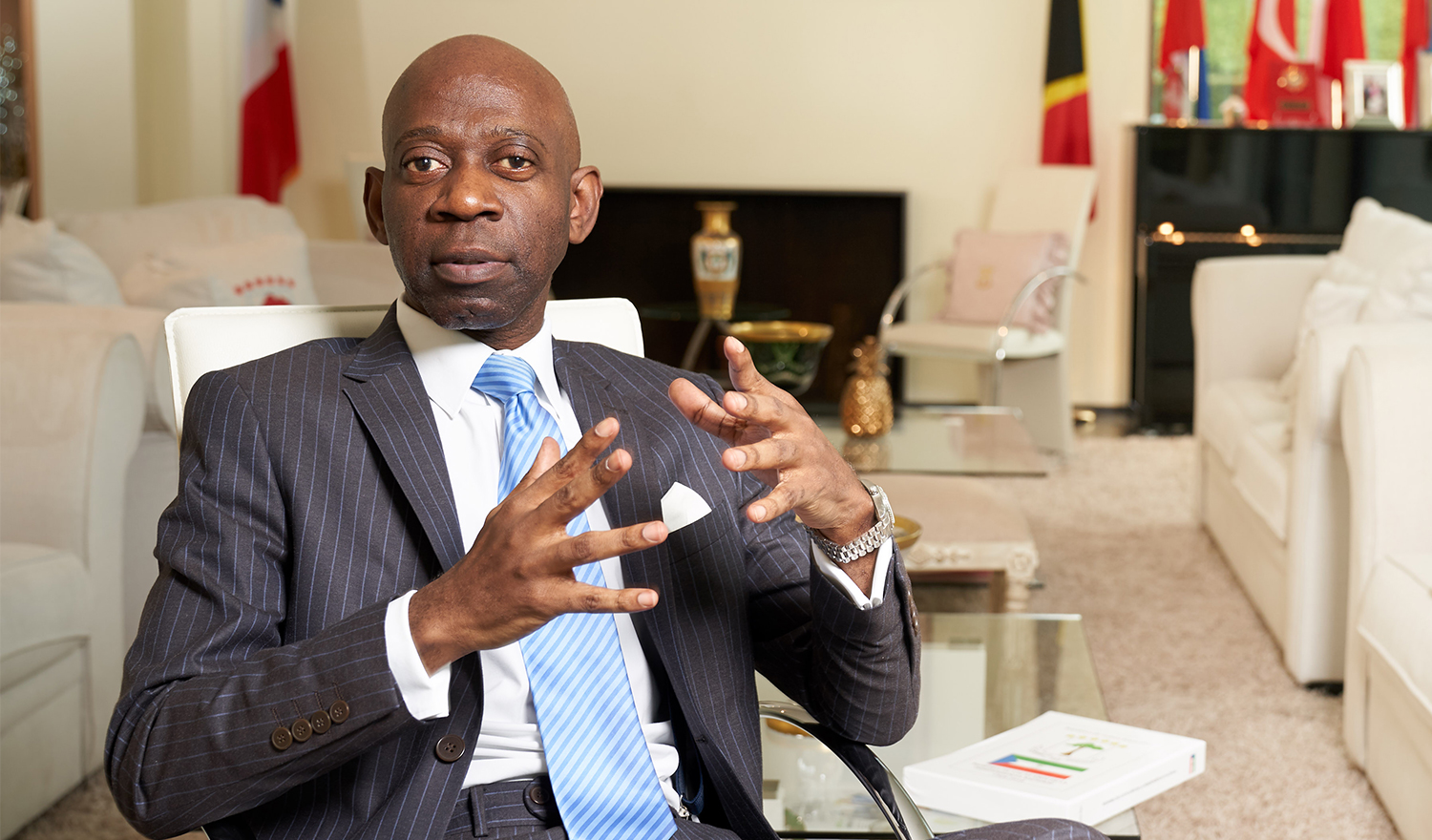 Feb 2021

Interview with Carmelo Nvono-Ncá, Ambassador of Equatorial Guinea in Brussels

 

Prisma Reports (PR): Could you explain the main axes of the presidential vision for the socioeconomic development of Equatorial Guinea? What are you doing to achieve the goals you have set?

Carmelo Nvono-Ncá (CNN): The first thing I am going to do is to establish the starting point so that readers can better understand Equatorial Guinea. Forty years ago, Equatorial Guinea was a very poor country, it was among the three or five poorest countries in the world. However, at this moment, Equatorial Guinea is one of the five countries in Africa whose economies have grown the most in the last ten years. There have even been times when Equatorial Guinea has been the country that grew the most in the world.

Growth cannot be experienced if there isn't a solid structural base at a political level in the country and if there is no confidence, because — in the end — growth is promoted and produced by entrepreneurs. A country that 40 years ago was one of the poorest in the world, could not have got out of that position without foreign know-how. And for foreign investors to bet on this country and risk their money, there has to be a very strong basis of stability and confidence. That is why I say that we should evaluate Equatorial Guinea's current situation in a more significant way and, to answer the question, where it wants to go and how it wants to get there.

Equatorial Guinea is a country that has experienced unprecedented economic development on the African continent. Its medium- and long-term goals are to become a country of clear reference in Africa and even at the global level in some international aspects that I will mention throughout the interview.

In principle, we are a country that depends on oil and other natural resources, such as gas and timber. We know that these are finite resources and, therefore, the government has determined to diversify the country's economy. The administration is trying to make Equatorial Guinea become a more autonomous, independent country. Politically we are very independent but economically we are not. We want to be more economically autonomous and this is the reason for economic diversification. We are focusing economic development efforts on trying to get the tourism sector going. Equatorial Guinea is a country that is made up of five major areas, islands, and then we have the mainland. We are talking about a country that is practically surrounded by the sea — we have 315,000 square kilometers of maritime extension, something that makes Equatorial Guinea also want to develop its fishing sector as well.

Within our economic diversification, and linking it with the maritime aspect, Equatorial Guinea has the goal of developing more modern and avant-garde logistics capabilities around Equatorial Guinea's ports. We want to put our ports in the hands of multinationals that are capable, with their knowledge and experience, of making us the logistical center of the Gulf of Guinea area: we are right in its center and we want to be the reference that moves and coordinates all the logistics of this vast maritime and logistical area.

Our goal is to control maritime security in the Gulf of Guinea, which unfortunately is an area of interest for pirates and international terrorists, who are coercing and undermining the efforts of the countries in the region. There are countries that have suffered more than we have, but it is a very rich and at the same time insecure area. Our goal is to link our economic development to maritime security and security in general. I am also Equatorial Guinea's representative to the International Maritime Organization in London, and this is an aspect that I am dealing with — and I can assure you that my country is taking very serious measures in this respect and that we are trying to reach international cooperation agreements to fight and eradicate this terrorist trend that affects so many countries in Africa.

(PR): This commitment places you as a reference point for international relations with countries that have a strategic interest in ensuring the security of the region for world trade. Furthermore, it is clear that the area has a special interest in the effective development of the African Continental Free Trade Area agreement that most African countries have signed, and which seems to be the road map for economic and commercial development in the next decade.

(CNN): This is precisely one of the goals we have set for the next ten to 15 years. The foundations are already in place: Equatorial Guinea is set to be an actor in the new world order because it has just recently become the world capital of South-South and Triangular Cooperation for the African, Caribbean and Pacific (ACP) States, of which there are 79 countries. Equatorial Guinea hosts the headquarters of the central office for coordinating South-South and Triangular Cooperation. This is a consequence of the heads of state summit that took place in 2012 in Equatorial Guinea, in response to the concerns we have about future international free trade.

International trade cannot succeed if South-South cooperation is not supported. The countries in the South of the ACP region have been experiencing South-North cooperation since decolonization; we have practically depended on a cooperation that has obviously reduced gaps but, on the other hand, has not been able to prevent gaps from widening. At the initiative of the president of Equatorial Guinea, the 2012 summit reflected on this point and decided that something had to be done to reduce the differences between North and South. This is how they came to the conclusion that South-South and Triangular Cooperation had to be invented and strengthened, and that there had to be a real mechanism for this. Equatorial Guinea has offered to be the country leading this process and for eight years we have negotiated to host the ACP, and we have succeeded. Equatorial Guinea is called to be an important country and actor in this new international order, with the capacity to be committed to the leadership of this organization.

It is true that the Gulf of Guinea also has an important role to play in the framework of the free trade agreement between African countries. It should not be forgotten that there are already approximately 1.2 billion inhabitants on the African continent, a potential market that absorbs a large amount of the production of other countries, as a result of the fact that there are hardly any major industries in Africa. Africa has to play a more important role in terms of finished products, while security in the Gulf of Guinea is important for the movement of goods as well as for people.

We are aware of the weakness of our industrial sector and it is one of our country's commitments to boost industry. An example of this is that a month ago we inaugurated a company called AfriOne — a new company that manufactures mobile phones and technological devices as mobile phone accessories. It will produce approximately 300,000 mobile phones per month, and this is just the starting point. This is the example we want to show Africa: South-South cooperation makes sense when we are also able to produce, to manufacture and to export finished products.

We are also working to develop other industries, such as agriculture, and we are working on a very important project with a group of multinationals from different continents that have decided to invest in Equatorial Guinea. I am monitoring the negotiation process so that it is a real commitment that benefits everyone, including Asia and America. It is possible that, in 2021, work will begin on this new agro-food industry with a focus on exports.

Tourism should not be forgotten either. In Equatorial Guinea we have suffered the consequences of the oil crisis and the fall in prices in that sector over the last ten years. However, we have done so well that, despite the crisis, we have already achieved more than 70% of the country's construction and reconstruction goals in terms of infrastructure. For example, there was a project to modernize the country based on a network of new, modern roads and highways throughout the country that has been successfully completed. There was a project to create new hospitals and modern clinics with the best technologies, and we have achieved that. We had the goal of completing the process of consolidating the National University of Equatorial Guinea and opening a new private American university in Central Africa, and we have achieved this — in fact, it is already operating in Equatorial Guinea and has students. For us, education is very important. The president always says, "Better to be an educated people than a rich people." This is the motto he has instilled in society and in my generation. To give you an example, I myself took several university degrees, I have several master's and I have had to earn professional merits to hold the responsibility that I have today. Like me, many Guineans have understood our president's message about the importance of a good academic education, be it university based or technical

Equatorial Guinea's Horizon 2020 strategic development plan envisaged these goals and we have made an important effort toward them and haven't stopped there. For example, we didn't have an airline in Equatorial Guinea and we have been able to build an air fleet that already reaches Europe, for example, and has many connections in Africa. We have built ports and airports, we have created social housing for a large part of the population and covered their basic needs. We have exceeded 70% of the targets set, which does not mean that there is not still a lot of work to be done, of course there is. But we can have an optimistic look into the future, to world trade and to new challenges. Before, we couldn't exploit tourism because there was no infrastructure for it. Now, we are prepared to start exploiting tourism in the short term and will soon start developing our tourism industry.

(PR): Will there also be changes in Equatorial Guinea's visa policies?

(CNN): We are studying how to set up an online visa system and in the short term — to start facilitating the entry of people — we are also developing the possibility of having visas on entry at the airport itself, as happens in Turkey, for example, which has developed its tourism sector very well. The online system is important but we must have more alternatives, without taking away the role of embassies and consulates.

(FP): You talked about the fall in the price of oil, but we haven't talked about how the COVID-19 pandemic has impacted Equatorial Guinea. How are you dealing with the crisis?

(CNN): Unfortunately no one is spared from the pandemic. It is curious that the countries in Africa with the greatest advantages in modernization have suffered the most from the pandemic, and also the countries with the most tourism have suffered a lot. On the other hand, countries with little tourism, like us, have had more of an advantage: although it is true that patient zero in Equatorial Guinea was a Spanish traveller coming from Madrid. In Equatorial Guinea the impact has not been as great as in other countries: our young population helps a lot —more than 30% of the population is young — despite the chronic diseases that exist. We are also suffering what everyone is suffering to acquire medicines, vaccines, equipment and PCRs, for example. A few days ago, a donation of the Chinese vaccine arrived and was injected into the First Lady and the members of our COVID-19 Committee, as well as health sector workers and the most exposed security forces at our borders, to give a few examples.

(FP): To conclude our interview, what particularly exciting things can we expect to see from Equatorial Guinea in 2021?

(CNN): Countries cannot function without a strong administrative center. Equatorial Guinea has created a new administrative capital Oyala — the City of Peace at the heart of Djibloho, just 20 kilometers from the new Mengomeyén airport — and this year we will see it in the process of being completed. It's in the center of the country, in the style of Brasilia or Abuja. We will also see an important change in port and maritime logistics in the Gulf of Guinea thanks to port and maritime security projects. Additionally, we will see something very important in the fight against corruption: we are going to see a significant reduction in corruption, which will help our economic development process to be closer to the international standards set by the World Bank and the International Monetary Fund. No country is free of corruption, but the important thing is to know what each country is doing to fight corruption. Equatorial Guinea is creating laws and mechanisms that range from auditing and inspecting the whole of our public administration systems, to putting in place laws to prosecute and punish those who practice corruption.

I would like to add that the global public should understand that Equatorial Guinea started from less than zero 40 years ago and today it's a country that is strengthening its democratic system, it's trying to consolidate its state institutions by giving more power to the people, it's increasing the level of social welfare by being an increasingly stronger economy that seeks to be less dependent and more autonomous. It also has a capacity for generosity that is demonstrated through its foreign policy: Equatorial Guinea has donated significant amounts of money to the World Health Organization to fight pandemics, donated to the Food and Agriculture Organization's Solidarity Trust Fund, donated millions of dollars to the United Nations High Commissioner for Refugees and has made endless contributions to being the capital of South-South and Triangular Cooperation, through its generosity and engagement within the context of multilateral relations.