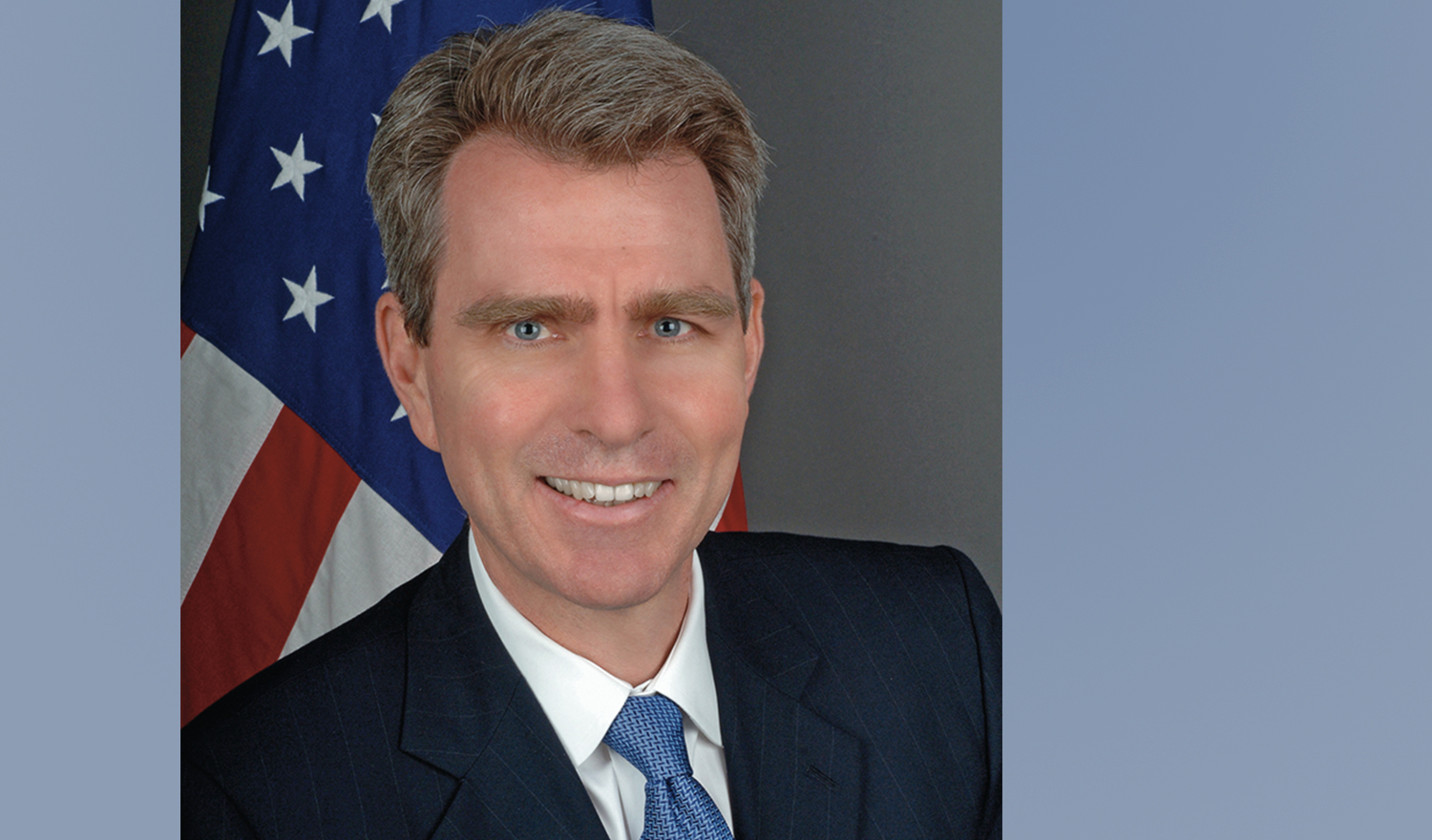 Dec 2019

Interview with His Excellency Amb. Geoffrey R. Pyatt , US Ambassador to Greece

Prisma Reports: The US-Greece partnership has gone from strength to strength lately. You stated that "America remains invested in Greece's full economic recovery." How would you describe the evolution of the relationship since the Strategic Dialogue held in Washington in Dec. 2018?

Geoffrey Pyatt: Our strategic dialogue as well as the visit of Secretary of State Mike Pompeo all reflect the strategic investment that the United States is making in the relationship with Greece. Greece can represent a key pillar of stability in a region that has seen a return of great power competition – reassertion of presence by Russia, by China and other global rivals of the United States. Greece is a country which has reaffirmed its democracy through a severe economic crisis, a country with a strong history of ties to the United States, and a country that has now elected a government, which is one of the most pro-American in modern Greek history. The country has seen a positive evolution through this government and its predecessor in public attitudes towards the United States: Anti-Americanism has been buried as a Greek domestic issue, and we have an opportunity now to take an already good relationship and raise it up to the next level.

Prisma Reports: The visit of the US secretary of state Mike Pompeo, and the signing of the revised mutual defense cooperation agreement is a vote of confidence in the US-Greece relations. What short and mid-term developments are to emerge from this agreement? What is the scope of investments that will be made in Alexandroupolis?

Geoffrey Pyatt: The defense relationship has been one of the real bright spots of our bilateral cooperation over the past few years. We have made significant progress in terms of the relationships between our Armed Forces at new sites like Stefanovikeio in Central Greece and Alexandroupolis in North Eastern Greece. Souda Bay, which is the flagship of our corporation, is busier than ever. It is a critically important facility for 6th fleet, NAVEUR and NATO power projection into the Eastern Mediterranean and North African region. Our Mutual Defense Cooperation Agreement (MDCA) has been updated in order to modernise legal framework of our cooperation to reflect all the de-facto new activities both our countries are engaged in. Alexandroupolis is obviously an important part of that, as is Stefanovikeio, Larissa and the expansion of our footprint at Souda Bay.

In Alexandroupolis  the US military has invested to enhance the capacity of that port, and I think you will see very quickly additional use of that port by US military assets seeking to move forces into and out of of the Black Sea and central European region. But the really important aspect of Alexandroupolis is its commercial capacity which we are helping to unlock and which we hope very much will be enhanced by the upcoming privatization – which we hope will go to an American investor.

Prisma Reports:  A large Greek business delegation attended the Select USA 2019 investment summit in Washington DC. In 2017 Greece was the fastest-growing foreign investor in the US. Have investment flows continued at such a pace? What about US investment in Greece?

Geoffrey Pyatt:  Let's first of all talk about Greek investment in the United States.What's really interesting is Greece has a very strong entrepreneurial tradition. As Greek companies have worked their way through the crisis, many looked to the United States as a rapidly growing market to invest in, in order to expand their global sales.

Greek companies are highly competitive, have good experience in the European market and are now seeking to expand their presence in the United States.

On the US investment side, we've had one big success story recently, which is the investment of ONEX in the revival of the Syros shipyard, which has gone from being a derelict when I first visited in 2017and today has a backlog of dozens of ships. It really has come back to life with the help of US investment. We are on the cusp of a major new American investment at the Hellenikon facility, where two American companies are bidding for the casino tender for about $1 billion US dollars. The project has the potential to transform the tourism economy of the Attica region. We also have American investors expanding their presence in Greece across the tourism market. Avis and Starwood have increased their footprint in Greece. We also have great interest in some of the emerging areas like energy or financial services. As the Greek banking system begins to recover, there is a natural opportunity for American companies there as well. I think there will be significant American interest in the upcoming privatization of the national insurance company, ETHNIKI insurance, which was an unsuccessful privatization under the previous government.

Prisma Reports: Greece is of strategic importance to Europe because of the pivotal role it plays securing supply to the continent. You have said "Greece is key to Europe's energy diversification." What opportunities exist in offshore oil and gas that are being tapped by ExxonMobil in partnership with ELPE? What other key areas within the energy sector are interesting to further the US-Greece partnership?

Geoffrey Pyatt: In the last 3 years Greece has undergone a dramatic transformation in the areas of gas pipelines and gas transmission. One of the big milestones here has been the completion of the TAP pipeline: the first new energy infrastructure built in Europe specifically to bring non-Russian gas to the market. The project is now complete and will begin transmission in 2020. Another important development was the expansion of the Revithoussa gas terminal near Athens, which has opened the door to LNG deliveries from the United States. So you have American LNG now coming to Greek industries and homes. This has highlighted the role that Greece has played as one of the most important EU partners in helping to open up the opportunities for non-Russian gas supply to all of the EU.

Looking to the future, we are very focused on an additional regasification facility in Alexandroupolis. We are very supportive of the decision to move ahead with a new gas pipeline between Greece and Bulgaria and of the Gas Interconnector Greece-Bulgaria (IGB) which will allow American and other non-Russian LNG to penetrate the Balkan market. Then there is also the upstream possibility: the recent approval by the Greek parliamentof exploration by ExxonMobil along with Total and Hellenic Petroleum in the South of Crete. We do not know what is going to come out of that, but the geology is promising.

The renewables sector has also seen a lot of additional interest.  GE Wind is coming back to Greece in a big way. The Prime minister has made a very ambitious commitment to the full elimination of Greece´s lignite power plant supply by 2028. American technologyand, we hope, American LNG will be a critical part of this process, because the way to get rid of lignite as a transition is through increasing the use of gas-fired electricity generation. The Prime Minister and I were present recently at the inauguration of a new construction by Mytilineos for what would be the largest LNG-powered electricity facility in Greece with state-of-the-art technology and efficiency levels. Prime Minister Mitsotakis is clear that this LNG infrastructure is a bridge to a long-term renewables future and the United States wants to be part of that as well.

Prisma Reports: Technology, R&D and innovation are other areas where the US can contribute and further stimulate developments. Pfizer's recent announcement to invest in a digital research hub with a focus on AI in Thessaloniki is remarkable. Workable, a Greek home-grown tech success story, recently opened an office in Boston. Do you see potential for Athens, with the support of the US Embassy, to develop a thriving start-up ecosystem?

Geoffrey Pyatt:  There is massive potential here, and there is a lot more happening than people know. Pfizer and Cisco for example are developing new technology and innovation hubs in Thessaloniki. EY is inaugurating an Artificial Intelligence (AI) center in Athens. In fact, a lot of these developments are happening outside of Athens : in Thessaloniki, in Heraklion, Crete where there is a strong university-linked technology hub ; in Patras, which is linked to a university with a number of start-ups with strong ties to the US market, to Silicon Valley, to US technology companies. Overall, this is an area with great potential, Greece now has a government with strong focus on facilitating and encouraging this kind of entrepreneurial business.

Historically, the Greek economy has been dominated by big oligarchic industrial groups; but this Prime Minister understands very well that looking to the future, the country needs to give greater space to this kind of grassroots start-up entrepreneurial culture. I am fantastically impressed by how much energy there is in this area. The challenge is to create a business environment in Greece where these companies are able to grow and thrive, as opposed to starting up in Greece and then moving their operations to the United States, which is what has happened historically. But as I said, the market has clearly demonstrated that Greece fights above its weight in terms of what the technology sector is doing here, what Greek entrepreneurs are doing, and I´m very excited about where the future guides us to, especially as this is an area where American companies lead the world.

Prisma Reports: In the field of education, what specific ways do you see to establish more links between US and Greek institutions of higher learning and R&D? Is it viable for US universities to establish campuses in Greece?

Geoffrey Pyatt: It helps to have a Prime Minister who is a graduate of Harvard and Stanford, and an education minister who is a Harvard graduate and who is a fantastic champion on deepening our educational ties. Minister Kerameus is very excited about the idea of attracting more American universities to come here to set up shop in Greece, both to encourage opportunities to American students to study abroad in Greece, but also to build serious research and academic ties. We already have some success stories with institutions like the Harvard Center in Nafplio, NYU's program here in Kolonaki, the College Year Abroad program, which brings students from across the United States to Athens for a semester experience – but we could do much more.

What is impressive to me, is that anywhere I travel in Greece, when I go to universities, the rectors and presidents always ask for more Fulbrights, more connections with American institutions. We don't have a Ministry of Education in the United States, so this will be driven from a private and public universities in the United States looking to build bridges. I know from my conversations with academic administrators in the US that there is a tremendous appetite to do more; and now you have a government which is unambiguously enthusiastic about deepening those ties.

Prisma Reports: Catapulting investment is one of the critical elements required by the current Government to trigger high economic growth. Are there any particular areas outside of those mentioned above, that you feel might most interest US investors? Real estate and tourism development? Agribusiness?

Geoffrey Pyatt: Tourism represents 25% of the Greek economy. The Prime Minister recently stressed the importance of diversifying beyond just Mykonos and Santorini. There is fantastic potential here, and I think American companies will play a leading role both in growing the Greek tourism product, lengthening the season, but also exploring all of the gems of this country. Greece is one of the largest partners in the world now for Airbnb and other US tourism services providers, so I think you'll see a lot of growth.

Energy is a very dynamic field also, both in terms of renewables and carbon-based energy generationand delivery. The real estate sector has a lot of untapped potential: because of the crisis there is a large number of unfinished development projects around the country, so I think you'll see a lot of activity there. Andthen there's the startup sector: I believe we'll see more and more of the kinds of things that Pfizer, CISCO and EY have done in terms of establishing centres of excellence in Greece – seeking to leverage its strong human capital base, seeking to attract employees who wish to stay in Greece so they can enjoy everything that this country offers including the fantastic climate. And looking for ways to tap into the very strong academic traditions that Greek universities have.

Many Greek professors have thrived as Deans or Heads of Research Departments in the United States, and the Prime Minister and Education Minister and others are focused now on getting some of those people to come back and to retain the human talents that Greece enjoys.

Prisma Reports: To conclude this interview, what is your final message to the readers of Foreign Policy?

Geoffrey Pyatt: International perceptions of Greece, including in the US, tend to lag behind the facts. This country has changed a lot during the three years that I have been American Ambassador. Prime Minister Mitsotakis and his government have moved very fast to deliver reforms that have long been hoped for, but also to set a new trajectory for Greece. The challenge is to recognise the opportunities that this new trajectory has set, the repositioning of Greece but also to ensure that all of my colleagues back in the United States appreciate how much has changed. It is a new Greece in many ways: a Greece that has reaffirmed its relationship with the United States and its commitment to the values and the interests that we hold in common.