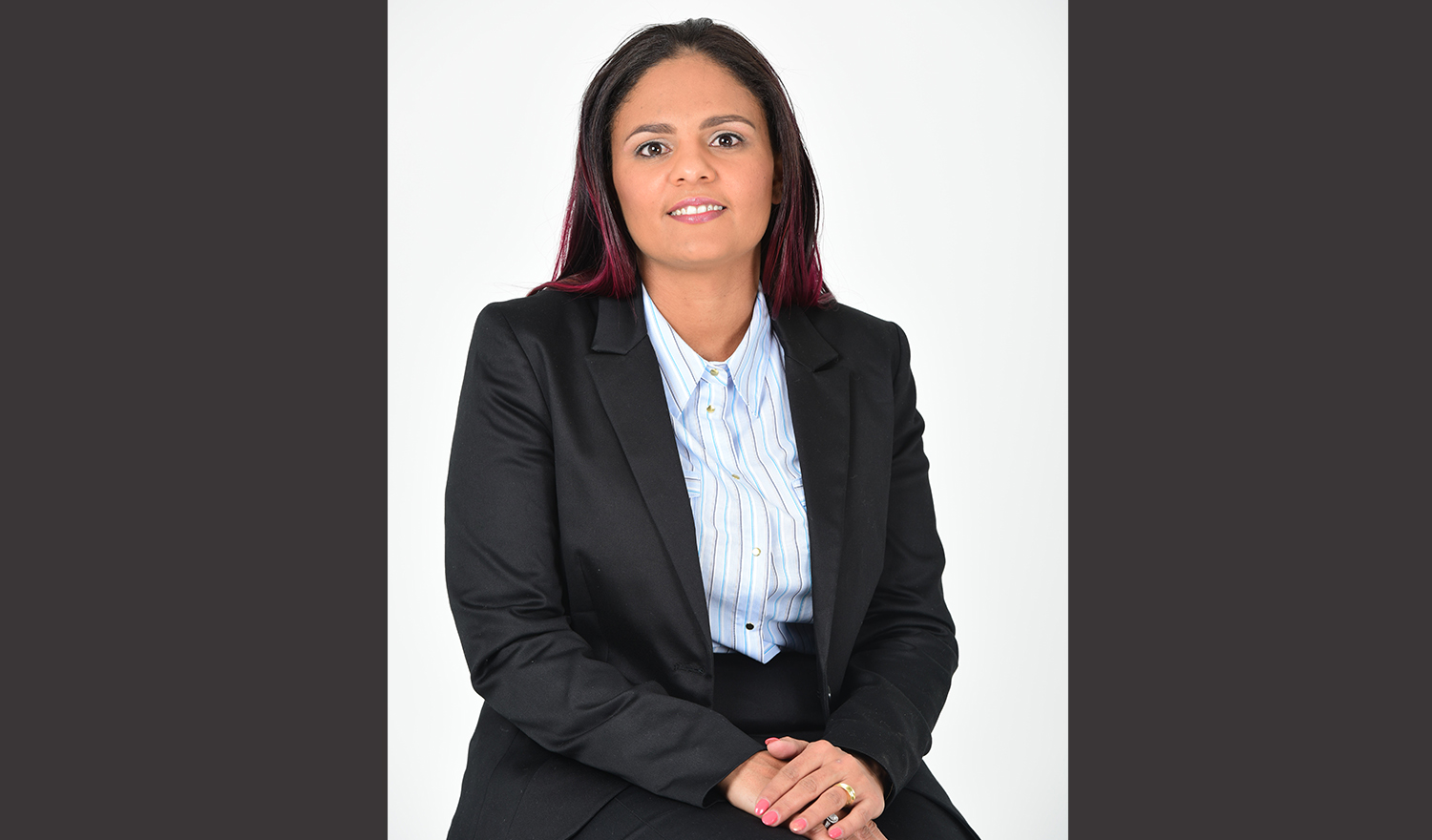 Sep 2022

Interview with Mercia Geises, CEO, Standard Bank Namibia

Prisma Reports (PR): Could you introduce Standard Bank Namibia and explain how it stands out in the market?

Mercia Geises (MG): In terms of market share, we're one of the top three banks in the country. We have very strong franchises in personal, corporate investment, business and commercial banking.

We were founded more than 100 years ago on the back of the diamond industry in the town of Lüderitz — that's where we had our first branch. Since then, the country has gone through various development cycles, all of which we've supported. If the diamond industry was Namibia's first renaissance, the second was its fishing industry, which we have also invested in significantly. The third renaissance would be green hydrogen and we're excited about the role that we can play as a bank in that opportunity.

Standard Bank Namibia is part of the Standard Bank Group and the group's purpose is recognizing that Africa is our home and wanting to drive its growth. If we localize that, we say that Namibia is our home and we want to drive its growth. We see that as a compelling purpose and something that we aim to live up to everyday, as we're custodians of capital and have responsibility for driving that growth through the various sectors we have identified.

Our expertise in corporate investment banking is dominant in the mining sector — we're big investors and banking partners for our mining clients. The second large area we're involved in is providing services to major oil retailers in Namibia, as we have very strong oil and gas expertise locally and within the wider group. A third area is our expertise in providing and partnering with non-banking financial institutions for banking services, as there is a very mature and stable financial services sector in Namibia, where long- and short-term insurers and asset management businesses are very well established.

The fourth area we operate in is fast moving consumer goods and our expertise is very strongly grounded in that, while the fifth key sector is agriculture. We focus on making sure agriculture plays a bigger role in the economy, and on ensuring food sustainability and security.

PR: How well did Standard Bank Namibia perform during the pandemic?

MG: The banking industry has been challenged significantly throughout the COVID period and we've seen very deep rate cuts. Despite that, we continued to support our clients, providing huge relief to those that were seriously impacted by the hard lockdowns. We've also provided big expansion possibilities for clients that have identified new market opportunities arising from the pandemic.

PR: You were appointed as CEO in May 2021. What sort of culture would you like to imprint on Standard Bank Namibia?

MG: It was quite an opportune time for me to take over, because it was at the end of the strategic cycle that the previous CEO had laid down. My remit was to refresh Standard Bank Namibia's strategy, align it with the opportunities that were emerging in the economy and to ensure that we adopted the refreshed Standard Bank Group's overall strategy. 

We've now crafted our revised strategy for Namibia. Our slogan is that we are purpose-led and platform-based, and I now have responsibility for leading the organization's transition from a traditional bank to a platform business that partners with clients in the various ecosystems and sectors we have identified, to be deeply entrenched in those value chains so that we can service them throughout.

We've been able to develop several key transformation projects that had lingered in the organization for a long time. Those deliveries will help us to have an operationally efficient business, so that we can be agile and serve our customers' emerging needs. Another big achievement is that we've been able to invest more in the talent that is required for us to be future ready as we drive our platform-business strategy. We've attracted and recruited a pool of refreshed talent within the organization, and we continue to drive that because the sectors we've identified require specific skills. We've been able to build that skillset to service our clients.

PR: How is Standard Bank Namibia contributing to the reduction of financial exclusion in the country?

MG: Our biggest role is facilitating access to capital, finance and our advisory services. Most financial exclusion in Namibia is caused by the cost of banking, and our primary agenda is to reduce the cost and make banking more accessible. From a financial inclusion perspective, we've launched a very innovative and exciting wallet capability, where a client can onboard themselves on a mobile phone and access an almost fully fledged transactional account called PayPulse. That's one of the biggest innovations that we've been driving as a bank.

We want to help people who were excluded to gain access to a financial services proposition that enables them to transact. For example, we've facilitated salary payments for temporary workers in the agricultural and charcoal sectors, the receipt of some grants and we've also been able to reach the most remote parts of the country through this new proposition. It's about more than mobile payments, because it goes beyond sending and receiving money — it's about the ability to fully transact. One can even buy insurance on this platform.

PR: To what extent did the COVID-19 crisis reinforce the country and Standard Bank Namibia's focus on digitalization?

MG: Due to the maturity of Standard Bank Namibia's digital capability, we were still able to serve many of our clients when movement was restricted and people couldn't access our branches. They were able to transact via their mobile phones and internet banking, and we were able to enable transactions so our clients did not have to come into branches. Our transactional flow has been streamlined and we're delighted that we've seen big volume growth due to our digital capability.

As a country, we have a lot to do in transforming legislation that will enable more digitalization, such as having electronic signatures. Once electronic signatures are implemented, we will have more digital propositions from a contractual perspective. That's the biggest limitation that we have now.

Standard Bank Namibia continues to invest in its digital capabilities, particularly in technologies like the cloud, as we would like to have a fully fledged cloud journey. We've started engaging with our regulator and it's very receptive to transitioning from physical data centers to the cloud, so that we can scale our services, reduce costs, and ensure continuity and stability within the business going forward.

PR: How is Standard Bank Namibia accompanying and assisting the country's energy transition and sustainable development?

MG: One of the key achievements during my tenure as CEO in the last year was our ability to craft and adopt a sustainability framework — known as our ESG Framework — which we're now carrying through our credit and business processes. We're fundamentally changing our processes to align with this ESG framework.

We also have a new building, which has been rated green in Namibia and that's one of our big contributions as a corporation. At the end of June, we also went to market and raised our first green bond. We received overwhelming support from investors, our green bond program was oversubscribed and we're excited about deploying that into more green projects, of which we have a very good pipeline, where our focus will be on energy, water and sanitation.

PR: What are your plans for continuing to innovate and lead banking in Namibia?

MG: We've placed a strong focus on partnerships, and would like to partner more with our clients and integrate into their businesses to achieve a seamless flow of transactions. From an innovation perspective, we're working a lot more with fintech companies. We've acquired one of the biggest fintech businesses in Namibia in order to revive the way that remittances are carried out in Africa. As an African bank, we would like to play a bigger role in remittances across Africa — that's a key focus for us. We're also focusing on our ability to facilitate trade, which is a very strong area of innovation for us in which we're working with our partners to enable trade and unlock the opportunities that the African Continental Free Trade agreement offers.

 

PR: How would you assess Namibia's overall economic growth prospects and Standard Bank's readiness to assist new investors?

MG: We're excited about the prospect of growth after having had negative growth in our gross domestic product since 2016. We believe that we've done a lot as a country through our partnerships with the government to change the strategic direction of Namibia and enhance governance, efficiencies and the government's role in crafting policies that attract confidence and investments. 

We're now seeing a lot more of our local investors, businesses and companies participating in the government's agenda to transform the economy and local companies are showing more confidence. Although they don't have the big balance sheets that they need to exploit the potential opportunities, they can partner with international players and, if local companies are investing, it gives international investors even more confidence, because we are putting our money where our mouths are.

As a bank, we play a very big role as a local investor. Hence, we're excited about the opportunity. Because of our governance, our strong political stability, the strength of our legal system and its protection of private property rights, and the fact that we comply with the highest banking-code standards, we believe Namibia is very attractive investment destination. As banks, we're here to help international investors navigate the country and its dynamics.

As Standard Bank, we have a presence across the African continent. Some of the industries that Namibia is getting into now, like oil and gas, are key areas of our group's expertise — we were in Mozambique and Ghana when oil was discovered, for example, plus we have a major presence in Uganda and Nigeria. We also have a clear track record of partnering on large deals with big international banks across Africa.

We have partnerships with many local players as well and have participated in deals of national importance, such as the upgrade of the harbor, the national oil storage facilities and many other landmark projects that have proven we can partner with investors and the government. In addition, when the government was raising a euro bond a few years ago, we were selected as lead arranger on the finances. Our understanding of the local, African and global dynamics makes us an extremely strong player.

PR: As a female leader in banking, what insights can you give us with regard to inclusivity in the Namibian workplace? 

MG: The fact that women are now able to breakthrough and become CEOs proves that the transformation in the Namibian mindset about women happened during independence. The first thing that the government did was to craft the constitution, which made provisions for gender equality. As a result, we've been able to access education, financial support to enhance our studies and job opportunities on an equal basis.

The transformation happened at the government leadership level. If you look at representation in parliament, we have very strong female leadership. Our prime minister is female and this cascades down into society. The government has also invested in ensuring gender equality. It crafted a married persons equality act soon after independence, giving married couples equal rights to financial freedom, work and education.

We are emancipated as women in Namibia and that came from male leadership that was willing to grow and develop us. We've had many leaders that were liberal enough to identify our potential and invest in us. As female leaders, we have that same responsibility to continue reinvesting and making sure that we empower other women.

PR: Moving forward, what are some of the key priorities that you aim to tackle as CEO of the bank?

MG: My personal ambition for Standard Bank Namibia is that we live up to our purpose of recognizing that Namibia is our home and that we drive its growth. We would like to contribute to uplifting more people from poverty. Our landmark corporate social responsibility initiative is targeted at housing and access to housing: we launched a program called Buy a Brick, which started as a small fundraising imitative and is now a major project on which we partner with many other corporations in Namibia. Our vision is to have a shackless Namibia and, if we can deliver on that vision, it will be a real achievement for us. We would also like to contribute to driving growth in the environmental, societal and governance domain, and I believe there are many opportunities for us as a country to do that.

In general, we're looking forward to engaging in more partnership projects that help Namibia realize its development goals and that deliver on the promise the country holds for investors and the community.