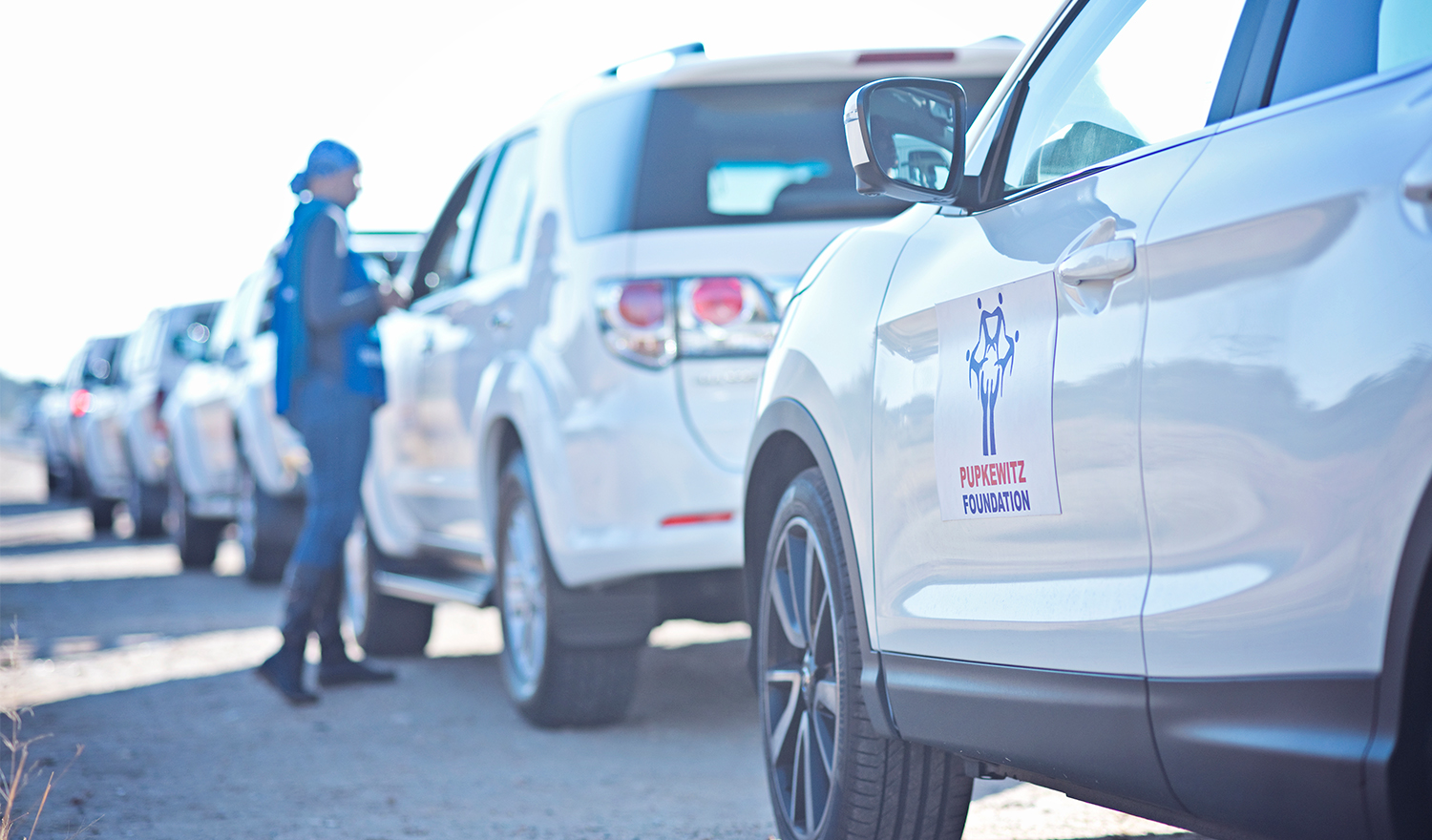 Sep 2022

Interview with Meryl Barry, CEO, the Pupkewitz Foundation

Prisma Reports (PR): One of the oldest and most respected businesses in Namibia, the Pupkewitz Group has a remarkable history that goes back to 1904, when Max Pupkewitz started a wagon-building business in Okahandja and a general dealership in Ausspannplatz. Since then, the group has gone from strength to strength, contributing to Namibia's sustainable economic development but never compromising its core values and business integrity. Today, it's one of the largest privately held enterprises in the country. Could you give us a quick overview of the Pupkewitz Group?

Meryl Barry (MB): Four different generations of the Pupkewitz family have been involved in building this business and a common thread that runs through the generations is a passion for contributing to the development of the Namibian economy as a private-sector player. The development of the business has followed the peaks and troughs of the Namibian economy as it has grown. While we've always predominantly been involved in retailing and trade, we've engaged in some interesting businesses over our history — for example, between the 1940s and 1960s, Pupkewitz was one of the biggest traders of pelts from karakul sheep, an industry that collapsed in the early 1960s due to Namibia's worst epidemic of foot and mouth disease.

Throughout our history, we've always displayed resilience and the ability to adapt to changing circumstances, and the businesses that form the group today are the ones that stood the test of time. In retailing, we've focused on bringing customer experiences and products to the market; that has always been very important to Namibians. For example, we're part of the housing and motor vehicle value chains. These are big purchases for consumers, and we bring great products and services to those spaces at very competitive prices.

Today, Pupkewitz Holdings hosts six different companies under one umbrella. In addition, we have the oldest foundation in the country, with one of its projects running continuously for 54 years.

PR: How strong is your portfolio and how does it contribute to modernizing the Namibian economy?

MB: Our countrywide footprint has been key in developing the vast region's access to material needs. Our most substantial business is Pupkewitz MegaBuild, which is a building materials supplier and DIY provider — we supply all the materials that are required to build a house to a broad range of customers across Namibia. Pupkewitz MegaTech is a one-stop shop for electrical contractors, providing all sorts of electrical equipment and solar products, which has been a great area for the business. We also have a small provider of industrial kitchen and catering equipment called Pupkewitz Catering, plus Kaap Agri, which is an agricultural retailer offering all types of products to farmers. Our automotive part of the business, Pupkewitz Motors, is the largest corporate player in that sector in Namibia. As a reflection of our diversification strategy, we've also invested in a fintech startup in the payments space, which branches into the IT space, called PayToday. We're working together to see how we can bring our infrastructure and experience to individual customers and merchants in the financial services arena.

PR: How does the group align with the government of Namibia's development goals?

MB: We have a deep awareness of what the government's plans are for the country and believe very strongly in aligning with the government. Our growth and diversification strategies are well researched, considered and have sprung from an in-depth study of Namibia's competitive advantages, in terms of the resources we have and our geographic advantage, allowing us to be a regional player in the logistics and manufacturing industry.

In the formation of our strategies, we have a keen understanding of what the government is looking to do and, where it makes sense, we actualize some of its plans through our activities. We believe very strongly in the role of the private sector in building and supporting the growth of the Namibian economy. Creating jobs, industrializing Namibia and uplifting Namibian citizens are core objectives for us and non-financial metrics for success that we take seriously.


PR: How is the group investing in new business segments or supporting entrepreneurs?

MB: There are many ways we support entrepreneurs. When it comes to investing in new sectors, part of the strategy of our group is diversification. As we have large concentrations in retailing in Namibia, we're looking to build out our investment portfolio into broader areas of the economy, which will provide diversification benefits for us and help grow nascent industries in Namibia. We were pioneers in the retailing space and have developed an incredible capability in that sector. We believe that developing our skills in additional sectors is what's required for the development of the country.

When we step outside our core capabilities, we're looking to collaborate with partners. We're building partnerships with international players to understand how we can align our objectives, and work together to de-risk projects and bring knowledge and skills into the country.

Concerning the Namibian startup ecosystem, we're fully agnostic when it comes to the types of opportunities we become involved with. While most of our businesses have been around for decades, we believe in the importance of the growth of new businesses in Namibia, which has much fewer businesses compared to other parts of the world. That's why supporting the growth and scaling of new businesses is important. This allows us to achieve our organizational objectives and the objectives of the country.

Our retail businesses function within ecosystems of many customers and suppliers, with many stakeholders involved. Ensuring the success of our customers that run small businesses themselves is very important, because it's ultimately an investment in our own success. For example, at MegaBuild, we've established a mentorship department through which we've mentored over 1,400 building contractors to date.

We all understand the importance of supporting small and medium-sized enterprises (SMEs) within the country, because that's where we experience a lot of job creation and, if you look at the breakdown of SMEs within Namibia, around 50-60% of them are building contractors. Hence, our supporting of their development is crucial and has had impact on Namibia. We see many of those contractors now becoming involved in solar installation projects, so our MegaTech business has also set up a training program for solar installers to ensure they have proper training and accreditation to deliver great services.

Our investment in the fintech space is a testament to our diversification and the importance we place on supporting tech startups — PayToday is one of the country's more successful tech businesses, which serves as an inspiration to other tech entrepreneurs in Namibia.

PR: What are some of the core values that the founders of Pupkewitz established that have been maintained over the years?

MB: For one, our work ethic and support of our government and the country's institutions — we always support the government's initiatives, as they are well thought through. We've also always taken a stakeholder view in our approach to business. We recognize the importance of the wellbeing of our employees and customers and, therefore, we tailor our approach to that. Having a balanced and open attitude to how we add value to all our stakeholders sits at the core of our business approach. Integrity is another of our core values and it's what the Pupkewitz brand is known for. All these things come together to create an environment where our staff feels cared for, they are loyal and, as a result, they look after our customers. Our implementation of governance cascades down to every section of our business.

PR: How much importance does the group attach to workforce upskilling, training and education?

MB: We budget for a full suite of training programs that are available to all staff at different levels and locations in the country. Additionally, we offer online programs through which employees can engage in upskilling at their own pace in many areas, including literacy and numeracy. The inclusion and elevation of young women in the technical and vocational sectors is another factor we address.

Since 2006, Pupkewitz Motors and MegaBuild have established strategic partnerships with the Commercial Advancement Training Scheme (CATS) and the Namibia Training Authority to ensure we contribute to the skills development of young Namibians in various industries. CATS is an integrated graduate program offering employment and mentorship concurrently. All our trainees that have successfully completed the program have been appointed to permanent positions within the group and, to date, fifteen of them have later been promoted to supervisory positions.

In 2018, we collaborated on a three-year mechanical apprenticeship pilot scheme with the Namibia Training Authority and the Windhoek Vocational Training Centre (VTC). 25 trainees have been involved in the scheme so far and, of the 11 apprentices enrolled in the first intake, two men and one woman have completed the program, and they will soon be appointed to permanent positions at our dealerships. The second intake of 14 apprentices took place in 2019 through the Okakarara VTC and the eight that are still in training are due to graduate this year.

Further to these strategic partnerships, Pupkewitz Motors successfully implemented a new graduate trainee program in 2021 and, based on her exceptional performance to date, our first graduate trainee will be employed on a permanent basis once she completes her 18-month program. Lastly, as part of the training and upskilling of our internal staff, supervisors and managers have attended an intense leadership development program presented by the Franklin Covey Institute. As part of the continuation of these efforts, all 50 attendees — 32% of whom are women — will participate in various short courses based on their individual personal development plans over the 12 months to June 2023. Overall, Pupkewitz Motors has achieved a 70% success rate in terms of the completion of our traineeship and development programs.

As we go up the organizational ladder, we offer more management and leadership training that involves continuous engagement and development, and the Pupkewitz board reviews these programs three times a year to facilitate employees moving up the ladder from middle to senior management. As an organization, we're also currently researching the establishment of a retail academy to ensure that, as the retail market opens up in Namibia, we can focus on those skills.

One of the biggest criteria employers look for when hiring graduates is meaningful work experience. In order to help graduates gain this experience for their resumes, Pupkewitz has been running a program across all our businesses for the last three years in which graduate interns are taken into our workplaces and mentored. There has been a huge demand for this program among graduates, as it makes them more employable and allows them to explore alternative career paths — when 25 places on the program are advertised, 3,000 applications are received. Around 50% of participants have since been offered permanent employment and the program has allowed us to contribute across the age spectrum of employability.

PR: Every year, the group invests around $500,000 into the Pupkewitz Foundation. Through that foundation, I know you personally work tirelessly and passionately with your team to eradicate poverty in Namibia. How does the foundation work and what sort of impact does it have? 

MB: Typically running for between three and 54 years, our programs focus on community development, education, health, sport, civil society, arts and culture. It's the oldest Namibian foundation and has an annual impact on one million Namibians.

The foundation's institutional development projects are implemented by ourselves, while our social development projects are mostly partnerships with reputable non-profit organizations. Our annual grants are aligned with sustainable solutions that respond to national and global priorities — for example, the health sector received larger amounts compared to the other sectors during the pandemic. We're guided by the national development goals, which are aligned with the United Nations' Sustainable Development Goals. As well as implementing long-term programs that address the country's needs, we also run 50 annual programs covering issues from drought to disaster relief, which are constantly refreshed by new requests.

72% of our grants are directed at youth development in all sectors. As part of our key customized projects, for instance, we've implemented a countrywide volunteer system among the group's staff. Through this system, they feed 3,000 children a week with highly nutritious food to alleviate malnutrition in early childhood.  Three out of every five children in Namibia suffer from malnutrition and, through this advocacy program alone, we've served just under 100,000 meals every Friday. This is only one of our numerous food schemes, which include some for the elderly.

We've also contributed annually and over many years to infrastructural projects like building classroom blocks, clinics and even hospital buildings in remote regions. Our current project at Onandjokwe Hospital will create the first office block for a hospital in Namibia, where heads of departments will be able to make decisions in a more productive environment.

We're very proud of our COVID-19 response as well. During the pandemic, one of the biggest problems was a lack of oxygen and we were the second organization in the country to provide oxygen to health services, after the Chamber of Commerce and Industries. Among our other projects, we renovated over a hundred hospital beds, repurposed clinics for COVID compliance and provided mortuaries to the regions.

 

PR: How is the Pupkewitz Foundation contributing to the acceleration of Namibia's industrialization and what are some of the challenges the country faces in achieving this goal?

MB: Our foundation's contributions are a strong reinforcement for the Ministry of Education when it comes to mathematical skills, for example, as we provide access to key projects in that area to hundreds of thousands of children and their teachers in under-resourced schools.

Teachers also need to have professional development and the pandemic helped with that, as teachers and children were forced to work remotely and were given better access to digital tools. Unfortunately, there's a large number of Namibian children living in rural poverty who attend under-resourced schools, don't have internet connectivity and have nomadic lifestyles. Telecoms providers could improve the connectivity of remote regions, so that those children can be included in the national advancement.

Technology and the fourth industrial revolution present a real wave of opportunity for Namibia to leapfrog solutions that are being implemented globally. It gives us the inspiration to look at some of the specific problems we have in Namibia and to solve them in a more creative way that could lead to the invention of relevant solutions not just for Namibia, but for Africa.

We must look at existing business models and understand how to integrate technology from a digital transformation perspective. This comes back to support for the local tech ecosystem and we've recently discussed introducing an entrepreneurship dimension to the foundation. Namibia has a small local market, which is often presented as problematic. With technological solutions, we can access a much broader market, because Namibia is a good sandbox for testing out technology that can then be rolled out to other jurisdictions.

 

PR: If you had to take a critical view of your country, what would you say are some of the issues that need to be addressed to boost confidence and accelerate foreign investment?

MB: Ensuring that we have a well-functioning education system is vital and needs attention. In addition, it's very important that the government has a strategy around having a work permit process that allows individuals with the right skills to enter the country, work and transfer those skills, especially if we want to build pioneering businesses in sectors such as manufacturing. That's a crucial part of de-risking opportunities for the private sector.

 

PR: As a highly experienced business leader, would you recommend Namibia as a destination to international investors?

MB: Namibia is a great place to do business, which is evident if you look at Pupkewitz's over-100-year track record in the country. It presents wonderful opportunities as a gateway to the region and the government has a very progressive stance on foreign investment as well. Namibians are keen to learn and are progressive in terms of language, curiosity, and in wanting to progress and leverage opportunities. Overall, it's a wonderful nation that is ready to adapt and learn.