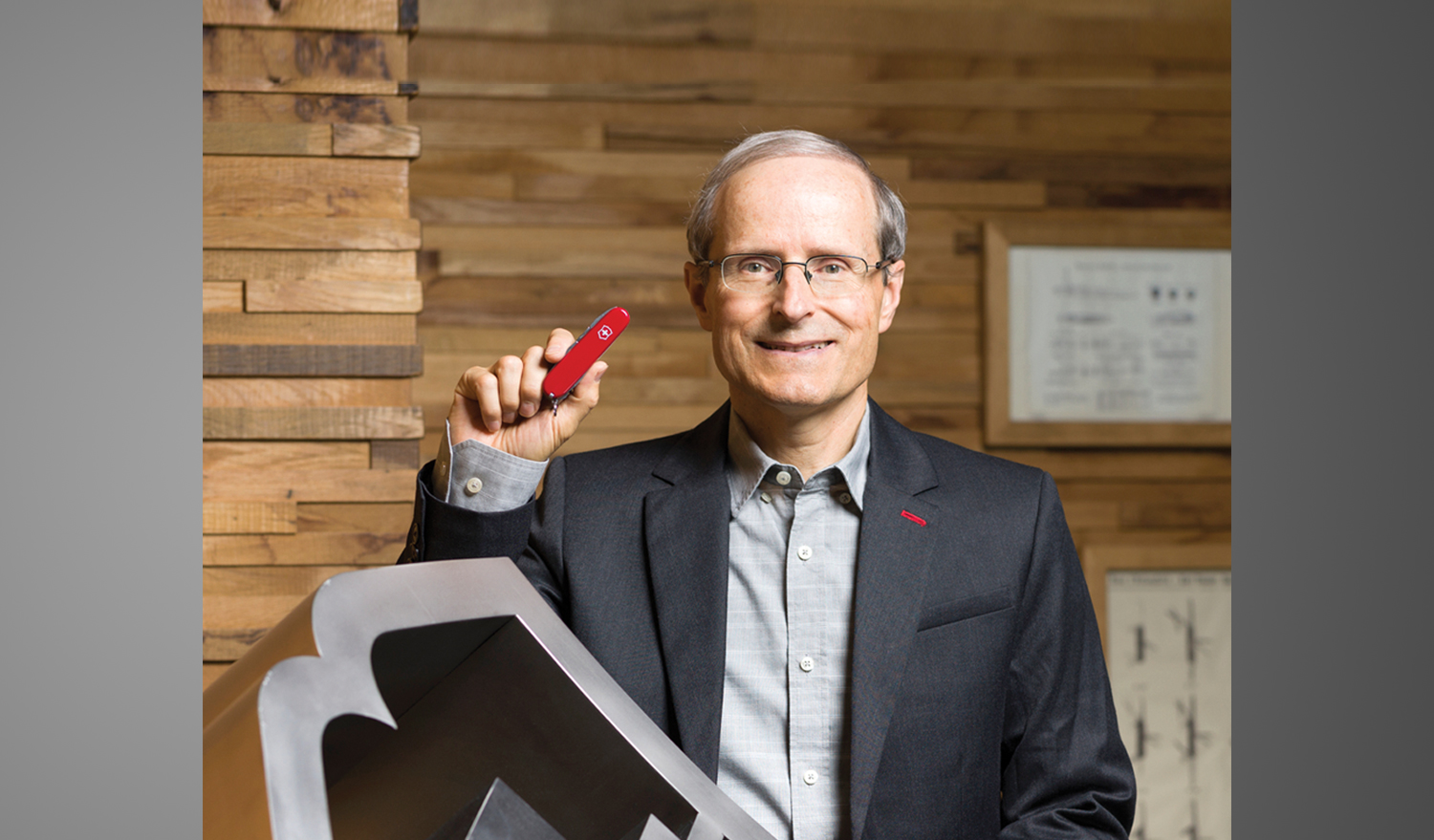 Mar 2020

Interview with Mr. Carl Elsener Jr., CEO, VICTORINOX

Prisma Reports (PR): Since its start more than 130 years ago, Victorinox has become the world's biggest manufacturer of pocket knives, but more than that it is a brand ambassador for its Swiss Army knives, even though the company's product range has extended considerably since then. Can you summarize for us how the company started, and how it has become such an immense success story, to the point that Swiss knives have become a national symbol for the country?

Carl Elsener (CE): Victorinox was founded by my great grandfather in 1884. He had learnt the profession of knife making, went for training in Germany and France, then came back to Switzerland and started the company in a small workshop in an old building. He started making two or three knives a week only. In 1890, he learnt that the Swiss army had introduced the idea of having a knife for each soldier, yet this order was much higher than what he could produce so he had the idea to introduce the Swiss cutlery association. The goal was to manufacture this big order for the Swiss army together with his colleagues, which he did in 1891. The soldier knife was a little heavier and bulky, that's why he decided to create a smaller lighter and more practical knife with additional functions and features. One of these features was the famous corkscrew. He called this new product "Swiss officer and sports knife", and he patented it in June 1897. This was the birth of the Swiss army knife. Few years later he put on all his products the famous cross and shield, and today this emblem is protected globally as our trademark. His mother who had supported him all along this way including by distributing his products in her own shop, passed away in 1909. He decided to take her name "Victoria" and incorporate it in the name of the product, which when mixed with the term for stainless steel, "inox", became Victorinox.

After the second world war the global economy experienced a big boom, and this is when Victorinox started to sell its products to the US and to the US army. The US army was in Europe at the time and had their own shops for their soldiers, where we were delivering our products, and they liked it very much. The name "Swiss officer and sports knife" as too long for them, so they shortened it and called it Swiss army knife. American soldiers brought the knife back home and then we received letters from retailers in the US who were interested to import it to the US. That was in 1945. Thanks to the interest of American GIs and later to retailers we had a big demand for the little red knife, and few years later we had really created a symbol.

A couple of years later customers were asking for more products, such as outdoor and travelling items, and that's how Victorinox started to diversify its production. We started with watches in the US in 1989; this was an immediate success. Many customers who relied on the Swiss army knife did transfer their trust into this new product, so our challenge was to make sure that the watches fulfilled their expectations; and they did. The more our brand became popular and famous, the more we were also contacted by people who were interested in a licence. We started the first licence with travel gear in 1999, with a customer who was interested in high-end travel gear products. This was a very successful partnership, but four years ago we decided to bring the licence back and have our team develop travel gears. Another special milestone for Victorinox is the year 2000. The entrepreneurial family spirit is engrained in our employees who need to carry it responsibly, and transmit it from generation to generation. With this in mind we have established a company foundation, whose main goal is to help the company develop sustainably, to stay financially independent, and to prevent that during an inheritance the company gets financially weakened. Today 90% of all the shares are in this company foundation, and the remaining 10% are in a charitable foundation which supports charitable projects in and outside of Switzerland.

(PR): 2005 is another milestone for Victorinox, as this is when you acquired Wenger, becoming the biggest supplier of multi-purpose knives to the Swiss army. How has this acquisition boosted your business, what are the existing synergies between the two companies, and do you have further acquisitions planned?

(CE): We had no plans to buy Wenger initially. Wenger was a company very similar to Victorinox which celebrated this year its 125th anniversary, and was also manufacturing households and professional knifes, as well as travel gear and watches, like us. Yet as opposed to Victorinox, Wenger had a lack of financial resources and was indebted, so when September 11th happened and our global sales dropped by 30%, Wenger had to file for Chapter 11. In order to avoid bankruptcy, we decided to jump in and bought Wenger in order to bring the Swiss army knife under one roof. That was in 2005. We brought the two brands together in a way that they no longer compete between each other as before, but complement each other. Victorinox had higher prices, and Wenger had lower prices. This positioning worked really well for travel gear and watches, but less so for the Swiss army knife. Most end-consumers didn't understand the difference between the Victorinox army knife and the Wenger army knife; so in 2013 we decided to only continue the Wenger travel gear and watches, but integrate the best-selling model of Wenger knifes to the Victorinox army knife collection. So the Wenger knifes are still manufactured but under the Victorinox brand.

(PR): Somes companies like Swiza, Leatherman do offer similar products. How does Victorinox set itself apart internationally both in terms of brand image and technology?

(CE): I personally think that Victorinox is the only company that makes high quality, multi-purpose pocket knifes. These companies manufacture more plier tools. The Swiss army knife that we make has become a global icon and a symbol for Swiss quality and reliability. The Swiss army knife is also strongly connected to Swiss made. Many years ago, people asked me why we didn't manufacture outside of Switzerland to be more competitive, but the thing is that customers expect us to manufacture the Swiss army knife in Switzerland. This is one of the reason why we increased our investment into new product categories. Seeing how the Swiss army knife was being so much copied we asked ourselves, in the long term how can we still manufacture the Swiss army knife in Switzerland and be competitive in the global environment? Our conclusion at the time was to invest in our brand and make our brand more visible. Everybody knows the Swiss army knife, but it's hidden either in your pocket and in your bag. Our new product category – watches and travel gear – really helped us to make the brand much more visible. This is why we've been motivated to invest more into this product category: to become the brand more visible, and to allow us to open and our brand and flagship stores. Today the Swiss army knife is still our core business, it is the heart and soul of our brand and should be inspiration for all other product categories. But other product categories feed our points of sale and e-commerce platforms while strengthening the brand of Victorinox.

(PR): What are the most valuable products for you today in terms of sales and business?

(CE): The Swiss army knife is the heart and soul of our business. At the moment the contribution to total sales is still 40%. The household and professional knife contribute about 25%, the travel gear about 20%, the watches about 12%, and the fragrances 3%. People ask me why we launched the fragrance business. That is because we see our products as companions: you carry the pocket knife in your pocket, the watch on your wrist, the travel gear on your shoulders. The fragrance came into our portfolio though the Wenger acquisition, which launched the business in the USA 25 years ago. At first we didn't see the connection with our knife business, but today we are quite happy with the fragrance diversification we have. This is a small business but it adds emotional attachment to the brand.

(PR): Victorinox as a champion of innovation, in line with the country's forward-thinking image. You have received many prizes for that. How does innovation translate at Victorinox today? What are some of the new technology fields or new frontiers that your company is exploring?

(CE): Innovation is really one of Victorinox brand values. The Swiss army knife globally is so successful because 1/ of its quality, 2/ because of its functionality – whenever some of our customers need the knife, it is always available and reliable – 3/ because of our continuous innovation and our openness to new development in the market, and 4/ because of their iconic design. All our products speak a 'Victorinox language', they have a special design. These are the four values that made us successful, and that we work hard to transfer into our product categories: quality, functionality, innovation and design.

For most companies innovation is key for long term success, so I'm personally involved in all developments of our products. For Victorinox it's important that on the one side we cultivate the heritage and traditions of our company, and on the other side that we stay close to the developments in the market. We try to listen carefully to the market and to our customers to learn about new trends or new needs they have. As example, we sent some of our teams to golf courses to observe which tools golfers needed; the same way we went to observe sailing crews to understand which tools they needed in their practice; and then our engineers worked on incorporating these tools features in our Swiss army knives to cater for the needs of these special categories of people. Another example is with data, that is becoming more and more important: we looked for ways of how to integrate a USB memory stick into the Swiss army knife. We also tried to improve the corkscrew function: we have developed a "wine master" Swiss army knife, where we have integrated a leverage, so you can open wine bottle much more easily. We had great results globally on the market, as people like quality.

So we are always close to the market and always thinking how we can integrate new features in our products in a creative way into the pocket knife. Another example is when one of our customers wrote that he needed a mini screwdriver to fix his glasses, this is how we developed and integrated the mini-screw driver within our corkscrew. We are living in a fast-changing world, there are so many opportunities, and you always have to be open. I like this Chinese proverb that says 'when the wind of change blows, some people build walls, but some other people build windmills'. We need people to help us to build windmills and develop the opportunities that are offered by changes.

(PR): In regards to your global sales, what are the most important sales markets for Victorinox, and which are the most challenging for your expansion?

(CE): For our key product the Swiss army knife, Europe and America are a bit saturated, as we have been working there for many years. Asia and South America are the markets that offer the biggest potential for the Swiss army knife. Yet for our other products – watches, travel gear and fragrances – the US and Europe still have a lot of potential. Over the past 5 and 6 years and now, our travel gear and cutlery are seeing a good growth on these markets. Both products grew in double digit figures. Our most important market for years now is the US, contributing roughly 20% to total sales. Since 2002, we have our own subsidiary in the US. Other important markets are Switzerland and Germany, followed by Great Britain, Mexico and China. We see some big opportunities in other countries like India and South America, where our brand has always been perceived as a strong brand, and where people make the connection to the other product categories when they see the Swiss army knife. When we introduced watches and travel gear in South America, it immediately worked. In Switzerland and Germany it was more difficult for us to introduce other product categories, as they see us as the manufacturer of the Swiss army knife. It took quite some time to make them transition to our other products, and understand that Victorinox also manufactures great travel gear and watches.

(PR): How are you working on new partnerships with US companies, like the one you have with Nespresso?

(CE): We are very open to such partnerships. Nespresso is a really unique partnership, as this is also a Swiss company for whom sustainability is also very important, and Nespresso makes its capsules with aluminum – and we also have aluminum in our products. At the moment, the Swiss army knives made with Nespresso reused aluminum are very popular products. They are 100% made with Nespresso's aluminum, recycled from the capsules. For three years, we have enjoyed that partnership, and every year we have used a different color. For both companies it's been a great partnership but coming to an end at the end of this year. We are thinking of the next partnership now.

(PR): What are your main distribution channels today and how are you trying to expand these? What's the importance of e-commerce for your brand?

(CE): For Victorinox, direct sales to consumer has become more and more important. At the moment we have a little more than 50 of our own brand stores globally; interestingly the very first one we opened in Soho in 2000. We are now in negotiation to open two new ones in Switzerland but Victorinox thinks long term and doesn't plan to open 10 stores a year. We like to go carefully step by step. We invest in new stores only after putting reserves on the side, using our self-financing. Therefore B2C and e-commerce have become more important. At the moment we have 8 e-commerce platforms globally, taking our products to end-consumer. Close to 10% of our sales are through e-commerce at present; this will surely grow in the future, but our goal is to keep a good balance between the existing physical sales distribution and between our B2C direct to consumer business.

(PR): : In regards to your marketing strategy, what are some of the most innovative marketing avenues you are using to promote the brand outside of Switzerland? Are you looking at creating new partnerships or synergies, around events or social media, in order to further expose your brand?

(CE): It is very important in our communication to get close to the end consumer, though social media and through the internet, as well as through our points of sales. We try to make our points of sales a great experience for the customer. When you look at our product categories, we basically work in two areas which have both strong growth. The first one is travelling (travel gear, fragrance, pocket knife), and the other one is cooking (professional knifes), so we do events around these themes such as cooking events for instance to show how our knifes help cooking. Our communication aims to share experiences with our customers.

(PR): You are the fourth generation of family leader in Victorinox. Going forward, what are your plans and priorities for the next 3 to 5 years?

(CE): For our family and brand, long term development is important. We build our success of four pillars: people, customer, products and brand. I worked for 35 years with my father who was a great role model. He often told me that a company who wants to stay successful in the long term needs to focus on these four pillars. If you do everything with passion, and ensure that your employees work with motivation and dedication, if you make sure that your customers become fans of your products, if you do everything for the quality of your product to remain impeccable, if you continue to invest in your visibility and image, not much can go wrong. For me it's important to also prepare the next generation to work along these four pillars. One fifth pillar is also our culture. The culture of Victorinox is made of openness, mutual trust and respect, gratitude, modesty, courage, and responsibility. These are the seven most important values, and we make a point in enforcing them every day. The success of Victorinox is not the result of management only, but of all employees. We as a company are grateful to our people, to our suppliers, as well as to our customers who contribute to the success of Victorinox. In the future we aim to focus on our existing product categories, open new points of sales, invest in our own flagship stores, and add new e-commerce platforms in different countries. This will be our focus for the next 5 to 7 years.

(PR): To conclude this interview, what would be your final message to the readers of Foreign Policy?

(CE): Since we started production of our knives, we receive on a regular basis letters from customers from all over the world, where they were spontaneously sharing with us their experience and adventure with the Swiss army knife. One of them is a story by Chris Hadfield, a Canadian astronaut, who spent more than 4,000 hours in space. Once on a mission in a space shuttle, he had to open the space station Mir where Russian astronauts were awaiting him; he had no tools on him to do that, only a Swiss army knife that he remember he had in his pocket. So he broke the hatch of the space shuttle Atlantis with a Swiss army knife. Thereafter his conclusion from this adventure as he wrote in his book is that 'one should never leave the planet without a Swiss army knife'. That will be my final message: "never leave the planet without a Swiss army knife".