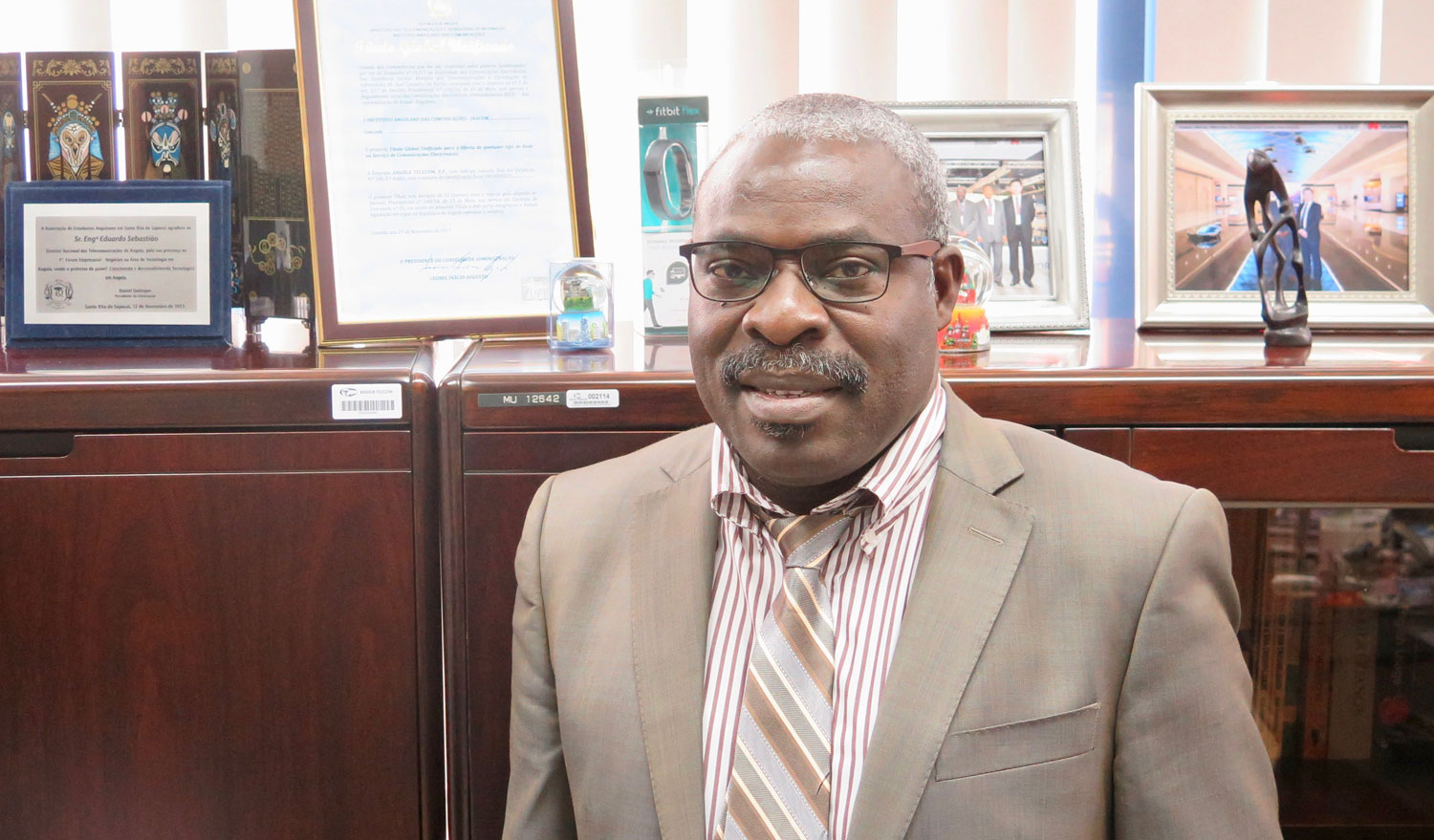 Mar 2020

Interview with Mr. Eduardo Sebastião CEO, Angola Telecom, Luanda, Angola

Prisma Reports (PR): Africa is becoming an increasingly attractive destination for foreign investment, both for advanced and emerging economies. Which are in your opinion the main attractions of the continent?

Eduardo Sebastiao (ES): Africa has always been a continent with natural resources that served for the development of large, industrialized countries. It was always the perspective of industrialized countries to come to Africa to look for these abundant natural resources. The problem in Africa lays in the huge deficit of human resources; Africa has neither the capacity nor the conditions for human resource development. This is the main cause of the important exchange between Africa and the industrialized countries from Asia, Europe or America; there is an exchange in human resources and natural resources. These industrialized countries have the capacity to develop human capital, which they can offer to us in exchange for our natural resources. These countries are looking for the perspectives that Africa can offer to them.

(PR): Now that you mentioned human resources; as we know telecommunication has a huge role in forming and transforming societies. As the Colombian Minister of ICT once told us, "An informed citizen is a productive citizen." How are you contributing to the process of making the Angolan population more informed and thus more productive?

(ES): Our main aim is to popularize the use of internet, as the internet penetration does not reach more than 5 million citizens at this moment. One of the strategies, which we created along with the Ministry of Telecommunications and Information Technology, is to popularize the use of the internet through different channels. The project is called "Angola Online", and Angola Telecom has a very important role in it. Angola Telecom will provide band length for this project free of cost. The main goal of the project is to create free of charge public internet access points in various areas of the country and to increase the internet use within the Angolan population.

Another project we are taking part in, in cooperation with the government, is a project where we build "mediatecas", media libraries for students. Through this, the students can obtain a membership by paying 1,000 kwanzas, which are less than 5 dollars, and have access to a media library and full access to the internet, where they can browse, search and find information. Our goal is to popularize internet usage and to provide opportunities for students in our country to be informed. We want every student to have the possibility to navigate and search for information about the world, culture and especially education.

(PR): Angola Telecom will privatize 45% of its social capital and become the fourth telecommunications operator in the country. How would you describe the competition within the sector?

(ES): The competition within the sector is not very big, which obviously gives more of a sense of liberalization. In Angola we have now 2 mobile operators and we have 5 fixed operators. We now started a project to reinforce even more liberalization. The next step is the privatization of 45% of Angola Telecom, the public operator. We are now at the stage of thinking about the strategy, how we are going to privatize our components and who is going to be our new partner. However, we need to bear in mind the important components such as heritage and human resources.

(PR): Last year, Angola Telecom had benefits worth 53 million euros. Now you are working on the reduction of costs and the increase of billing and collections. How are you going to work in this regard and improve the position of the operator this year?

(ES): We want to deliver Angola Telecom as a strong and valuable company to the market, the investors should see Angola Telecom at its best. Now, our main objective is to make the company stronger, to lift it up and to show all what we have to offer. We want to bring our high worth and value to the table with the investors, so that we can truly negotiate and get a fair price. We want to enter the new agreement with a bright, fresh and strong Angola Telecom. Our goal is to work hard on our human resources, to transform mentalities and thus sell, collect and deliver more and better. This is very important to us, in regards to our collection rate, which has been very low lately. We need to recover what was lost and we need to take Angola Telecom to the next level, we need to transform and enhance the company. We need to maintain the highest level of information, credibility, quality and also quality of information circulation.

(PR): What opportunities for partnership and/or investment would you like to convey to the international community?

(ES): The market in Angola is very promising and interesting. The growth rate of the Angolan population is quite high, close to 3%. The companies that want to invest here have to have this aspect in mind. The second point is that Angola is still a virgin market, there is still a lot to be done, so there are enormous investment opportunities. Many areas are not developed yet; any investor coming here has great opportunities to benefit from this incredible potential the country has to offer.

(PR): Angola Cables is working to connect Angola with Brazil, Latin America, and the Angosat-2 satellite will be sent to space in the coming months. Google Executive Jayne Stowell said that when a submarine cable arrives in a country, many companies with large offices or manufacturing factories follow it, which makes the GDP increase between 2% and 3% in the years following the arrival of the cable. What are your expectations after these big projects are finalized?

(ES): Angola Telecom owns 51% of Angola Cables, and we support all the projects that will bring great advantages to Angola and to the country's telecommunication sector. This will bring great advantages to Angola; the capacity of connecting to South America from Africa will be much quicker and cheaper. From the economical point of view, there are also opportunities to congregate outside markets that want to send information to Africa. There are already other cables doing this connection from America to Africa, but with a higher latency and bigger costs. Our cable lowers the latency and is more economical. The big international players will surely bear Angola Cables in mind when connecting to Africa; they will connect faster and cheaper. Arriving here in Luanda, they will have the opportunity to reach all coastal African countries linking to the ACE cable. We also have another Angola Telecom project to connect with other bordering countries and are now finalizing connectivity with Namibia, and then we are going to connect with Democratic Republic of Congo. Apart from this, we can do a fixed network, which will serve as a faster and cheaper way to communicate.

(PR): President Lourenço said that Angola will give priority to important partners such as the US, marking also 2018 a quarter of a century of diplomatic relations between both countries. In what areas would you like to see closer collaboration?

(ES): Angola has great economic relations with the United States. We would definitely like to see this collaboration expanding to other areas. Cooperation with such an industrialized and highly developed country as the US is a great opportunity for Angola, and Angola has a lot to offer to the US. Angola is now ready to take the next step when it comes to relations with the US. We should look further than the oil sector and start developing and cooperating in other sectors with huge potential and possibilities for growth. I would like the cooperation to start in the ICT sector, going through tourism, agriculture, energy and other main areas. We have to strengthen our relations taking advantage of the potential of the sectors that haven't been discovered and exploited yet.

(PR): President Lourenço also said that one of his priorities is to continue "promoting the image of the country abroad, both in the expectation of exports of goods and in attracting foreign direct investment." What image would you like the international community to have about Angola?

(ES): I would like to show the natural beauty that we have at the tourism level. Americans are going to see another side of the world, it is important they know about our unique beauty. We had some difficulties when it came to attracting tourists due to high prices, but now Angola is more affordable. Prices have been lowered so that international tourists can visit this beautiful place. From my position, I would like to guarantee the comfort of communications for the tourists. I don't want them to feel outside of the world, just opposite, making them feel in Africa like being in the middle of this beautiful world. This is our responsibility in the telecommunication sector; to make the tourism experience here in Angola the best one could imagine, and make them feel connected and safe.

(PR): You were previously the National Director of Telecommunications at the Ministry and now CEO of Angola's public operator. What is the goal that would give you more satisfaction to achieve?

(ES): I would like the ICT sector to become a bigger contributor to the national GDP. I would like to see many more companies in the ICT sector, so that citizens feel inside this wonderful world. We are now developing the National Plan for Rural Telecommunication. The vision is to spread telecommunication services to more remote areas. I want to create as many opportunities for our citizens as possible. Through this, we aim to enhance the contribution of the ICT sector, to grow our country and increase the comfort of life of each of our citizens.