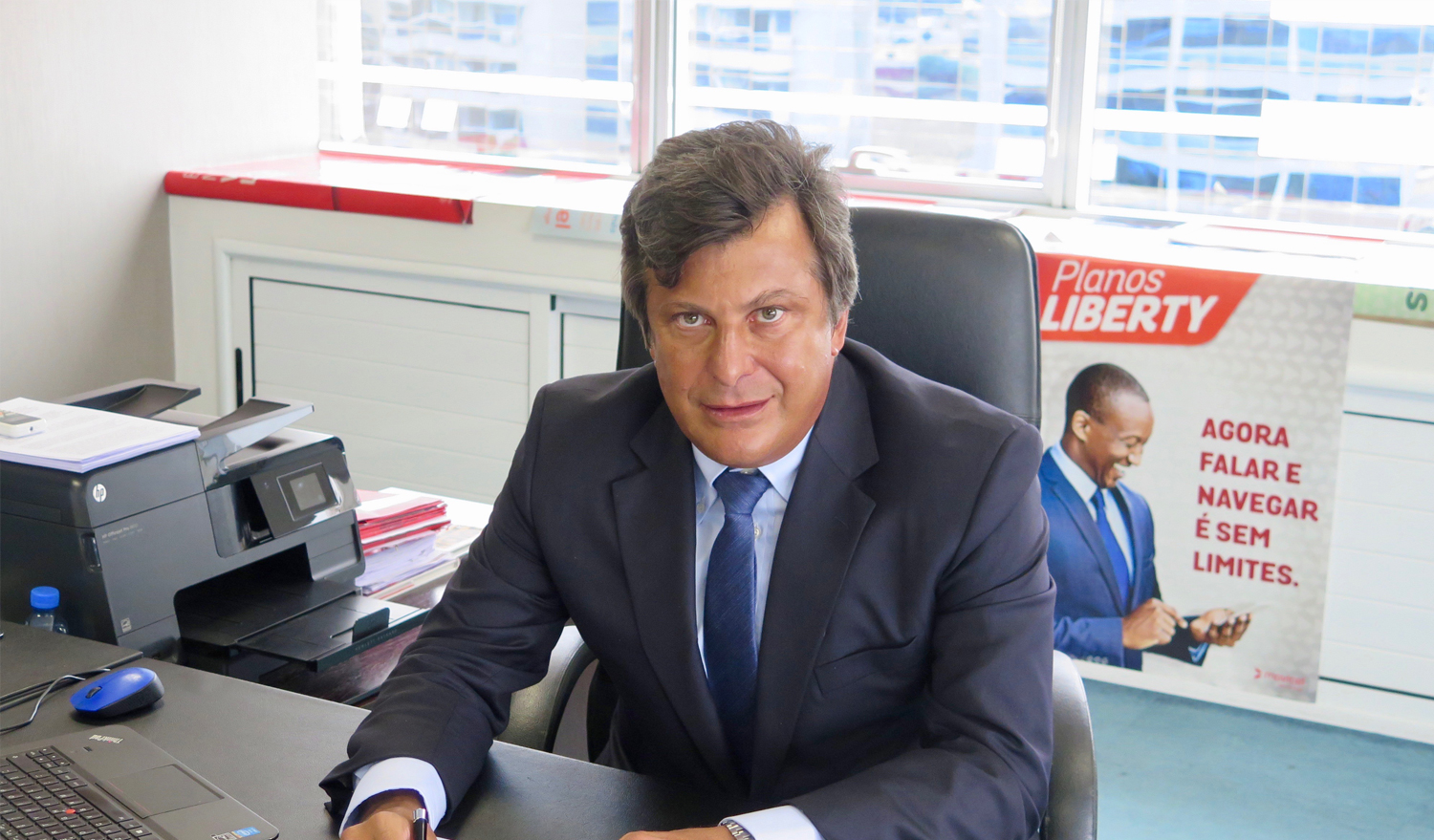 Mar 2020

Interview with Mr. Gianvittorio Maselli, CEO, Movicel, Luanda, Angola

Prisma Reports (PR): Africa is described as the continent with the greatest potential. How would you interrelate this statement with the telecommunications industry?

Gianvittorio Maselli (GM): There is much more interest and investment in the region because it is becoming a continent of opportunity, in Africa we are still under construction of the main means of telecommunications. In the rest of the world the majority of countries have many different providers that have steered their telecommunications industries to a competitive environment where better offers are constantly being developed for each nation. Here in Angola we are still in the phase of trying to make sure that 100% of the country is covered and communicable, this is equivalent of being 20 to 30 years behind the rest of the developed world. Just to give you an example, we were in Cabinda just last week and we inaugurated a telecommunications tower in a town of 15,000 people where it was the first construction of its type in that area.

(PR): Angola is living a historic moment, with the first change of the Head of State in almost 4 decades. When João Lourenço took over office he said that his government would focus on diversifying the economy and supporting the private sector, for it to help in the country's economic growth. In your opinion, what sectors are crucial for Angola's further development?

(GM): For me it is agriculture. If we compare a flight over South Africa where you see almost every inch of the surface of the country covered with fields of agricultural production, compared to Angola where even next to rivers where water is passing there isn't a plot to be seen, signifies that there is a lot to be done here. In terms of your comment on the diversification it is now imperative that the country steers away from the oil dependence its had over these years, thus preventing the devaluation of currency and economic crisis that was the result of years of neglecting other sectors.

(PR): In his inauguration speech, President Lourenço expressed his commitment to support the private sector more, which he identifies as the engine of the economy. It is true that the private sector faces difficulties, but there has already been an improvement this year. What reforms should be implemented to continue in the right direction?

(GM): There are many people who are opening businesses here, however Angola's economy is still dependent on external factors. There is a small number of products that are produced here, meaning that if something fails within a certain industry it is outside of Angola's resources to rectify it, creating an environment where maintenance is the biggest worry of a company instead of it being innovation. Having said that it is improving vastly.

(PR): Looking closely into telecommunications, with projects such as Angosat 2 or Angola Cables and with the addition of a 4th mobile operator, we can say we are in a crucial moment. How do you describe the telecommunication system in Angola?

(GM): Angola Cables and Angosat are marvelous projects, Angola Cables will be the only alternative subsea cable project that connects Africa to Brazil, this is a fundamental project for not only Angola but Africa as a whole, it is guaranteed success for all involved. Angosat, the first satellite didn't work out as planned, and we have had to resort in using satellite technology from other countries, which isn't ideal as we have to pay a tariff to use them, increasing our costs. The main advantages of Angosat 2 will be not depending on another country's resources and above all else we wont have limitations in allocating communication to regional areas in Angola which still till this day are in the dark sort of speak. Fiber optic cable won't reach the rural areas, it can reach towards Malange, however any further than that is difficult, but with our own satellite we have the freedom to do without any impediments.

(PR): In Africa there are now projects which aim to link neighboring countries via cables, one of the projects is to connect Congo and Namibia to Angola, please tell us more about it.

(GM): These will be projects that connect signals from one main city to the other, however it still doesn't rectify the problem we have of rural areas. In each site where we will have a tower installed will connect to the other site with a maximum distance of 60km. Each tower has two circular antennas that interconnect with the other towers and a vertical antenna above that is the BTS Cellular signal. Till this day in Angola the problem we face is have a consistent source of energy/electricity, so each tower has a generator and a security guard to protect the site, this adds the overall costs of todays set-up. With a satellite we eradicate all of these costs, it is so efficient that in the middle of a remote zone we install a satellite dish and the whole community around the site is connected. These sorts of projects are going to be more socially beneficial to rural populations than beneficial to our bottom line, however having even a small community connected allows them the ability to signal for help in an emergency or to connect to the internet. Any community will find it hard to develop without communication.

(PR): And how is Movicel working to increase the penetration of IT in the country?

(GM): I would like to mention two things: every day we are having an increment of people signing up to Movicel as their preferred connection provider, one day there are 1,000 another day there is 10,000 but everyday this number is in the positives. Also, with the amount of financing that we have we are increasing the number of towers, and each month depending on the possibility that we have we activate one, two, three sometimes five more. For us ideally we require greater financing to cover the entire country by tomorrow, but we must take things step by step. It's rare to see a country that still only has two telephone operators, Nigeria have 5 and Namibia with 3 million in population have 3, and here with 27 million we have two. A low number of competitors puts a strain on the customer, for example our competitor still charges their customers per-minute even if they have spoken only for 10 seconds on the phone, we on the other hand charge per second to compete with that. We also have payment plans, 80% of our customer base are on monthly plans and you can speak unlimitedly to another Movicel device just like anywhere else in the world, and we give a certain amount of minutes to speak with other operators. The tendency is that the more someone communicates the more productive they are, we here at Movicel know that the middle class in Angola is very small compared to the number of people living below average income, so we have also structured our plans to offer a day of unlimited calling for 100 kwanza.

(PR): What are the main improvements that Movicel has seen within its 15 years of existence in the market?

(GM): Movicel was the mobile operator of Angola Telecom, at that point like the rest of the world there was one service provider for each country, then the market was formed where the telecommunication services became a business, this is when Movicel moved out of the State's control and was privatized and sought its own investment independently of Angola Telecom. In parallel Unitel was formed, which came into the market with a huge amount of backing and financing and ultimately became the market leader in a short space of time. However, in this second semester we have strategic plans that we will reveal in September 2018 of our planned expansion for the coming years, an example being the availability of third party vendors to also be able to sell Movicel connection by purchasing at a lower price and reselling them in a mobile point of sale method.

(PR): In January 2016, when you came into this position, you said that the next step of Movicel is to create a significant and more efficient presence in the market using more aggressive means of expansion. What is your strategy now?

(GM): At the start we were only in Luanda, Cabinda and Benguela with 250 resellers, now if you take a look at the numbers we are at 4,500 resellers, and for them to become a reseller they would have to sign and read 40 pages of regulations. Nowadays we have 3 with a reseller kit to help you on your way, download an application and you are on your way. This has also stimulated entrepreneurship within communities.

(PR): What are the competitive advantages of Movicel?

(GM): For us we can now boast that we have an equivalent service quality as Unitel is providing. Following up on what I mentioned in terms of the reveal of our new plan and strategy in our September roadshow, I can state that there are certain enhancements that will put us in equal terms with the competition. Another frontier here in Africa where there is a huge potential is mobile money. It is much more common in Africa for there to be an area that has internet connection but there is no bank branch for miles around, this invites the possibility to have a mobile bank account where a transfer can be made easily even by an SMS. In Kenya for example it is rare to see somebody with a conventional wallet, things are paid for from phone to phone. This is an exceptionally useful tool for people who live in hard to access areas. We aren't saying that we are able to do this today, however be sure that in 5 years this will be very prevalent within Angola and we will have to be a part of it.

(PR): Is Movicel open to any kind of partnership?

(GM): Movicel is very open because whatever type of partnership and investment we have will accelerate the reach and penetration we have in Angola, if we had an investor who could double our coverage we could double the number on the bottom line, both winning in the end, however as it stands we don't have the financial ability to do so. What the government needs to do now is guarantee that whoever brings in their foreign currency to invest in Angola is allowed to repatriate it back to their respective countries. There is also a way of creating a synergy between two companies, for example there may be a foreign service provider who has a surplus of 3G technology who won't be using it due to the prospect of 4G in their country, they have an opportunity to use these resources to benefit the Angolan market for an agreed price.

(PR): Considering your international experience, what would you say have been the main lessons that you have learnt that still till this day you use in your day to day business?

(GM): I would like to answer the question by explaining the first impression that I had of Angola, which is different from anywhere else I have worked in the world. Here people have a huge respect for one another, in the offices or board meetings it is unheard of to raise your voice or act in an abrupt manner. If someone makes a mistake they have to be ready to defend why they made a wrong decision, disrespect is one of the gravest insults to someone. It is great to see that everybody, irrespective of their social class or standing, greets each other. This in turn helps business and makes interactions much easier.

(PR): In summary, how would you express your experience in Angola?

(GM):Angola is one of the most resistant countries when it comes to innovation, people are weary to accept innovation immediately. In addition, it is one of the most expensive places in the world with a poor life quality. Then the question arises, why would one spend 5,000 euros to come to Angola instead of 1,000 euros to go to Maldives? It doesn't make any sense, right? Surprisingly, it does make a lot of sense. On top of what I mentioned about Angola's people in my previous comment, when you look deeper, here in Angola you can find unequal nature. For example, you can find the endemic welwitchia mirabillis plant in Namibe, the 800 Kilometers of dessert sand in the south of Angola, the Kalandula waterfalls, the turquoise beaches, the list goes on and on.

(PR:) What message of confidence would you like to send to others thinking about investing in Angola?

(GM): It is a country of huge opportunity, firstly people must respect the country and not think that if they come here with a lot of money it will be easy to make money immediately. There are Angolans that are much more cultured and savvy than your top American business leader, you are going to be doing business with people who have studied in the same European and American universities as you may have. With patience and steady planning, you are able to make many businesses successful here, just bare in mind the intellect of the Angolan people.