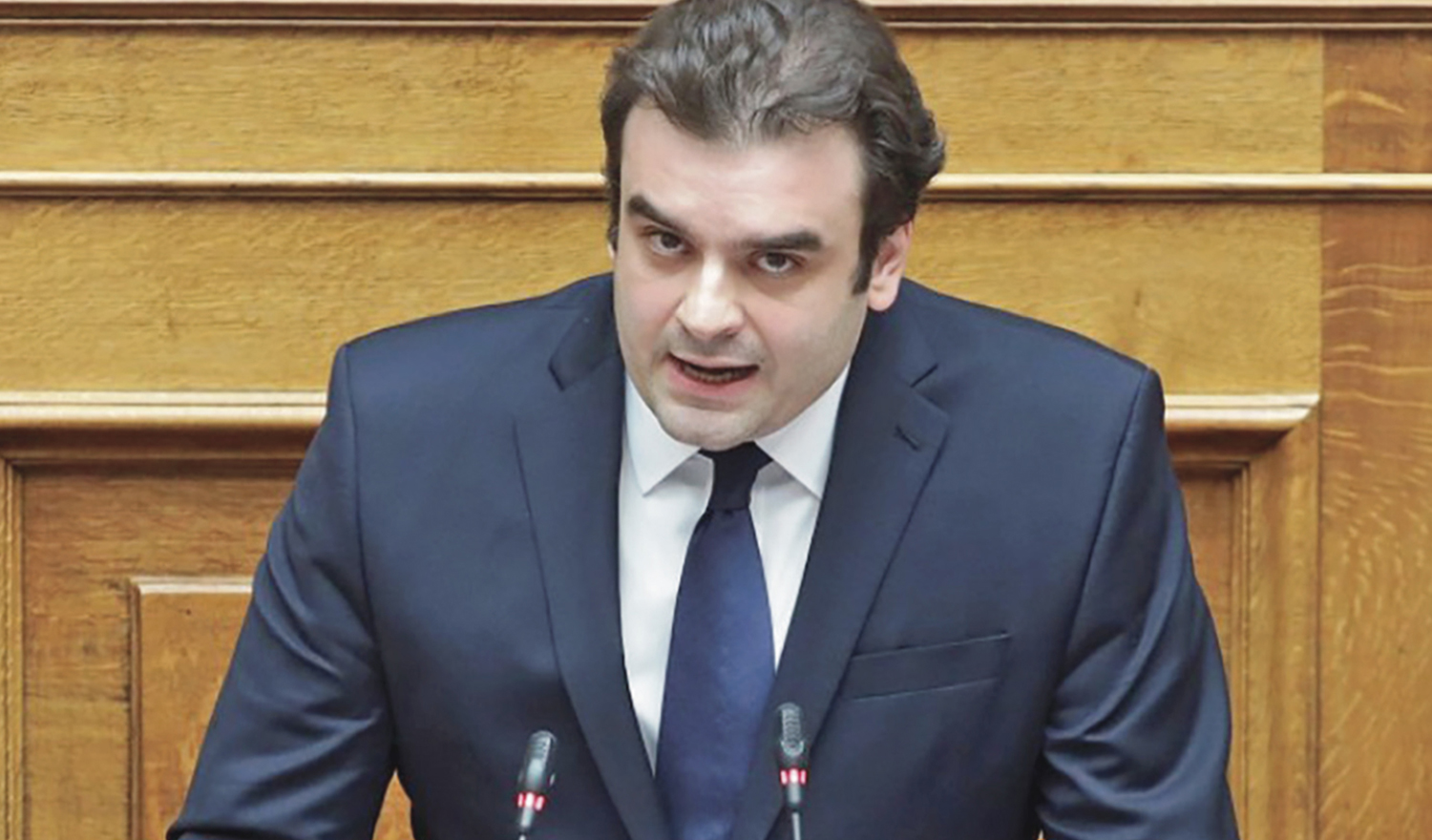 Dec 2019

Interview with Mr. Kyriakos Pierrakakis, Minister of Digital Governance of Greece

Prisma Reports: Digital technologies have developed tremendously in recent years, helping to improve people's daily lives, stimulating innovation across society and all sectors of the economy. Accelerating the digital push is a priority for most developed nations, in order to stay ahead of the game. How would you describe Greece's status and progress in regards to digitalisation? What are the objectives of the Government in that regard?

Kyriakos Pierrakakis: Greece is starting from a rather weak point with regards to digitalization since it ranks 26th out of the 28 EU member states in the European Commission Digital Economy and Society Index (DESI) 2019. One of the sub-indexes also indicates that in the digital public services dimension, Greece ranks 27th among EU countries, well below the EU average. Based on that statement, the government has announced in Parliament that our aim is to compare with the EU average within the next 4 years, which corresponds to our Government term. We have developed a very solid and comprehensive plan in order to achieve this, and our first move was to create this new ministry which is a completely new entity, directly reporting to the Prime Minister. Its aim is to match the bureaucratic simplification with the digitalisation processes.

At present the Ministry has four main goals. The first one is to create a gov.gr website similar to the one that the UK has developed which will allow a simplified interaction between the citizens and the state with a unique point of contact. In parallel we are also running a second horinzontal simplication project called "the life events project": we are currently mapping the life events of our citizens – starting from child birth, to obtaining your driving license, going from primary school to high school, getting married, getting divorced, etc – and trying to see how we can simplify all  these typical processes into one single one on its own. The solution behind this is an interoperability project between system, that would streamline the database and the different Greek systems that do not interact with each other. The third project has to do with the new digital identity card. Estonia is our role model in this regard: it is today one of the most digitalised states in the world, and they have gone a very long way to make their economy fully digital. Their identity card is a smart card that has the potential to access digital services with security from home. This is a necessity: if you want to have centralised services you need to be able to have access to those services digitally. The fourth project, is the transition from the 4G to the 5G era. We will have procured the relevant spectrum for 5G before the end of 2020.

All these projects collectively have the potential to make Greece leap forward with regards to its digital position in comparison to the European average.

We have created a group of experts both foreign and domestic. In this group, the former president of Estonia Toomas Hendrik Ilves, has kindly agreed to participate and has been appointed as advisor to Greece´s digital governance. He has helped us a lot with know-how, he has provided us with contacts of relevant people for us and he has given us key insights. The solutions that we need on digital are not a technological but political – because in reality, it's not about adopting new technologies, it is about the political will to make decisions which changes the structure of the state.

Prisma Reports: How will these projects help alleviate the burdens that weight on investment and faciliate business in the country?

Kyriakos Pierrakakis: The first priority of the new government stated by the Prime Minister Mitsotakis, is investment. We believe that we need to change the economic mix of the country, become more extrovert, attract foreign direct investment (FDI) and export more products. Digital technologies are a catalyst in this endeavor in the way that they can create a much more friendly state both for citizens and for other enterprises. As we transition from the 3rd to the 4th industrial revolution, digital technologies can be quite significant with regards to the transformation of our country.

 

Prisma Reports: The Greek Communications Sector, together with the Banking Sector and Business Services & Technology industries are considered the "multipliers" for the digitalization of Greek industries and in effect the country. How does the ICT sector contribute to the country's economic growth and recovery? How has the market been performing so far in 2019?

Kyriakos Pierrakakis: Overall growth is positive, and our aim as a government is to make this growth continue and increase even in the short term. The ICT sector and the telecommunications sector are clear contributors to this growth, yet most interestingly, we have seen emerge in Greece an asset innovation ecosystem. Greece has some interesting start-up companies in the ICT sector which have developed a very strong international presence. This has happend due to the very smart policy decision from previous governments, which together with European institutions started this Israeli model and created the fund-of-funds programme in Greece called EquiFund. We had some very interesting venture capital firms funding start-up companies in Greece. This has created an ecosystem which permitted many of these companies to have a very competitive presence in their respective markets.

Prisma Reports: What key segments or activities do you think will be driving most growth within the ICT market?

Kyriakos Pierrakakis: The technological transformation of the agricultural sector is for example a sector where I believe we should invest.  Cybersecurity is also an area where we should invest because the needs are here. We have created an interesting  ecosystem of universities and centres of cybersecurity so I think it's time to make a leap towards and create a relevant market which is sizeable. That being said, as Government our concept is not to pick the winning sectors, but it is to remove and throw down barriers from the economy, to allow the market to flow. We have some very big companies and start-ups that have emerged because they had very charismatic founders and we had a very interesting policy process. Therefore our aim is to remove barriers to allow these companies to work and grow.

The movie industry is also an area of interest for Greece. In my ministry we have an organisation called a EKOME which is an organization that has a rebate program incentivizing foreign films to be produced in Greece. We are currently trying to develop an overall strategy in order to further attract both productions and post-productions of films in Greece because we feel that this has been a missed opportunity over the previous decades.

Prisma Reports: Greece boasts a highly educated workforce (with one of the highest rates of PhD in the EU) with global experience and a strong appetite for risk and entrepreneurship, which could serve as paving stones to make the country an innovation hub. Concretely, how is the Government working to promote entrepreneurship, to put in place a start-up eco-system and accelerate innovation?

Kyriakos Pierrakakis: What we are trying to do right now is to detect what is missing to create a full ecosystem similar to what you can find in Israel or Estonia, able to attract talent. We want to create more spin-off companies out of the research conducted in the universities. Part of the equation involves an overall removal of barriers with regards to taxation, cutting red tape and simplification the social security system. Furthermore, we want to create incentives for foreign direct investments, especially for technological companies to come in, because we believe that those companies could create significant economic spillovers. Therefore, If we have a big technological foreign direct investment, the engineers who will be hired there will create their own companies afterwards, and that will create a positive cycle. So, we are trying to shift the economy 360 degrees in innovation. If you look at historical data points per country, innovation is the main catalyst for sustainable economic growth. We want to build an economy that innovates, and so we are trying to fund R&D programs which will be able to create new companies.

Prisma Reports: At the Thessaloniki fair you mentioned also that in addition to its digital transformation, Greece needed a new production model. How can the ICT industry, and start-ups serve as catalyst for further economic growth and help reverse the brain drain? Can you tell us more about the Digital Greece initiative?

Kyriakos Pierrakakis: The idea involves the transition of economic model. The development of our start-ups is one of the biggest success stories that happened over the last 10 years, which were a very difficult period for Greece. During these years many talented young Greeks fled the country – around half a million left. The founders of these companies primarily managed to stay here, hired talented people and were willing to bring talent from abroad.

Entrepreneurship and promoting innovation are areas where we want to invest as a country. The idea of our Digital Greece program is to focus on this young talent and companies, to showcase them and have them present their ideas and products to the broader public.

Prisma Reports: How important is is the US market, and American corporations to sustain development in your sector? Which segments or niche areas in particular could benefit from further cooperation?

Kyriakos Pierrakakis: Our collaboration with the USA is extremely important, and our bilateral relations with the US are a catalyst for the growth of our technological ecosystem. Our mature start-ups are the best indicators, because at some point they eventually come to interact with American foreign capital firms, and often create facilities on the other side of the Atlantic. We have an important diaspora in the USA, which also plays a role in this equation. That diaspora is also academic and entrepreneurial, not only traditional.

We believe that these relationships should be further strengthened and we are trying to explore ways to further develop them.

Prisma Reports:   What can American investors expect from Greece and its ICT market?

Kyriakos Pierrakakis: American investors can expect that we will be removing barriers for investment. We have recently launched an investment law in the parliament, to digitalize and simplify processes for antenna licensing, which is a necessity for investment in the telecommunication sector today, and which is also a necessary condition in order to move forward with 5G, as 5G will involve much more antennas. This new law is a good indicator of our will to solve issues that have been pending for decades. This has been a telecom sector request for more than 10 years.

Prisma Reports:  Mr. Pierrakakis, you have a very strong foot yourself in the research and start-up world, though your various positions. You are a graduate of MIT. What do you have the most at heart to accomplish, in your position as Minister of Digital Governance?

Kyriakos Pierrakakis: My goals are both qualitative and quantitative. My quantitative goals are to position in the new EU average in terms of digital transformation within the next 4 years. My qualitative goal is to see Greece change status; I believe a lot on the vision of the Prime Minister Mr. Mitsotakis, who really want this government to be one of the most reforming government of the last century.  I and all Government members very much believe in this vision, and I personally decided to change career path because I feel that there is a huge opportunity for the country at present.

Prisma Reports: Mr. Mitsotakis at the TIF event, he said that Greece is "setting the foundations of the country's regeneration. Greece has turned a page… Greece is no longer the black sheep of the EU, we're a self-confident country now." In that context, as a final word, what would be your direct message to our readers?

Kyriakos Pierrakakis: Our priority is to bring investment in Greece and we are very much willing to remove barriers that have been outstanding for decades in order to achieve this and let our country leapfrog into a new era.