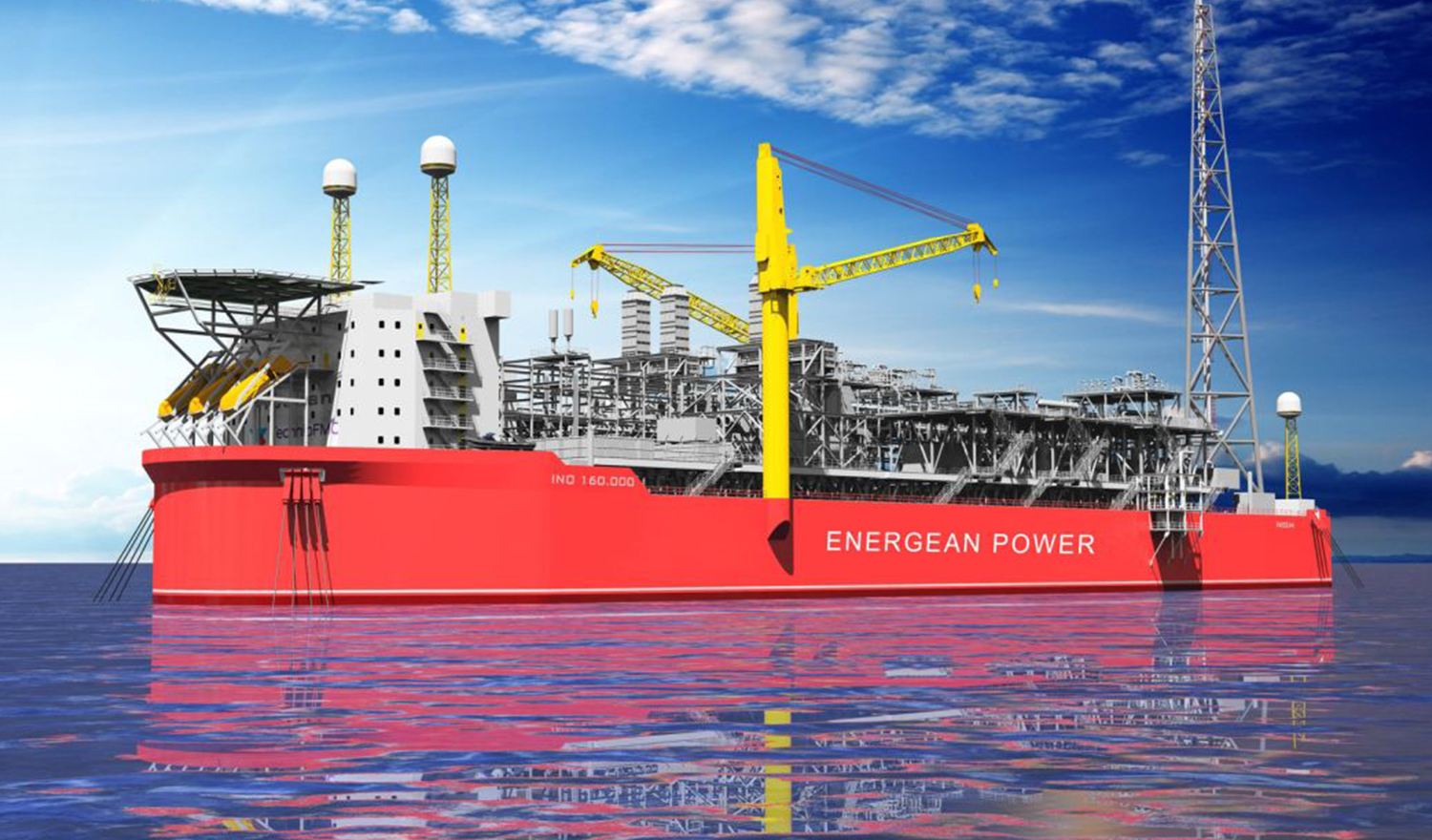 Dec 2019

Interview with Mr. Mathios Rigas, CEO of Energean

Prisma Reports: To start this interview, I'd like to gather some general insights on the oil and gas sector in Greece and review the potential of exploration. Greece has a very specific position in the sector, in the middle of the Mediterranean, a region that boasts substantial gas reserves. With technological advances in exploration and extraction, many regions are being revisited, new potential areas identified. Energean is one of the key players in this sector, operating production, development and exploration assets and running projects in 8 countries in total in the Mediterranean region. Can you give us a rapid overview of Greece's oil and gas industry, how would you assess the nation's potential in terms of gas production and exports and what is the geostrategic importance of Greece on the global and regional hydrocarbon producing map?

Mathios Rigas: Greece is a country that has been underexplored. Despite that fact that exploration has been going on for a number of years, the only producing asset of the country today is the Prinos field that Energean operates in the north eastern part of the country. When we took over in 2007, it was a problematic. We rejuvenated the field and gave it life, which kept Greece on the map for all producing countries.

In the '10s 2013, a new effort started by the Minister Maniatis who visited the platforms in Prinos and had a vision together with us to reopen the country to exploration. A number of licenses were awarded. It started with onshore western Greece, followed by offshore western Greece in the south of Crete. Energean was successful as a pillar in this strategy that attracted the interest of a number of players, apart from us who are the only producer in the country today.

Today, along with us, Greece has a number of operators including Total, Repsol and majors such as ExxonMobil present in various parts of the country. From the various licences that were awarded, the one that is more advanced is the licence in the western part of the country in an area called Ioannina, operated by Repsol, in which Energean has 40% Working Interest.  That's a continuation of the geology from Albania, where major discoveries have been made. There are good chances that there will be a discovery of oil or gas in the onshore parts of western Greece in the next couple of years, which is similar to what had happened in Italy and Albania. That will be a huge jumpstart for the exploration business in Greece because today, there's a lot of interest and potential but still, there hasn't been a major discovery that will put Greece on the map of big players in the region.

Greece is underexplored. It reminds me very much of the east Mediterranean story of Israel, where almost no one talked about oil and gas some years ago. Israel was relying on imported gas from Egypt. However, the discovery of Tamar, Leviathan, and the fields that being developed by Energean, namely Karish and Tanin, changed the course of history. Not only is Israel now self-sufficient, it has become an exporter. That is the route that Greece can follow if all the right steps are taken and if we get to the desired results of drilling wells to prove that there's hydrocarbon. To clarify, without drilling wells, we will never find out if we have oil and gas or not. There is a central strategy that is supported by the government today, which has committed to moving away from lignite, and eventually decarbonizing the country. This means that the country is going to move towards gas in our generation. There are two things that can happen. Either Greece continues importing all its gas needs, which is the situation today, or Greece starts producing gas from its own natural resources.

That's the current landscape. All the country needs is a successful result in one of those wells, and it will become the centre of attention, which is what happened to Israel and Cyprus too.

Prisma Reports: As an operator in the sector, how would you evaluate the support that you get from the government in terms of framework and legislations?

Mathios Rigas: It's not easy to operate in the east Mediterranean not only because you do need to understand the sub-surfers and the rocks, but you also need to know how to navigate difficult geopolitical situations. We have operated in this country for 12 years and we've lived through a number of changes in the government, policies and priorities as far as the oil and gas sector is concerned.

Greece has said that the hydrocarbon sector will be given priority. There's a lot of support from the government to attract investments and see projects being materialized in a very difficult environment. Climate change plays a huge roll in decisions today. The public is becoming more and more aware of what we need to do to create a sustainable world. The topic of sustainability and climate change is undoubtedly the most important issue that the world is talking about. Sometimes people ask me how I can be talking about sustainability when I produce oil and gas. We have made a huge commitment by being one of the first E&P companies in the world to commit to net zero emissions by 2050 and we are taking all the necessary steps to achieve that target. This is the type of attitude a company needs to have to be able to operate in Greece and the Mediterranean.

The government is supportive. The local communities are also very supportive as proven by all our licences because we operate in many regions in Greece, which are very environmentally sensitive. Companies need to take these issues seriously, understand them and demonstrate that they are committed to taking the right steps and measures to be aligned with what the world is demanding.

Any company that is left behind by not recognizing the need for climate change and sustainability cannot expect to get the support of the government and the local communities. I think that a lot of people are concerned about operating in Greece. I can tell you that we started in Greece 12 years ago with a very small project called Prinos with a million-dollar investment. Now, that has turned into a 2-billion-dollar company listed on the London and the Tel Aviv Stock Exchanges and we've managed to navigate the governmental changes and different issues. I don't like to blame the government when people don't do their business. You write your own history and you navigate the difficulties and challenges.

The Mediterranean is definitely not the North Sea and it's not just this government, but all the geopolitics that will interject into this business.

Prisma Reports: Energean's success is very much tied to Greece, as the company started with just one oil-producing asset, the Greece's beleaguered Prinos field back in 2007, before rising as an experienced offshore operator, with 13 licences across Israel, Greece and the Adriatic. How fundamental is Energean in Greece's oil and gas future? What is your contribution to the sector, your mission and vision if you want?

Mathios Rigas: Nothing happens in life without a driver and that goes for businesses, governments and the projects that we operate today. The role that we want to play in this country is to show the world that you can succeed

if you take this country and its businesses seriously by showing the success story of a company that operates successfully without problems from the local community and the environment, who is able to produce oil, drill wells to bring rigs and generate employment for this country while existing in harmony with the community. It's extremely important because that does not only show what you can achieve in Greece, but what you can achieve starting in Greece and expanding beyond.

Prisma Reports: How has the acquisition of Edison E&P transformed the company? Can you explain how this will position Energean as one of the leading independent, gas-focused E&P company in the Mediterranean?

Mathios Rigas: My vision for the company is very clear. We want to be the leading and independent E&P player in the Mediterranean with a total focus on gas in the Mediterranean. Those are the two big strategic decisions we have made a number of years ago before all this became a trend. Climate change and sustainability only became a hot topic recently, but we have been focusing on that since a long time ago.

The acquisition of Edison, which is a transformational deal for us, came at a period where we were developing a big project in Israel and had our production from the Prinos field. Edison is a business that is present in all the countries that we want to be in and is focused on gas. As far as our focus on gas is concerned, it is a good strategic fit. It is also a company that produces gas, which fits very nicely with our profile. Besides, we are going to start producing gas in Israel in 2021.

It is a big step for us which results in app. 600 mmboe of 2P reserves, production, cash -flow and brings 280 skilled technical people into the organization present in eight different countries in the Med. It has a big production in Egypt from the Abu Qir fields, which is one of the largest producers of gas in Egypt.

Energean has been positioned as the largest listed independent E&P company. That has been decided by the market that responded very positively to our acquisition. We raised 260 million dollars from a private placement that followed the 460 million dollars of equity we raised through our IPO. If you look at our history, there hasn't been another IPO since ours. I think it's going to be difficult for companies to list due to pressures from the market and investors that are moving out from what they perceive as a non-sustainable type of investment.

Recently, we had another big statement by Black Rock that follows this trend exactly. We still managed to attract capital, when people are not able to find money in this market, because we have this sustainability footprint and are showing commitment to reducing our carbon footprint. This is a fundamental pillar.

The acquisition of Edison E&P has been a very important step for us, and we look forward to closing this deal in the next few weeks and start working with our employees to take the company even further.

Prisma Reports: Energean listed on the London and the Tel Aviv Stock Exchanges, very recently. How has this listing further accelerated the development of the company, and going forward, what are your plans to create value for your shareholders and lead by example in this industry?

Mathios Rigas: Creating value is at the heart of Energean. We started 12 years ago with 2 million barrels of 2P reserves. Today, we've reached app. 600 million barrels of oil equivalent with the acquisition of Edison and are continuing to grow. Year on year, this company has continued to grow either organically through drilling or through acquisitions like Edison. We will continue along the same path but with a strong capital discipline because this industry is unforgiving. There are numerous companies who were significantly bigger the Energean, who had lost focus and lost sight of the fact that you need to be making the right deals. These were multi-billion-dollar companies who are much smaller than us today.

Leading by example is in our DNA and strategy. Maintaining our key strategic pillars which are our focus on the Mediterranean and gas, capital discipline, making the right deals, and most importantly, an invested interest by the management of this company in the shareholding of Energean. That is the big difference between us and the others. Energean is a company that I created 12 years ago. I still have substantial interest in the business and management, which makes us care a lot more about how money is spent compared to others.

All these elements have been recognized by the market and our shareholders have supported us through it all. Talking about capital raising, for the Israel project, Energean raised 1.7 billion dollars in debt and equity last year. We raised another 800 million dollars in 2019 for the acquisition of Edison. Markets, debt and equity have always recognized that Energean is a company that delivers value and continues to grow. If you look at our share price, they have doubled since the IPO and that gives our shareholders confidence that we will continue to deliver value and grow.

Prisma Reports: At the EU South Summit last year, you said that «Our next challenge is to bring gas to other countries".  Greece in that regards enjoys a strategic location amongst a number of gas pipeline interconnectors, making is an ideal energy transfer hub as well for the wider region. A number of midstream infrastructure projects are on the way such as the TAP, IGB, or the potential EastMed pipeline. How is a company like Energean working to develop and support new infrastructure network to support exports and reinforce the market interconnectivity?

Mathios Rigas: The recent deal we signed with DEPA, supporting the EastMed pipeline, is the best answer to your question. EastMed is a very important pipeline for Greece and the region. Israel has vast natural resources. We alone have discovered an additional 25 bcm in the Karish North field. If we dig more wells, we will find more gas in the blocks we have in Israel.

Today, the Israeli market is very well covered by the 3 assets that are either in production or in development – Tamar, Leviathan and Karish. The EastMed has a need to bring this gas into Europe and the best route to achieve that is through the EastMed gas pipeline. Energean is at the heart of developments. It is the first company to sign an LOI to utilize this pipeline because pipelines like the EastMed need support from the governments. They also need to be commercial. But it is not enough to have the government's support in infrastructure projects. The support from the market is also needed. Hence, we signed a 2 BCM LOI with DEPA which corresponds to 20% of the original design in this pipeline, demonstrating that there is commercial viability and reality behind a very important pipeline for the region.

Beyond that, we have proposed to send gas from Israel to Cyprus, to give them the ability to move away from diesel fired power generation to gas in a very efficient and quick way.

The third part of our business looks at export options to Egypt or other countries in the region from our Israeli projects. Greece can become a transfer hub but if you really want it to become an energy hub in the region, you need your own production. Otherwise you just become a transfer hub without playing a major role.

Egypt and Israel are classic examples. Egypt is producing gas and also needs gas to export. It has LNG terminals that are underutilized at the moment. Hence, Egypt is becoming a central part of the energy scene in the region. Israel is the same. If Greece wants to follow this path, having pipelines or other terminals in their countries are not enough. You need to have your own production to be in control of the situation.

Prisma Reports: As an ambassador attesting to the potential of you can achieve in Greece and outside, how would you present the country to investors"

Mathios Rigas: One of our largest shareholders is Third Point. It is a US fund which invested in Energean in 2013. Originally, they owned 45% of the business. Today, they have a 20% interest through the IPO. Exxon coming to Greece to start exploration is very important. The real value creation for US investors can be seen through the example of the Third Point investment in 2013, who have enjoyed very good returns on investment through the IPO.

The same is happening with the UK institutions who have invested in our IPO and have doubled the value of their shareholdings. Israeli institutions have come in through our Tel Aviv stock exchange and have benefited from equity returns on our investment.

With the rig partner and the right management, our team can generate significant value for international shareholders, which has been proven by the facts that I have mentioned.

The exploration side is still in its infancy because to start creating value, you need to drill wells to prove that there is carbon. In the E&P business, you need to have a balanced portfolio of production, development assets and explorations. Pure exploration is not sufficient to attract investors. A balanced portfolio is what the market wants to see.

Prisma Reports: If you had an assembly of readers and investors in the room, what would be your final and direct message to them?

Mathios Rigas: Growing from a 1 million to a 2-billion-dollar company that started in Greece and ended up being a listed company on the stock exchange is a unique example of what can be achieved from serious investments in a country. The opportunity is tremendous in our sector, but needs committed operators, people who have Greece and the Mediterranean at the top of their agenda, and people and companies who don't just invest as another project but put the region as a top priority.

When that happens, the country, governments and local communities will recognize it and it will be a fantastic place to live and invest in.