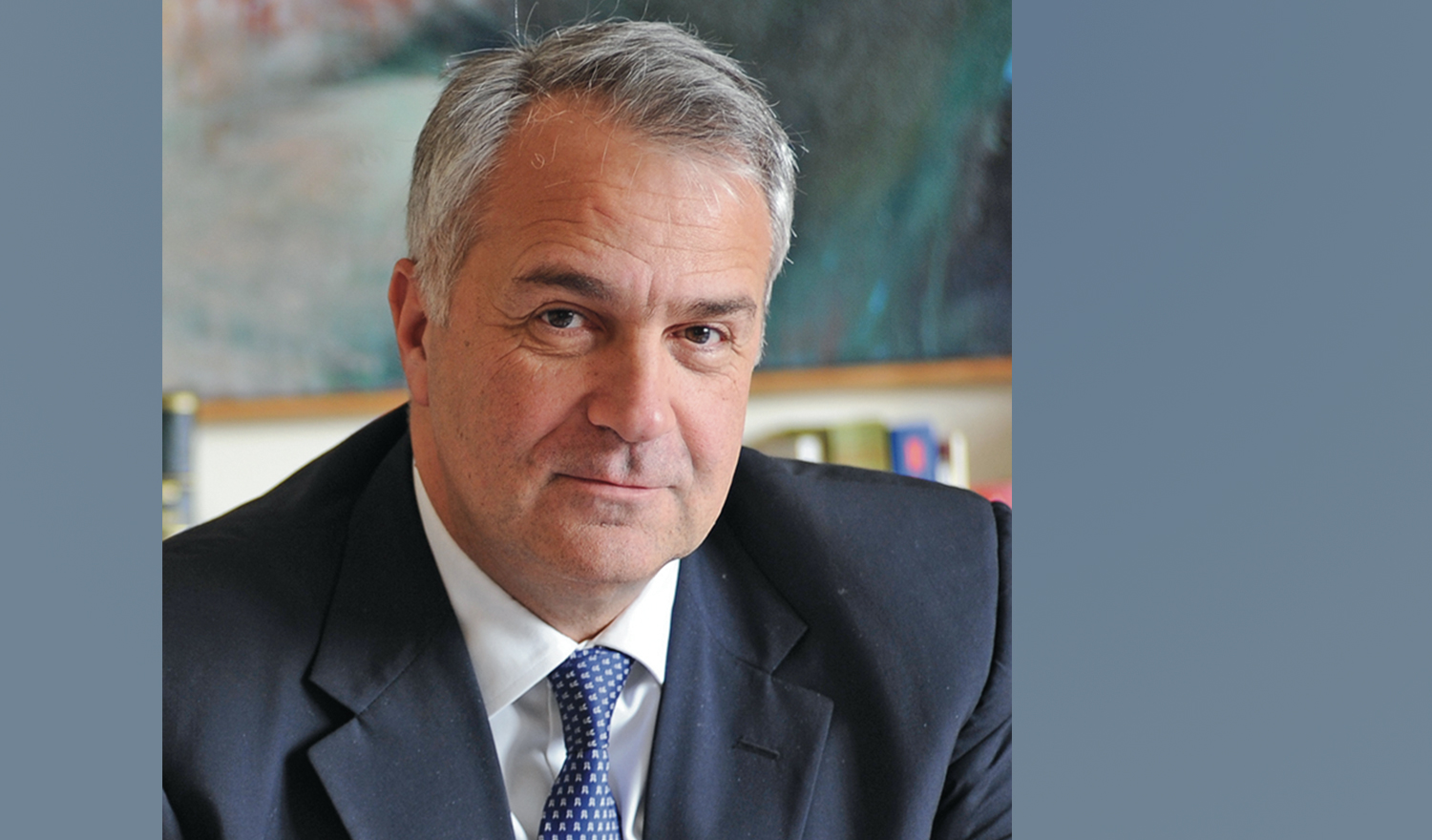 Dec 2019

Interview with Mr. Mauroudis Voridis, Minister of Rural Development and Food

Prisma Reports: The agricultural sector in Greece remains an important sector of economic activity and employment for Greece, employing about 13 % of the population. Exports of agricultural products account for 1/3 of total exports. Greek agricultural output has declined from 17% of GDP in the early 90s to 4.1% today. What are some of the priority areas that the Ministry is working on, and the main reforms necessary to boost agricultural production in Greece and make it a competitive and highly efficient sector?

Mauroudis Voridis: The share of the primary sector is decreasing because other economic sectors are developing.  Today this 4% input is close to the EU average. During the crisis years, the primary sector remained a steady source of employment and wealth for people, who had to leave other sectors of the economy. The sector helped whether the effects of the crisis relatively well.

The challenges that we face now in the sector are closely related to the challenges faced by European agriculture in general. Common Agricultural Policy (CAP) absorbs about 50% of the European agricultural budget, and therefore our future is correlated to the strategy that deployed in the new Common Agricultural Policy (CAP), which is moving towards a more intelligent and green agriculture. The EU has decided to take climate change seriously and the agricultural sector should do its part. Protecting the environment and combating climate change will bring us advantages: first, by limiting the use of pesticides and fertilizers and using cleverer amounts of water for irrigation we can create cheaper products; and second, by creating a product that costs less to produce, we become more competitive. This enables us to enhance our branding and added value, hence creating higher-quality products which are what European consumers want on their plates. There is a shift to quality, and we are trying to make this happen together with lower costs.

Transforming our agriculture requires huge investments in the farms, especially in high tech apparatus to make agriculture more efficient. These investments are going to be funded by the EU and its agricultural development programs. Yet, even though we are funded by the EU, farmers always have to put their share into these investments, and Greece therefore faces a lack in finances to put in place these investment programs. In fact there is a gap of €2 billion between the amount offered by the banks and the amount demanded by farmers. That's why we have created a financial scheme with the European fund for development where we have committed €8 million as collateral to achieve €400 million loans with low interest rates. These will be made available to our farmers to cover their financial needs. The idea is to invest in order to have greener, more intelligent and more precise agriculture, which is going to create more competitive products of a lower price and higher quality.

Although Greek products are of high quality, they need to be further branded to add value – that's one of the main challenges that we have. We face a large competition from products coming from third countries, which are cheaper. While we are in favour of free trade agreement with third countries  – as they ultimately create wealth and growth for people all over the world as well as in Greece – we also believe that the same strict environmental standards that we impose on our farmers also have to be applied to external producers. This is something that must be taken care of in the framework of the Free Trade Agreement as far as agricultural products are concerned.

Another challenge that we face in Greece is that the government is trying to lower the cost of production  by trying to shift the administrative and tax burdens that have been transferred to the producers. We are doing our share to lower costs of production. For example, through using renewable sources of energy like solar energy to eliminate the cost of electrical energy used for production of agricultural products. We have photovoltaic equipment that can produce solar energy and transform it into electrical energy. The farmer can then use this to power machinery to produce goods. We are also considering ways of cutting taxes from the gas being used by farmers.

At a national level, we now have to rethink all the investments we will make in infrastructure for irrigation systems. That's also a major shift we have in Greece which means we must limit the use of water that exists under the sewage and try to find efficient ways to use water on the surface. In relation to precision and irrigation, the prime minister really has an ambitious vision to create or renew infrastructure that will allow this kind of irrigation.

Prisma Reports: Technology and innovation is having a huge impact in agriculture, making it more sustainable and efficient, producing bigger yields while using few resources. The output/value for production in Greece is still very low compared to other countries with innovative producers, such as the Netherlands or Israel.    What are the challenges that lie ahead for Greece to implement such methods and increase the output/value similar to these hi-tech producers?

Mauroudis Voridis: Israel uses a highly sophisticated technique of irrigation with very little amounts of water. This is a good cultivating example and we should learn from that. Holland has made big investments and develop large-scale farms, which you will not find in Greece. Farming practices for oranges or kiwis are different from that of wheat or barley, and therefore it's difficult to talk in general terms in agriculture. Greece has cultivations like olives and vineyards, as well as figs, cotton, wheat and peaches, which require special farming practices.

Our agricultural development program revolves around two main pillars: one is the classic financial support to the farmers to encourage them to stay in the farm; and the second is investment support or funds allocated to farmers to invest in good practices. This latter scheme is becoming more widely used because we want to channel more money to the investment scheme for good practices. We hope to implement this in the next 2-3 years.

Prisma Reports: I'd like to talk about the star product of Greece, which is olive oil. The product has been spared by the US tariff raises. I know you've played an instrumental role in the negotiations for months with US authorities. What has been discussed, and how did you reach such outcome?

Mauroudis Voridis: We know that there will be a Europe versus US decision in 2020, which is going to introduce more tariffs. At the end of the day, Europe and the US will have to find an agreement or both parties are going to be hurt. So in my view, this should have been dealt with in a different way. President Trump was very quick to impose taxes because the decision will come in 2020 where the EU will impose taxes. We should find a way to compensate these two matters.

In total a tariffsraise of $7.1 bn has been imposed on European products. Out of this $6 bn has been imposed on countries, which have something to do with Airbus, and $1 billion on other countries. As far as Greek products are concerned, we had $53 million imposed on Greek products.

Prisma Reports: How do you think Greek olive oil will benefit from this versus other olive oils from other EU countries. Apart from olive oil, what other Greek products have potential in the US?

Mauroudis Voridis: If Spanish olive oil faces a 25% tariff increase, Greek olive oil will benefit from a relative 25% price advantage. This creates an opportunity for our olive oil, but also a challenge because it means that our producers will need to produce and deliver high quality products to the US market.

If they achieve that, they have a huge chance. If they don't, then they will be in trouble because all the Spanish olive oil that won't be sold will be stocked, which means that we will have an oversupply olive oil, driving the prices down. If Greek oil does not found its way to the US, then it will have to face the price competition in Europe.

Prisma Reports: You also mentioned branding and quality of Greek products. What kind of initiatives are your initiative taking to create branding for these products?

Mauroudis Voridis: We have 107 of Protected Original Products (POPs) in Greece. This POP products are high-quality and world-protected, and this label guarantees their origins as well as production methods. A classic example is feta cheese: only sheep or goat milk can be used for the production of feta cheese. This has to be produced in specific areas of Greece and in a particular way. The barrels that contain the cheese have to be made from wood or from a specific type of metal, but not plastic. These conditions have to be met if this product is to be called "Feta". This is the idea of branding that we have. We also do that with wines.

Branding goes hand in hand with protecting the quality of the product and also making sure that the consumer consumes an authentic product. It's important to protect the quality for the consumer. It's important for the producer, who wants to produce a high-quality, protected product. It's important for the competition because you cannot sell Feta which is made through different production methods. This creates unequal competition.

This is a very big discussion.  I think that this discussion has been closed in favour of this type of protection within the EU. It's not closed all over the world. I think that we need better agreements negotiated at the EU level, to protect Greek and European products.

Prisma Reports: The economic crisis of recent years coupled with the high unemployment rates, have demonstrated the importance of the primary sector, making farming a viable professional choice, not only for young people in rural areas. What are some the ideas and plans to revitalise rural areas in Greece, reverse the population drain and attract not only people, but innovation and investment?

Mauroudis Voridis: In fact during the crisis, people were going back to the countryside in order to cultivate the land, as an alternative source of income. As the economy starts to grow again, we will probably see people who have left the countryside return, and people who have been in the countryside leave.

We do support young farmers to develop their skills. However, we need more education and more consulting. We also have programs for consultants that we are now trying to develop. The education of people who want to consider going into farming also exists. There are two types of people seeking education: people who are already in farming and want to expand their knowledge, and people who have left the cities and gone back to the village to learn. Few will stay. If they find a job in the city, they will go back. Hence, education needs to be more focused in terms of developing professional farmers, who are already committed to the job. They have already made the choice and are used to the conditions of living in rural areas.