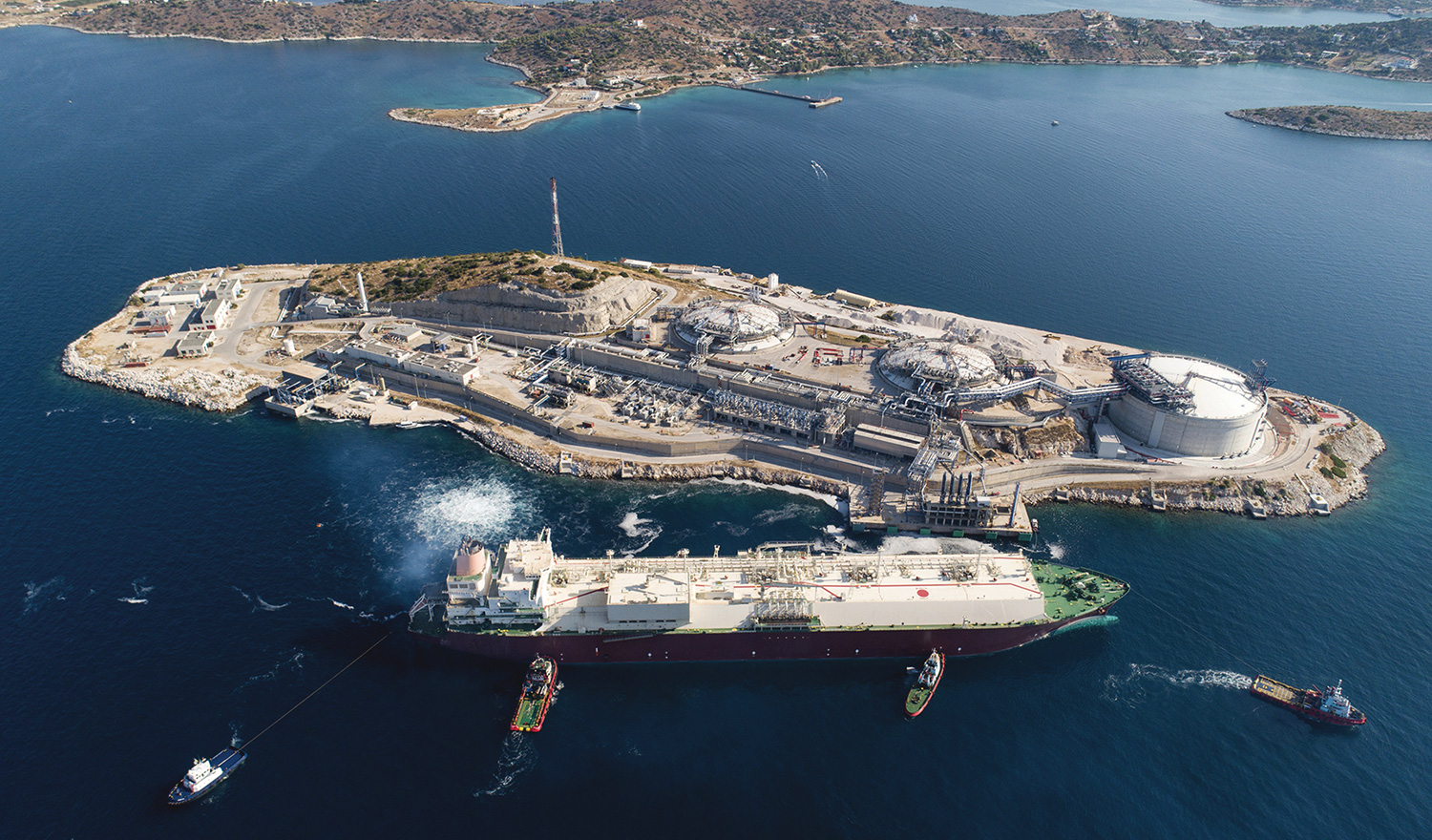 Dec 2019

Interview with Mr. Nicola Battilana , CEO, National Natural Gas System Operator S.A. (DESFA)


Prisma Reports: Greece is increasingly turning towards natural gas to cut its reliance on lignite and coal, and decarbonise its system, to comply with European objectives. DESFA is, therefore, called to play a major role in the future, being responsible for the operation, management, utilization and development of the National Natural Gas System and its interconnections. To start this interview, can you present a bit DESFA. What are your main assignments, how important is the company in the Greek economy? What kind of role does it play in the energy market, also in terms of security and affordability of supplies?

Nicola Battilana: DESFA, as national gas transmission system operator, owns and operates the high-pressure pipeline network of Greece and the Liquefied Natural Gas (LNG) Receiving Plant in Revithoussa. The network of Greece is connected with Bulgaria and Turkey; via Revithoussa, LNG can reach the market of Bulgaria and from there North Macedonia and eventually the entire Balkan region.

Greece is therefore a gateway for natural gas to the Balkan region and Central Europe and soon to Italy through the TAP pipeline, expected to start operations this year. TAP will mainly transport natural gas coming from Azerbaijan to Italy but will also bring additional volumes of natural gas to Greece. Connecting the Greek natural gas market to the Italian one will increase liquidity and offer additional flexibility to the energy market, where DESFA can play an important role in offering new flexibility services.

DESFA is willing to play a leading role in developing the Greek gas and energy market, investing in the development of the network, with the expectation that a stable regulatory framework for new investments will be maintained in the future. DESFA can also leverage on the know-how of its private shareholders (Snam, Enagas and Fluxys) in contributing to the energy transition of the Greek economy, through small scale LNG in the maritime sector and heavy road transportation and opportunities in the G-mobility. We also see a significant growth in biogas production in Europe and we will investigate the potential of Greece in developing this source of renewable gas, in line with what have already been done by our shareholders. We also look with great interest to what Snam is doing to promote green hydrogen in Italy and internationally.

 

Prisma Reports: Greece's Regulatory Authority for Energy (RAE) is expected to grant conditional approval to DESFA's ten-year development plan to expand the network. What is the main outline of this plan, what does it entail?

Nicola Battilana: The National Energy and Climate Plan estimations show the final consumption of natural gas in the years 2020-2030 to range between 5.4 billion and 5.8 billion cubic meters annually, with a strong increase from 1.8 to 2.4 billion cubic meters for consumption for other uses. In addition, natural gas will play an important role in the phase out of lignite from power production, with the installed power of thermal gas plants will increase from 5.2 GW to 7 GW.

The new ten-years development plan under consultation includes important projects for the expansion of the network, enhancing new interconnections (pipeline to North Macedonia and the new entry point from TAP), new connections for power plants and city gates for natural gas distributions (especially in Western Macedonia) and projects that will increase the entry and exit capacity of the system and the reliability of the network.

DESFA has also proposed the construction in Revithoussa of the new jetty and the truck loading bay for small scale LNG, which will enable to fulfill the demand of small scale LNG in Greece, in line with what is already taking place in other European countries. LNG (and CNG) will play a role in achieving sustainability environmental targets substituting more pollutant fuels in the maritime and road transportation. DESFA has estimated that – according to a conservative scenario of ca. 1 BCM of natural gas consumption replacing oil in maritime and road transportation in 2030 – up to 500 thousand tons of CO2 and several thousand tons of Sulphur dioxide could be saved.

Prisma Reports: What kind of other projects or infrastructure investments do you have in your pipeline that could establish new connections?

Nicola Battilana: As mentioned before, an important project is the Interconnection Greece-Northern Macedonia (IGNM), a gas pipeline connecting the natural gas transmission systems of Greece and North Macedonia. The project is reaching a maturity phase and DESFA is developing the engineering for the environmental authorization, which is expected later in 2020. This project is important for Northern Macedonia, as it contributes to the diversification of their supply sources, currently relying only on Bulgaria, and for Greece, increasing the liquidity of the market.

DESFA is also proposing a Virtual Pipeline solution that will enable Crete to receive natural gas at the same price as the Virtual Trading Point of Greece. We believe that Crete, as well as the other islands in the Mediterranean area, deserves a reliable and secure supply of energy, that can be considered as complementary to the electrical cable solution and would allow the use of LNG and natural gas for bunkering, road transportation, commercial and residential activities in the islands.

Prisma Reports: DESFA has been awarded the maintenance of the TAP pipeline, enhancing cooperation with the managing company, and thus consolidating its position both as technical partner and on an international level. How is DESFA working on enhancing its technical and operational capacities and positioning Greece as service hub, due to its competencies and skills?

Nicola Battilana: DESFA is a valuable partner in managing operations and maintenance of gas infrastructures in Greece, being able to provide highly trained and skilled personnel, reliable and modern technology and practices as well as an already existing and widely distributed organization.

For the same reason and with the same mutual advantages, DESFA is also providing services to DEDA, one of the Greek distribution operators, and is currently seeking to strengthen this collaboration, that has been continued without interruption for more than 10 years.

Recently, DESFA has been short-listed for a significant tender outside Greece, to provide operation and maintenance services to one of the biggest LNG terminal worldwide, currently under construction. It is an important acknowledgment of the quality of DESFA – that has been strongly supported in this effort by its private shareholders, especially Snam and ENAGAS – as gas infrastructure operator and an example of the added value that the new Shareholders can bring into the company, in terms of expertise and international visibility.

DESFA would like to keep strengthening its role as technical partner in the region and abroad, provided a supportive framework with fair returns and adequate cost coverage.

 

Prisma Reports: DESFA's privatization completed about a year ago, with the sale of a 66% shareholding in the Hellenic Gas Transmission System Operator to the Senfluga Energy consortium (Snam, Enagás and Fluxys) for €535 million. It has been a very strong signal for investors into the country, which should trigger more appetite from the global business community.

Nicola Battilana: I think that the DESFA privatization was a success and showed to international markets that Greece is recovering and improving. The better macroeconomic environment and the higher than expected gas demand forecasts partially offset the new regulatory framework, that is below our initial expectations and the increase of personnel costs, due to the internal transformation of the company. I strongly believe that the regulatory framework should support the ongoing transformation of DESFA into an international player, with new activities that can be developed both in regulated and non-regulated services, in the interest of market, customers and the whole Greece.

Prisma Reports: Natural gas has, and will continue to have, a central position in Europe's energy mix for decades to come. Greece in that regard is already benefiting from a very strategic position at the crossroad in the Balkans and Southern Europe. What kind of role can Greece play in the bigger, regional or European energy market? What is missing for Greece to fully embrace this role and unlock its potential as an international and powerful player in the energy scene?

Nicola Battilana: Greece has a huge potential in renewables, considering its position and climate, with plenty of sun and wind, and Greece has indeed the opportunity to become a regional energy hub, by developing a solid and dynamic market for energy, increasing flows with neighboring Countries and diversifying import opportunities so to increase security of supply of the whole region.

Natural gas will play a crucial role in this transition, ensuring the necessary flexibility and reliability as an energy backbone of renewables and penetrating other traditional areas of utilization, to contribute to de-carbonization and reduce air pollution.

In order to be successful in this transition, Greece needs to have a supportive, proactive and reliable regulatory framework in order to foster new investments both in its core business and in new gas applications and to fully develop the new energy exchange platform, with an eye to electricity and natural gas sector coupling that will constitute the future of the European energy landscape.

Prisma Reports: Final message to the readers of Foreign Policy.

 Nicola Battilana: I believe that Greece has turned a new page after a long crisis and that there is a good potential in the Greek energy market and the economy in general. I see the will to change and the capabilities to achieve the results that everyone in Greece has been waiting for.