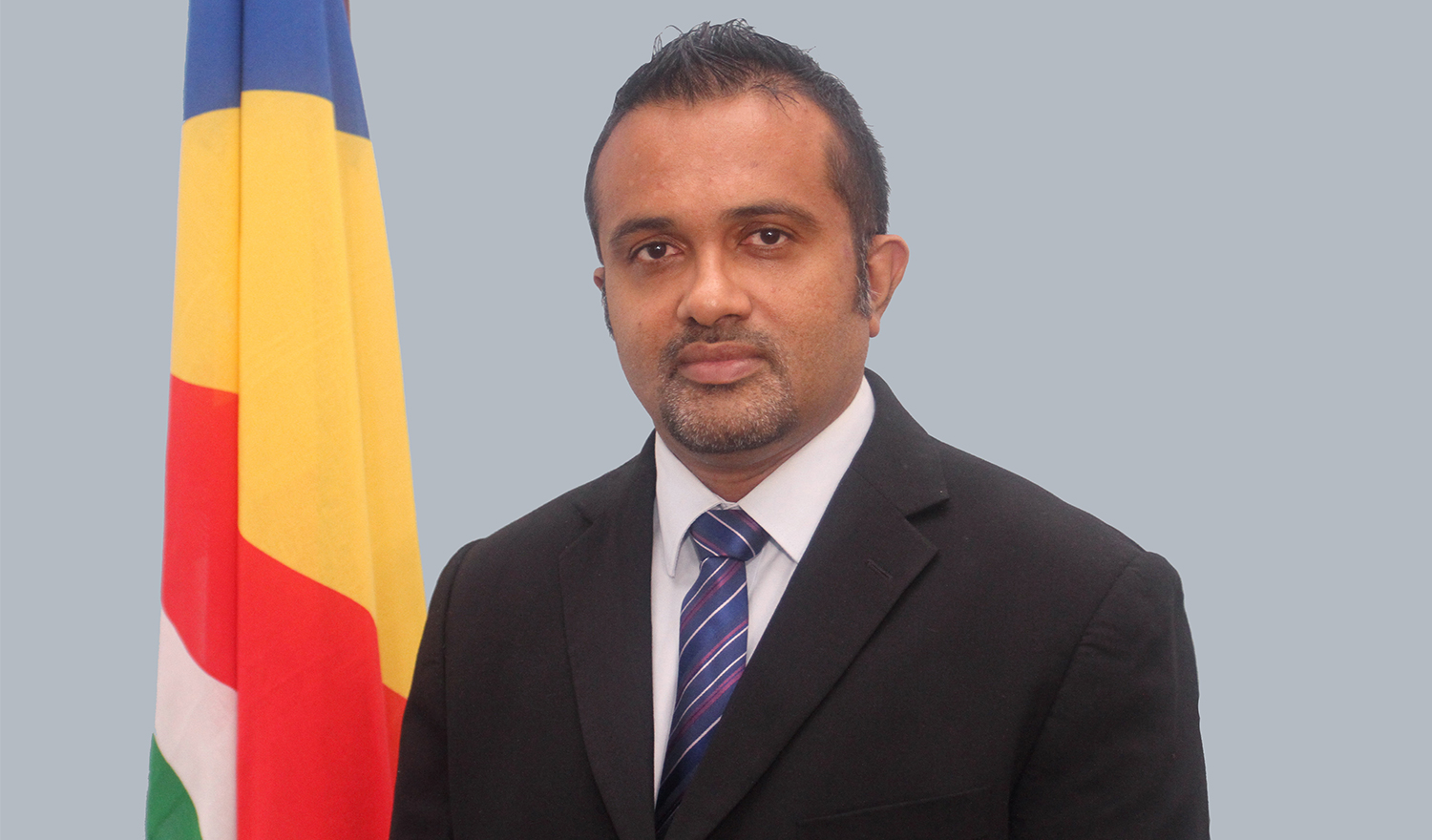 Mar 2022

Interview with Naadir Hassan Minister of Finance, Economic Planning & Trade, Seychelles

Prisma Reports (PR): You have assumed the office fairly recently and you hold a challenging, yet exciting portfolio. Could you share your priorities and objectives?

H.E. Naadir Hassan (NH): When I took over in November it was a tough time and things have not improved all that much since then in terms of the global economic situation nor here in Seychelles. I have two major priorities. I want to first work on the stabilisation of the economy and the budget, by being especially careful on government spending; and I am also looking towards the post-pandemic era and how we will kick-start the economy again. The Seychelles were hit hard by the pandemic because most of our economic contribution comes from tourism. The near total shutdown of the tourism sector for one year had a very devastating effect on us. Our strategy has been to see how we can relaunch the tourism sector while keeping the country safe; and focus on diversification of the economy, because we have seen that an overreliance on tourism has made us vulnerable to sectoral shocks. We are looking at developing the agricultural sector from a food security and an import substitution perspective. We are also looking at developing what we call the Blue Economy, the fisheries, and everything that comes from the sea and the ocean. In fact, we have launched an ambitious program to develop that sector. The results will not be seen in the next few months. It is more of a medium- to long-term target.

(PR):  How do you expect the new budget to affect the country's economic position?

(NH): In 2020 there had been a collapse in revenue because of the shock to the tourism sector, followed by an increase in government spending on the wage support mechanism and on welfare. We ended up with a budget deficit of close to 20% of the GDP, so my first responsibility was to close that gap. With the proposed budget we brought the primary deficit to around 12% of the GDP and we are looking to continue to narrow that gap over the next five years and go back to a sustainable position by 2025. In fact, this has formed the basis of our discussions with the IMF for a reform program with budget support. Like with all IMF programs, the key is sustainability. To narrow the gap initially, we have had to decrease government expenditure, and part of that means stopping the wage support program at the end of March. We will be on an austerity budget for the near future, so it is going to be a bit of a tough year. We hope that by being tough now, it will save us a lot of trouble in the next few years. The intention is to take measures early on to bring the country's financial situation back on track, such that we do not have to take much more drastic steps later.

(PR): Seychelles just submitted its report to the Eastern and Southern Africa Anti-Money Laundering Group for re-rating, following a series of legislative changes made last week to ensure compliance with international standards. Can you please elaborate on these legislative changes?

(NH):  Seychelles has an International Financial Centre and with that come all the issues associated with it. I myself come from a banking regulator background, and I know very well the consequences of not having your legislative framework in line with international standards. Therefore, there has been a very firm commitment on the side of government to avoid ending up on any blacklist which might impact the reputation of the country and, ultimately, the financial sector. We are fully committed to amending all our laws to ensure they are on par with international requirements, and this is in fact exactly what we have been doing. In the last two weeks we have presented five or six bills to the National Assembly in Parliament and they have all been approved and assented to by the President thereafter. More will be presented in the next few months, again, all to bring our legislative framework in line with global standards. This is an ongoing exercise, because the standards keep evolving and we must continue to follow that evolution and to make sure our laws stay on track.

(PR): Are there any specific initiatives that the government has put in place to reboot the economy Post-COVID-19?

(NH):  Tourism remains our primary sector, therefore the short-term strategy is focused on first protecting our population from the virus, and then allowing the reopening of the tourism sector. The protection of our population is at the forefront and we are achieving this through the vaccination campaign. The latest statistics show us quite close to having around 60% of the population already vaccinated with at least the first dose. Our target is to get to 70% which I think is doable in the next few weeks. The second prong, our intention to reopen, is a consequence of our nature as a small island state. We simply cannot stay closed if we want to survive. We have announced March 25th as the date when tourists can enter Seychelles without the normal restrictions. The only requirement would be a 72-hour PCR test. With the opening of the country, the arrival figures are very impressive and so is the forward booking. The tourism industry is indeed picking up, and this is despite many of our key markets in Europe still under lockdown. Many of our key markets in Europe are still under lockdown, but while we are waiting for their reopening, which has been forecasted for the second half of the year, we intend to look to markets that are open and can travel.

Our more medium to long-term strategy involves the reinforcement of other key sectors such as agriculture, fisheries, the Blue Economy, and financial services. In agriculture, we are putting a lot of emphasis on providing the required resources to boost production efforts. Just this morning I met with the stakeholders in the agricultural sector to discuss incentives such as making sure they have the access to financial resources and land. We are looking at developing agriculture on some of the outer islands as well, not just on the main islands of Mahe, Praslin and La Digue. On the fisheries side there have been a number of infrastructure projects announced, which will form the foundation for the growth in the blue economy, for example, a project to create a dry dock extension of the fishing quay. Traditionally our fishing sector has not been maximised to its full potential and we want to introduce the idea of value-addition. Where is the sense in exporting our fish for cheap prices to be processed elsewhere? There is a great deal of potential profit falling by the wayside in that scenario. We are looking at setting up the processing plants here, and in fact, a new area has been marked off as a fish processing zone. There has been a great deal of interest there to get that sector up and running and, of course, it will create a lot of employment, as well. There has been a lot of effort and energy exerted in a very short-term to kick-start those two key sectors, and we are pleased to report that it looks promising.

(PR): How do you expect FDI and exports to develop in 2021?

(NH):  Despite the terrible economic situation, the interest has been high in terms of FDI coming in, and that shows confidence that the country will rebound and will rebound quickly. We have got a few large tourism projects that will come online in the next few years. Regarding fisheries and the Blue Economy, again, there has been significant interest there. The key issue around fisheries, of course, is sustainability, which also has a lot to do with the message we are pushing, which is that it is not about fishing more, but adding more value.

The new administration is putting a lot of focus on domestic investment, because we feel that a lot of these sectors can be driven on the domestic side. Then where we might not have the capital or the expertise, we are looking to do Joint Ventures. We want the next stage of development to be driven by the Seychellois, of course, with support from foreign investors and expertise, but through more of a collaborative effort rather than entirely FDI. I suspect 2021 is going to be tough and we will start seeing significant improvement in 2022. In that respect, I have seen significant interest in investing in Seychelles moving forward.

(PR): How do you foresee the relations between the new administrations in both the US and Seychelles developing going forward?

(NH): The Seychelles have always had a very good relationship with the US, and I foresee that this will continue in the future. I know there have been some initial discussions about setting up a US Embassy in Seychelles, which would be extremely positive for the country.

(PR): Where would you like to see Seychelles in the next 5 to 10 years?

(NH):  It has been said that Seychelles could be the Switzerland of the Indian Ocean, and I genuinely think that is possible. The new administration is working quite hard on a new way of doing things, which means increasing our efficiency. They are refocusing on public sector reforms, creating the right investment climates, and improving the ease of doing business. We are looking at how we can spend less as a government while achieving more. When we can get past this pandemic, get our tourism sector up and running again, and dial in the blue economy, the future will be bright. Again, as a small island state we are vulnerable to external shocks, so I would say that I am cautiously optimistic that we will bounce back. The new administration would like to move away from the historical concept of overreliance on the state for support and towards creating wealth for our people by empowering them to develop their own wealth.