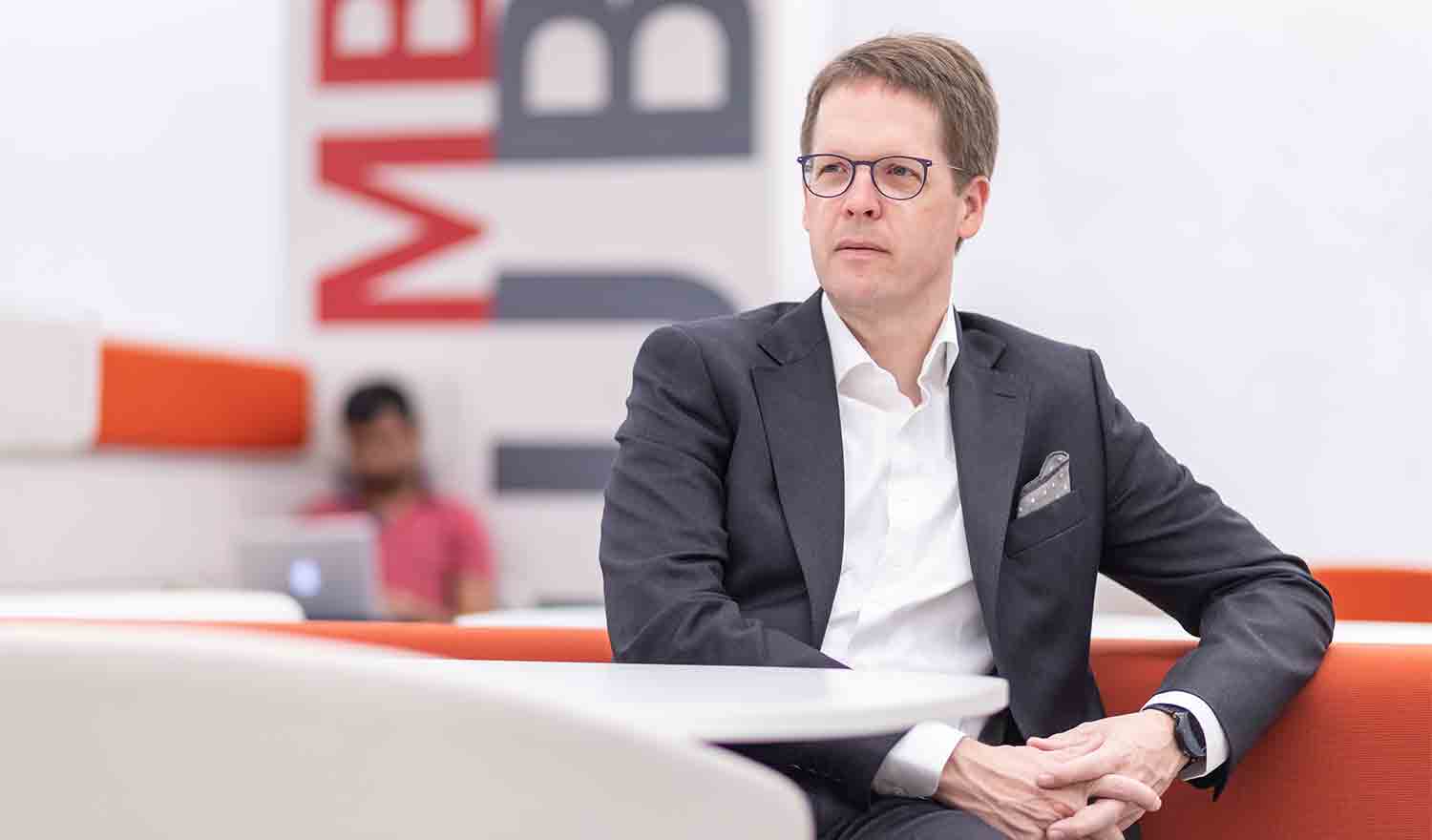 Jun 2021

Interview with Professor Franz Heukamp, Dean of IESE Business School – University of Navarra

Prisma Reports (PR): How would you sum up the essence of IESE Business School? What have rendered it unique throughout its history? What values and ethos does IESE stand for?

Franz Heukamp (FH):  The school has a long history going back more than 60 years, and it has grown in many ways. At IESE, we are all about improving society and creating a better world through good leadership. We dedicate ourselves to leadership development for people who have a very keen sense of responsibility for the world, which relates to how their organizations are doing in society. That is the essence of what we are doing, and it has been with us since the beginning of our journey. Today, we are in a good place as a school, as we feel that the world has come around, in a way, to recognizing those ideas and the fact that we need to be more focused on making sure that business, an essential force in society, is having a positive impact, where firms align their interest for the greater good.

(PR): In your history as a scholar and an academic leader, have you ever seen a global event as disruptive as COVID-19? What are some of the lessons learned that you would underline during this pandemic?

(FH): I have not witnessed an event of this magnitude before. You have to go 100 years back to find something remotely close in terms of its disruption of the way society functions. This has been the first year since the Second World War where the global economy has made a step back. Clearly, this is an event of enormous proportion. It is not surprising that everyone is grappling with it, and trying to make the best out of this situation. This has conveyed a few lessons for our society. First of all, when people suffer, you have to be there for them. In the end, the economic system and society depend on people, who represent the base of such constructs. When entire populations and countries suffer, that is the first thing that we need to attend to. It may be now more subtle than in other previous crises, because in many ways these are silent sufferings, but it is still quite intense. The second lesson is about the importance of cooperation. A pandemic, by its very definition, includes everybody, and this is a moment where we need significant international cooperation and solidarity. It is difficult to do, because people cannot really travel and move around right now, and the basic survival instincts sometimes kick in among people, countries and organizations during periods of crisis. However, what we have seen is that the people and organizations that have built networks and communities internationally are also coping better with this difficult situation that we are all experiencing. The third element I want to highlight has to do with technology. One of the positive observations of COVID-19 has been how technology has helped us hold things together. The world has managed to continue functioning, in its essential ways, thanks to technology. Technology can sometimes be dysfunctional or have a negative impact, but it can certainly also be a force for good. We have observed, at all levels, that through technology we have been able to continue to do important things. For example, at IESE we have been able to harness technology and offer various hybrid educational experiences for our students.

(PR): How are you using your leadership at IESE to contribute on the ongoing battle with those many risks?

(FH): If we specifically focus on the battle with the virus, then many of our alumni are directly involved with this situation in their work (everything from providing care, to developing vaccines and managing logistics, for instance.) Since day one of the pandemic, we have been providing support to our alumni in terms of various fora of exchanging experiences and discussing their real needs. As a business school we can provide a lot of knowledge, sharing of experiences, and insights on new strategies to operate. Apart from that, the school can also provide a sense of community for those in need of moral or emotional support.

(PR): Now more than ever before corporations are valued for their contributions for social development and sustainability. What is IESE's strategy to produce their socially responsible leaders and managers of tomorrow, that global corporations need?

(FH): Business schools have an important role in educating and preparing current and future leaders for the challenges of leading organizations that are responsible and sustainable, with a positive contribution to society. To do this, education institutions must have the right educational offerings for their students. We just launched a specific course on the future of capitalism, which addresses this need in a very direct way. On the course students critically observe the current state of our socio-economic system and explore the roles of business leadership required to create a better future. We see this as a discussion that is very much needed right now.

Here we can also find a positive component of technology, which has allowed us to have this discussion on a global scale involving people from all over the world. The future of capitalism course was set up as a collaboration between four educational institutions, from Brazil, India and Japan, as well as ourselves, and with students from more than 20 countries. During the course, the students hear from individuals working from all different parts of the world and parts of society (from formerly homeless children, to environmental activists, corporate leaders and academics, among others.). That is a great example of what a school can do. It is about raising awareness and providing young business leaders with the tools to manage well. That is another aspect that we should not forget; it takes a lot of knowledge and different capabilities to be able to successfully run an organization that is positive for society and sustainable.

(PR): The global economy has opened the doors for institutions of higher learning to build strong international networks and create opportunities for its students and faculty to breach continents through strategic collaborations in research and other global outreach programmes. How would you describe IESE's global footprint today? What are your ambitions for the international aspect of IESE's future?

(FH): We have three concentric circles. The first, the inner core, has to do with our own campuses that we have all over the world. We currently have five campuses, in Barcelona, Madrid, Munich, New York and Sao Paulo. Then, we have the next layer of collaborations with schools. We have 17 associated schools and they are in the Americas, Europe, Africa and Asia. Those are schools that we very closely collaborate with and, in many cases, where we have been doing so for decades. Then there are the other types of collaborations that we have on the level of various programmes, as well as exchange schools for the MBA or schools where we cooperate in terms of research projects. These kinds of collaborations are essential for a school that wants to provide for all its community members. It also gives us the ability to be working in cross-functional teams, and inside organizations with people of many backgrounds.

(PR): How has the experience in terms of updating the curriculum towards new global needs has been for IESE? How are you ensuring that your graduates have the necessary leadership skills to keep up with this ongoing technological transformation?

(FH): I think that there are two aspects to this digital revolution. The first aspect has to do with the content and the ability to execute what we teach to our participants in our own programmes. That has been a core activity of all our programmes in the last 10 years. I think that COVID-19 has meant that this revolution has now received the final acceleration that it needed. In many cases, digital is more about transformation than it is about the technology itself. Digitalization has transformed many traditional methods and is revitalizing fundamentally how things work. That is the main insight that we try to transmit, on top of teaching what the different kinds of technologies can do for you.

The second part has to with how we, as an institution, can embrace technology ourselves to deliver program-learning experiences and content. Again, this has been an ongoing project for many years now, where we have enhanced various programmes that used to be entirely presential to become either hybrid or blended, allowing the sharing of experiences, information and materials completely online. It means that as a school, we can offer a menu of offerings that change based on what you want to do, how much time you have available, what your learning objectives are, and the different hybridization of models of teaching. The differentiating factor for a school is not so much the technology per se, but the experiences you can create through that technology. I think that this is the part of the digital revolution that we are paying most attention to.

 

(PR): From your perspective, how has executive education evolved over the years and how has IESE been at the epicenter of this area? What exciting novelties in executive education can we expect to see in the next few years?

(FH): of the critical developments in this regard is that it has become much more varied. You have very different experiences that are being offered now, partly through technology, as it becomes more diverse. We come traditionally from offering longer experience programs that give you the overview of the firm. These continue to be very useful. However, there are now additional formats and programmes that are more specialized in terms of the contents. A lot of these are more personalized to the individual. We can also expect to see a further differentiation here because of technology, as it easier to offer such tailor-made learning experiences that are shorter in time and more adapted to very specific needs. We now have digital platforms through which schools like ours, in addition to what they already do, can offer different learning experiences.

(PR): What would be your final message for our readers of Foreign Policy?

(FH): Global understanding is key. We all need to ensure that the links we have created over the past decades between countries, continents and cultures do not disappear through lack of attention or lack of interest. We need to be convinced that this global understanding is essential for peace – and for prosperity.