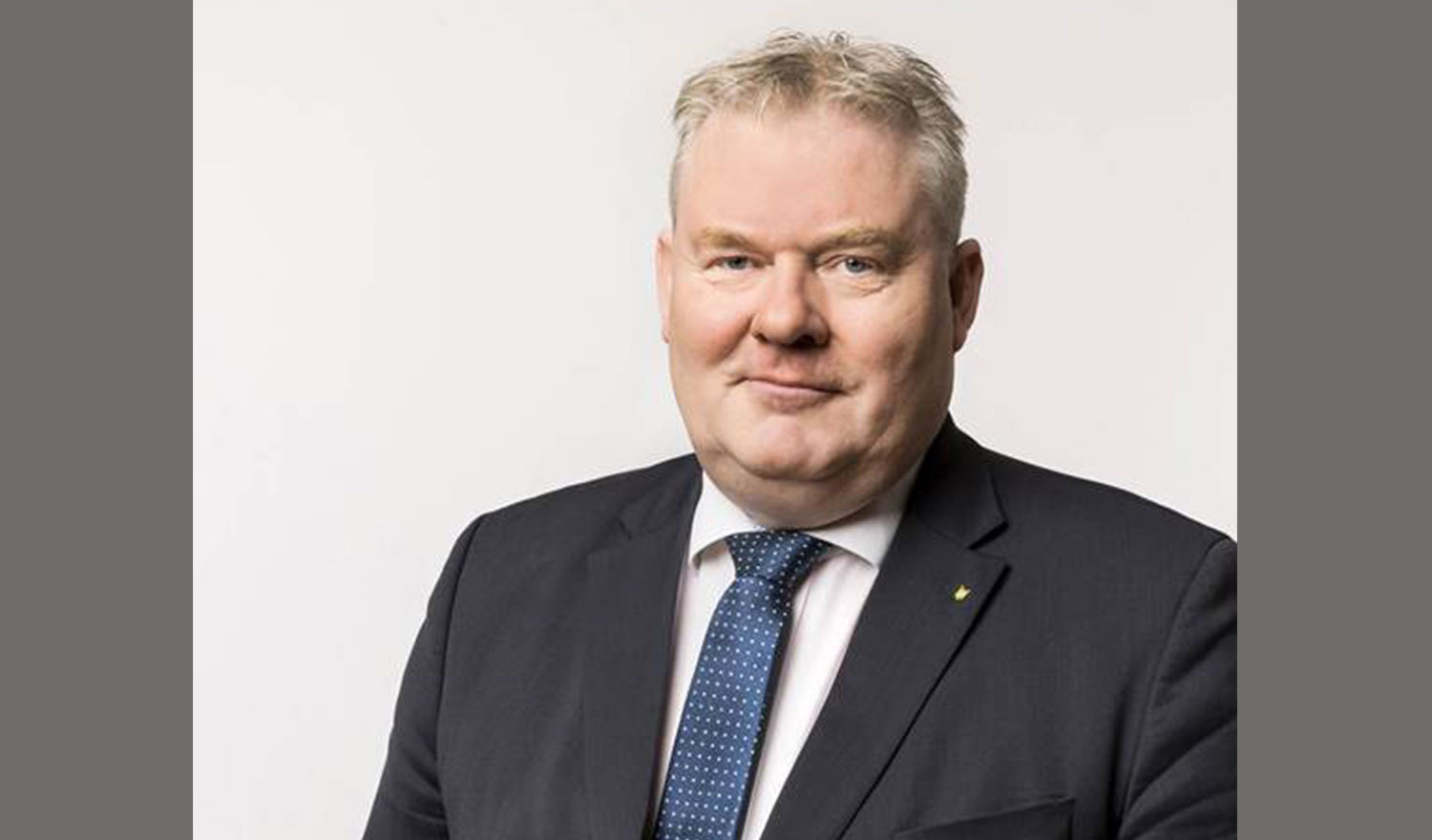 Mar 2022

Interview with Sigurður Ingi Jóhannsson, Minister of Transport and Local Government

Prisma Reports: Let us begin the interview today by discussing COVID-19, which at the global level is still very relevant. Only yesterday the world registered a new daily record for single day infections. Iceland's handling of the pandemic drew international praise for its effectiveness. What can you tell us about Iceland's resilience when dealing with shocks of this magnitude? How is your country adapting to the 'new reality' and what is your assessment of the impact at the socioeconomic and cultural levels?

Mr. Sigurður Ingi Jóhannsson: The pandemic is rising everywhere. In Iceland, our government aims to safeguard the general health of the residents of Iceland and economic livelihood of people and businesses as well as protecting the welfare system and creating strong demand in the economy. Our goal is very clear, as we want to secure stability and keep society going, given the circumstances of the pandemic at this precise moment, because it is continuously changing. Our pledge is to meet the crisis on the offensive. We will not raise taxes or make heavy cuts to the budget for the next years. On the contrary, we will meet the challenges by increasing investment in infrastructure and by safeguarding jobs and the welfare system.

Our strategy is to make the best out of this unprecedented situation and to invest wisely in infrastructure. For instance, investments in roads and public transport construction for the creation of jobs to stimulate the economy and foster innovation and infrastructure for tourism. We are using the time to build up our infrastructure for the future. We know for a fact that when demand for travel rises again, we will be the preferred destination and perhaps more because of how we have dealt with the pandemic in Iceland so far. This is the way we are looking at it now and for the last seven months.

Prisma Reports: Since the beginning of the pandemic you have been very much involved in developing the recovery program as well as the implementation of pertinent measures to protect Iceland and Icelanders. What new priorities have you established at your Ministry and what are some of the latest measures you have implemented at Iceland's international transport hubs?

Mr. Sigurður Ingi Jóhannsson: Tourism is a major economic force in Iceland and aviation has become in the recent years an increasingly important industry for the nation being a major contributor to GDP. In 2010, Oxford economics estimated last year of aviation and related activities was about 6.6 percent of GDP. Since then, and before COVID-19, the number of passengers passing through Keflavík International Airport rose from 2 million to about 10 million when it reached its peak in 2018. The estimate for air transport and tourism can rise to 38.3 percent of GDP and 72,000 jobs based on 2017 figures. We have witnessed phenomenal growth in this sector in the last 10 years but, clearly, not in the last seven months.

The objective of our aviation policy is to support economic growth and creation of jobs. It is the government's policy to open more international gateways into Iceland and in this way support the growth of aviation, not only in the southwest area of Iceland, where Keflavik is, but in the whole country. We are currently renovating and expanding the terminal in Akureyri, the largest town in the northern part of Iceland.

We are also making improvements to the airport in Egilsstadir, where the main airport in the Eastern part of Iceland is found. The main function of this airport is to serve as a reserve airport for Keflavík. We have also looked at our harbours as they are important for the fishing industry and the transportation of goods. They are mostly operated by municipalities, but the goal is to improve the capacity of the harbours for goods transport. Iceland relies on shipping for almost 99 percent of its goods transport, even though we had, and we will have again great aviation. A new transport link is under development and growing fast in the south of Iceland.

Prisma Reports: Could you tell us a bit more about the ISK 20 billion investment initiative that is focused at upgrading and expanding infrastructure, both transport and technology?

Mr. Sigurður Ingi Jóhannsson: The government introduced very early an important investment initiative to cope with the foreseeable economic effects of the pandemic and it was passed in Parliament in the spring of 2020 in addition to the fiscal budget. It was a diverse investment plan of ISK 20 billion, with a heavy focus on transport. The criteria for the selection of transport projects to receive funding was safety, economic viability and job creation. These investments in transport were added to our existing plans for investment in infrastructure which are part of the 15-year national transport plan. The economic crisis in 2008 and the surge in tourism after 2012 paralysed the plan and we have a lot of infrastructure still to be built. However, we will discuss in parliament this autumn a further stimulus plan for the next few years, that aims to protect the economy, preserve jobs and increase the effectiveness and the value of our transport system. I believe that when we speak of ISK 20 billion, we are talking about an amount that is three or four times that for the next three or four years.

The investment initiative allowed us to speed up the construction of large economically feasible expansion projects in all modes of transport. In our highway system, we are now planning to speed up construction to increase safety and capacity on the main cities and to and from the capital area, which is used mostly. We would like to increase safety on these roads.

With regards to harbours, we are studying opportunities in a number of places that can greatly boost economic activity and investments in buildings and logistics. In aviation, we continue to invest in our main international airport in Keflavík. However, the investment initiative has put the long overdue focus on all of Iceland's international airports. We hope this will allow them to develop and create more international links, thereby supporting the local tourism industry in each of these areas in the years to come. Tourists that come through Keflavík and mostly utilize the infrastructure in that part of the country, but not as much in the north-eastern or the western part of the country.

Prisma Reports: During the last decade, Iceland has positioned itself as an emerging tourist destination, a sector that also contributed greatly to the economic recovery following 2008. However, tourism and travel at the global level is one of the most affected sectors by COVID-19. What has the experience been this last summer season, in terms of finding the balance between reigniting tourism while minimizing healthcare risks? Moving forward, what will be your strategy to keep the tourism alive and buoyant?

Mr. Sigurður Ingi Jóhannsson: You have to have a balance to analyse how the pandemic is being dealt with and, on the other hand, assess the economic situation. Iceland was one of the first countries in Europe to create a policy of quarantine, isolation, high volume testing and contact tracing. All our measures have been made in order to protect public health and our healthcare infrastructure and that was the aim in the start and is still the main aim.

We rely on the active cooperation and responsible behaviour of the general population and this extends to everyone who is visiting Iceland. The government started easing restrictions on the international arrivals since 15th of June this summer and we experienced an increased in tourism. The government had to impose more comprehensive measures from the 19th of August given the increase in infections worldwide and the widespread effect that a small outbreak could have on the functioning of our society.

Since then, from the 19th of August we have all arriving passengers choosing between a 14-day quarantine and a double testing procedure along with a quarantine of five or six days. These measures will be reviewed and revised according to how the situation develops. Both domestically and internationally and just for the time being these days we have to learn and see that will not be changed in the next weeks. When it is possible to change this policy, we will do that, but we have to take notice of what the virus is doing.

Prisma Reports: The U.S. is Iceland's single largest trading partner and biggest investor. Until recently, U.S. investments in Iceland were mostly aimed at the aluminum sector thanks to Iceland's abundant geothermal energy. However, U.S. investments have diversified to areas such as hotel chains, consumer goods, and retail with the entrance of several U.S. brands and franchises. What is your assessment of the overall state of U.S. – Icelandic relations, especially those concerning investments and economic partnership in your portfolio?

Mr. Sigurður Ingi Jóhannsson: The U.S.-Iceland partnership has always been an important factor in our foreign policy, and we have had good relationship with the U.S. We have lots of opportunities for making our relationship stronger. We see foreign investment as very positive. There are always opportunities, for example regarding our expertise in fisheries, which is one of the things we are good at, as well as in energy, creative and innovative industries. We will look more into new economic sectors, those that are driven by innovation and which create jobs based on the human mind.

Prisma Reports: Iceland has earned itself a reputation as a leader in sustainability and green economy, being one of the few countries around the world that runs on renewable energy. However, your government has pledged to cut emissions by 50-60 percent by 2030. What are you plans to improve the carbon footprint in the maritime and transportation sector? What opportunities will emerge from these new measures?

Mr. Sigurður Ingi Jóhannsson: Despite COVID-19, it is important that other topics continue to be priority items on the global stage as well. One of the things we have been talking about is climate change and what measures have been presented by our government in recent months. Iceland is expected to exceed 35 percent reduction in greenhouse gas emissions by 2030 and we are making a huge effort to reduce the target to meet the commitments of the Paris Agreement which requires 29 percent reduction, that we have already surpassed. According to rough estimates, additional measures currently under development could result in a further decrease of five up to 11 percent bringing the total reduction in emissions to 46 percent compared to 2005 levels. This government's Climate Action Plan marks a turning point in climate issues in Iceland.

During the first months of this government, we took climate change actions and allocated funding towards those issues. With the measures that we have now taken and intend to implement, we will achieve greater progress towards the international commitments the Paris agreement requires of us.

An important aspect is to ensure that the public can take part in the changes that need to take place and feel that every person's contribution matters. The energy transition in transport plays a major role here. It is also clear that Iceland has economic interest at stake in switching to green energy sources, because many billions currently flow out of the country to buy fossil fuels and the government has initiated the study into how we can increase the use of domestically green biofuel for transportation industry, vehicle and ships.

And the first electrically charged ferries started sailing between the Western Islands and the mainland last year towards the end of 2019. This ferry is the most important maritime passenger link in Iceland than transports over 2000 people every year. Our goal is that all ferries around Iceland can run on an environmentally friendly fuel, most likely electricity to minimize the carbon footprint. We will implement this in coming years when the ferries will be renewed or replaced. Finally, the government is exploring ways to increase the chance for electric connection and charging in Icelandic harbours. This effort will require cooperation of different stakeholders, ministers and municipalities and others. We are using our own energy which we are producing from hydro power and geothermal and with it we don't have to use our money to buy fossil fuel from others. Economically, it is very positive and at the same time it is climate friendly.

Prisma Reports: What would be your final message to the readers of Foreign Policy around the globe?

Mr. Sigurður Ingi Jóhannsson: Our strategy to come out of this pandemic is to meet this crisis on the offensive by not raising taxes or making heavy cuts to the budget, but, on the contrary, by investing more in all areas where it is both feasible and economically favourable and by that, safeguarding jobs and the welfare system. There has been a consensus of using science to tackle the pandemic and the government has cooperated closely with scientists and experts in every field. Looking back now for the last seven months, we have gone through these unprecedented and unique circumstances and I am incredibly proud to witness the unity of the nation and the solidarity of the people. Iceland has fought the virus together, adopted individual responsibility following strict measures when needed. This nation has faced natural disasters before and it this in our DNA to stick together in times like this. We are very optimistic that we will bring the current situation back to normal soon. We have learnt a valuable lesson and hopefully grown as a society so, in the end, I am optimistic for the future.